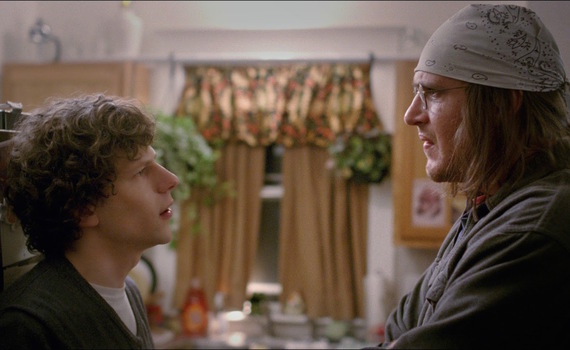 This is my second year at the Nantucket Film Festival, and this will probably be my one dispatch, mostly because I'm having too much fun to take time to write about it.
Most of that has to do with the films I'm seeing. While I cover Toronto and Sundance because they offer news of what the stream of movies for the upcoming months will look like, Nantucket is more laidback, less commercially pushy. This isn't a market -- and it's not a festival that attracts swarms of press trying to see the next big thing before anyone else does.
Instead, this island, an hour's ferry ride from Hyannis, Mass., is about offering the best of what's to come in the months ahead: films that may already have played Sundance or Berlin or even Cannes, most of which are headed for arthouses and multiplexes before the summer is through. It gives me the chance to catch up with films I missed at earlier festivals because of timing or other choices I had to make at those earlier gatherings: That looks interesting, but I really have to see this other one first.
Which is how, in my first 36 hours on the island, I caught up with four documentaries that I had missed elsewhere, as well as one drama. The satisfaction from all of them was significant.
The other thing I like about this festival is that it exposes me to an audience that most festivals don't. At Sundance or Toronto, I mostly see press screenings. In Nantucket, there are no press screenings, so instead of sitting with a colleague discussing the prospects for the films we've seen (critically, financially), I'm watching movies with "civilians," if you will, who aren't trying to do the calculus about the film's success but, rather, just want to see a good movie.
There are quite a few of them here in Nantucket. At the largest venue, the island's high school auditorium, I saw the opening night film, James Ponsoldt's The End of the Tour, based on an encounter between a Rolling Stone reporter (played by Jesse Eisenberg) and writer David Foster Wallace (Jason Segel). I'll have more to say about it when it is released at the end of July, but I found it to be a movingly rendered story about an artist who finds himself trapped between the urge to create something meaningful and the expectations and demands that come with achieving that goal on a scale that brings overwhelming attention from the press and readers.
I also got a chance to see (for a second time) Me and Earl and the Dying Girl, before I did a post-screening Q&A with the writer of both the film and the novel on which it was based, Jesse Andrews. This touching little film deals with coming of age for a high school senior (played with winningly vulnerable diffidence by Thomas Mann), who becomes best friends with a classmate (Olivia Cook) who has leukemia. Andrews was a lively talker, who told the story of his journey from struggling novelist to in-demand screenwriter with entertainly self-deprecating energy.
Otherwise, I've devoted my time to documentaries, all of which told stories of the struggle to hold on to essential values and forge new paths, in the face of hurdles and obstacles of various sorts.

This commentary continues on my website.
Calling all HuffPost superfans!
Sign up for membership to become a founding member and help shape HuffPost's next chapter