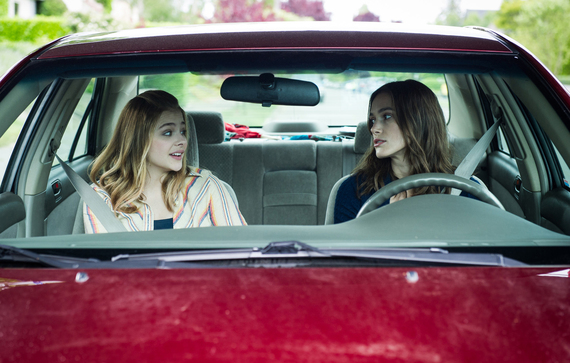 It's interesting the way things shake out on any given day at a film festival, whether it's themes, actors or even venues.
On Sunday, for example, I saw five films in four different venues at the 2014 Sundance Film Festival. On Monday, however, I saw five films, all at the same venue: the Holiday Village multiplex, where the bulk of the press screenings take place. For the last three of those films, I literally walked out of one film and into line for the next.
As it happened, I also saw two celebrity documentaries on Monday. I saw two different films that featured the actor Mark Webber. And I saw two films by stalwarts of the mumblecore movement, who have or haven't moved on to more sophisticated filmmaking.
Finally, I saw three movies that I really liked, bracketed by two films that were the biggest disappointments I've had so far this trip.
I'd be hard-pressed to pick a favorite between Life Itself, Steve James' documentary about the late film critic Roger Ebert, and To Be Takei, by Jennifer Kroot, about the amazingly resilient career of actor George Takei.
James (Hoop Dreams) had amazing access to Ebert in the final months of his life, shooting his move from a hospital (where he'd gone because of an inexplicably broken femur) to a rehab center and then home, before making his final trip to the hospital. He films Ebert striving mightily to keep writing, right up to the end -- even as he flashes back to the late critic's prodigious career.
Everybody liked Roger, people say, yet everyone also has stories: about his competitiveness (particularly with Gene Siskel), his alcoholism (he quit drinking in 1979), his raucous lifestyle as a young newspaperman and more. It's all underscored with archival footage of Ebert and Siskel, as they developed from a not-ready-for-prime-time public TV presence to the best-known movie critics in America, if not the world.
It's touching to see the ailing Ebert -- who, between 2006 and 2013, lost most of his jaw to cancer -- flashing his eyes, giving a thumbs up or a fingers-crossed as answers to questions. He scrawls notes to wife Chaz, his assistant and nurses, in an epic effort to communicate -- even though, for the final seven years of his life, he was unable to speak, drink or eat.
James weaves it all together masterfully with interviews -- with everyone from Chaz Ebert to Martin Scorsese, who chokes up at memories of Ebert reviewing his first film, then helping revive his career in the 1980s. The film earns both the tears and the laughs (particularly the caustic exchanges between Siskel and Ebert in outtakes from taping promos for their TV show) it evinces.
Kroot's film about Takei also goes where no man has gone before (sorry, couldn't resist). This isn't just a film about an aging former TV and movie star still clinging to fame. Rather, it's about identity and reinvention, about a Japanese-American who struggled with discrimination for his whole life.
First, he was a young Japanese-American boy, born in Los Angeles to immigrant parents, when Pearl Harbor was bombed. So he was interned (along with his family) in a camp for Japanese-Americans in Arkansas, returning after WWII to a California that was less than welcoming to its wrongly sequestered former neighbors.
Then, as he matured and began to understand his sexuality, Takei (pronounced, as he repeats several times, tuh-KAY) had to keep it under wraps, to remain a closeted gay man if he wanted to keep working in Hollywood. It was only in the wake of Proposition 8 in California that he came out and began working as an advocate for gay rights.
Kroot's film toggles between Takei's professional life (including Star Trek and his tense relationship with William Shatner) and his personal life with husband Brad, who he married a few years ago after a quarter-century together. Brad is like his Greek chorus, keeping track of the details, reminding George where to look and when to be where, while obviously sharing a deep mutual affection. Like the Ebert film, it's a film that can have you alternately howling with laughter and shedding tears.
I've been a fan of Lynn Shelton's films since Humpday. Shelton, one of the early adapters of the mumblecore aesthetic, returns to Sundance wth Laggies, the first of her films to employ an actual script -- and one written by someone other than Shelton. This wonderfully goofy and odd romantic-comedy stars Keira Knightley as Megan who, at her 10th high school reunion, is still hanging with her best friends from high school and living with her high-school boyfriend, a wedding photographer named Anthony (Mark Webber).

This commentary continues on my website.
REAL LIFE. REAL NEWS. REAL VOICES.
Help us tell more of the stories that matter from voices that too often remain unheard.