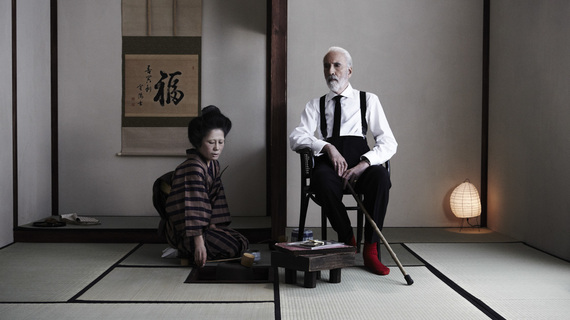 I had my mind blown by a movie Tuesday, in the middle of another five-movie day at the 2014 Sundance Film Festival.
The film, The Girl from Nagasaki, was by photographer Michel Comte. A reworking of Madame Butterfly, it recasts the story -- set in Nagasaki -- in late 1950s Japan, with the title character a survivor of the atomic blast the leveled the city shortly before Japan surrendered to end WWII.
But Comte mixes and matches here, to dazzling effect: After a disturbingly beautiful 3D recreation of that bombing, Comte creates something that looks like a cross between Baz Luhrmann and David Lynch, by way of Robert Wilson. The aria Un bel di from Puccini's opera rises to the surface of the soundtrack several times -- but so does David Bowie's Space Oddity (Pinkerton is now an American test pilot who becomes an astronaut).
Comte moves back and forth between forthright realism in telling the story of Cho-Cho San, seduced and abandoned by the American, and overtly theatrical images. Part of the conceit is that an elderly American (played by the elegant Christopher Lee) has come back to Japan; you get the impression that this is the elderly Pinkerton, who then watches a staged version of his own story.
But that staging is avant-garde, bloody and surreal, with elements of modern dance, classical tableaux, kabuki and opera, as well as conventional melodrama. Comte returns often to that staged version to emphasize the action or outline it in a more symbolic way. But then he'll go to pure realism, taking the characters to the top of a volcano -- or he'll stage a rock-music video.
Anyone who reads me regularly knows of my antipathy for 3D. But Comte uses it to give depth to the imagery, to add a hallucinatory quality as he dissolves from one image to another. He's not afraid, with some of the theatrical moments, to hold the scene in an unmoving mid-range master shot as the dialogue unfolds. As for the fourth wall -- well, now you see it, now you don't.
I came out of The Girl from Nagasaki thinking I'd never seen a film like that before. Bold, experimental, engagingly weird and sometimes just a little silly in its seriousness, The Girl from Nagasaki is the most adventurously artistic vision I've seen in years. It's destined to be a movie for critics, rather than audiences, I'm afraid, because the public appetite for more oblique entertainment simply doesn't exist on the scale necessary for a 3D release in theaters.
But if you ever get the chance, see it: Relax into it and just let it wash over you rather than trying to understand every single image. You'll be amazed at what you come away with.
My day started with Drunktown's Finest, a film full of newcomers set in a little town on the edge of a Navajo reservation in New Mexico. It focuses on three Native-American characters, whose paths cross in the course of a weekend, as each learns lessons about their identity -- ethnically, spiritually and genderwise.
Sydney Freeland's neophyte cast handle these stories with a minimum of overacting: a young man trying to join the army to better his family's future; a college student searching for his biological parents; a transsexual who dreams of being in a pin-up calendar. It's not a subtle film but, on the other hand, it doesn't hammer its issues home. It's a no-frills effort of solid if workmanlike storytelling.
Director Marjane Satrapi's The Voices is a comedy-horror film about a disturbed young man named Jerry (Ryan Reynolds), who works in a bathtub factory and harbors a crush on one of the women in the accounting department (Gemma Arterton). Just one thing: He's got a slight problem with hearing voices that urge him to do bad things.
This commentary continues on my website.
Popular in the Community