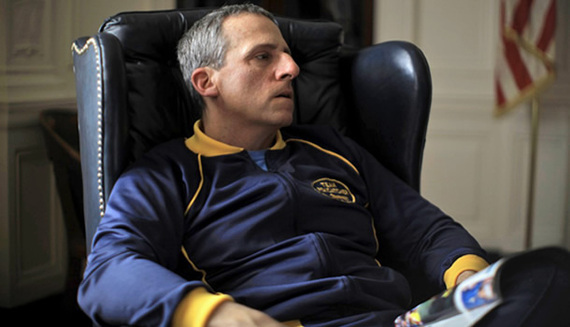 If I were going to generalize about this year's Toronto International Film Festival based on the films I saw Monday, I'd tell you that it's a great year for dramatic films based on true stories.
But that's just how my line-up happened to go.
I started the day with one of the fall's most anticipated films, Bennett Miller's Foxcatcher. Miller, in my estimation, has jumped into the class of Steven Soderbergh and other great directors of the past 25 years (who don't worship at the Tarantino altar). His film is based on the true story of a bizarre relationship between a pair of Olympic wrestling champions and a member of the Dupont family, who became the benefactor of USA wrestling.
As played by Steve Carell in a complete change of pace, John E. (it stands for Eleuthere, though he tells people it stands for his self-adopted nickname, Eagle) Dupont is a weirdly remote and extremely cold fish. He is fascinated by (and seemingly attracted to) wrestler Mark Schultz (Channing Tatum), who won gold in Los Angeles in 1984 and, as the film starts, is training for world championships in 1986. But Mark's life is obviously a Spartan one, because there's not a lot of money to be made in amateur wrestling.
Then he gets a call from Dupont, who wants Mark and his older brother (and coach) Dave (Mark Ruffalo) to allow him to be their benefactor. They'll move to Dupont's estate, Foxcatcher Farm, in Pennsylvania, where he'll pay them to train -- themselves and other wrestlers -- for Team Foxcatcher, in anticipation of the world meet in France.
Dave, however, has a job coaching college wrestling and won't make the move. Mark, uncommunicative but sensitive, is flattered to be sought and takes the strange Dupont as his mentor, even as he whips the new team into shape.
But eventually, Mark comes to resent Dupont's dominance -- and then turns against his own brother, when Dave is enticed to join the Foxcatcher crew. Miller keeps the tension on the boil without letting it reach any sort of cathartic peak too quickly. Instead, he leaves much of the conflict unspoken -- in part because he tells the story through images rather than speeches, in part because these are not people who can articulate their feelings in words.
The filmmaking is spare but incisive and, together with the performances, this film should dominate any awards conversation this fall. Carell is the most obvious standout, with a controlled, eerily chilly characterization. But Tatum, as the over-muscled, always simmering Mark, and Ruffalo, as his quietly concerned and caring older sibling, are every bit his match in evoking the pathos and pain of characters searching for emotional connections that absent parents never gave them.
I also was moved by Bill Pohlad's Love and Mercy, an insightful exploration of the life of Brian Wilson of the Beach Boys. The bifurcated script by Oren Moverman and Michael Lerner tracks two sections of Wilson's life: the year he quit touring to focus on making the legendary Pet Sounds album (with Paul Dano as the young Brian); and the final years of his bizarre relationship with his manipulative therapist, Eugene Landy (with John Cusack as the older Brian).
This review continues on my website.
REAL LIFE. REAL NEWS. REAL VOICES.
Help us tell more of the stories that matter from voices that too often remain unheard.