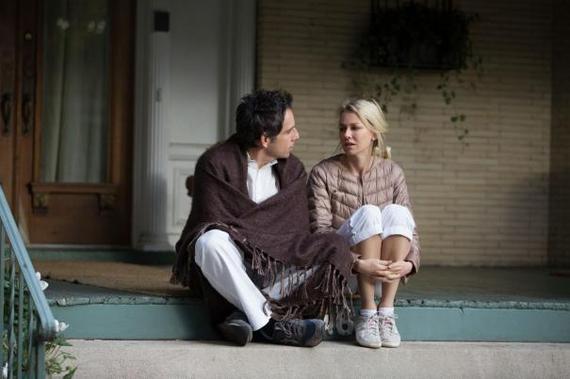 I had a six-movie day on Wednesday at the Toronto International Film Festival that started with Adam Sandler and ended with Madame Bovary. Soup to nuts, as it were, not necessarily in that order.
In most respects, it was a day full of surprises, filled with movies where, beyond the name of the director or stars (and perhaps a single plot line), I went in knowing nothing at all about most of them. Which, to my way of thinking, is always the best way to see and judge a film.
Of course, I knew the story of Madame Bovary, but this version by Sophie Barthes had a couple of things to recommend it, starting with Mia Wasikowska in the title role and extending to the electric Ezra Miller as Leon Dupuis and Logan Marshall Green as the marquis with whom Emma launches an affair.
Barthes' film captures the ennui and sameness that engulfs the days of the young wife of a country doctor, who had not counted on being stranded in the provinces when she married him. Wasikowska (as well as Miller and Green) brings a youthful impetuousness to the character, a resentful sense of entitlement that gives way to the headiness of lust. This is a Bovary who is not particularly likable, but who understands the game, even as she shreds its rules and pays the price.
Entitlement is also an issue in Noah Baumbach's wonderfully acidic While We're Young, which captures a pair of Gen-Xers, Josh and Cornelia (Ben Stiller and Naomi Watts), at a crisis point. All of their friends are having babies and they can't; meanwhile, Josh feels as though he hasn't reached his potential as a filmmaker and is about to have a midlife crisis.
So he tries to avoid it by becoming pals with a pair of millennials, Jamie and Darby, played with delicious looseness by Adam Driver and Amanda Seyfried. The younger couple lives in Bushwick and their pointedly hipsterish choices suddenly seem cool and new to Josh and Cornelia (instead of pretentious and half-baked), because they're in full denial about just how old they've become. It's a sharply observed social comedy about changing tastes ("I remember when The Goonies was just a bad movie") and shifting standards, as seen by someone who is clinging desperately to what he knows and believes, even as a new generation dismisses it out of hand.
Isabel Coixet's Learning to Drive, which reteams Ben Kingsley and Patricia Clarkson from Coixet's 2008 Elegy, is the kind of audience-pleasing film that regularly used to break out of a festival like Toronto into the mainstream.
This review continues on my website.
REAL LIFE. REAL NEWS. REAL VOICES.
Help us tell more of the stories that matter from voices that too often remain unheard.