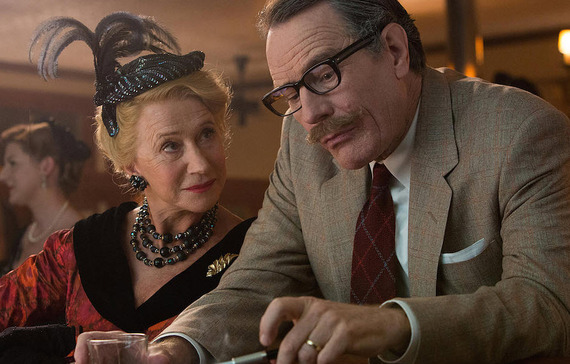 The Toronto International Film Festival, in its 40th year, is, at this point, North America's largest, sprawling across this massive city with more than 300 films vying for the attention of the public and the press.
I've been attending this festival since 1984 - which would seem like a lot to me, had I not been in the audience to see Barbara Kopple's moving and uplifting new documentary, Miss Sharon Jones! As the film was introduced, the programmer doing the introduction pointed out that Kopple was one of three filmmakers with work in this festival who also had films in the very first Toronto festival: her 1976 documentary, Harlan County USA, which went on to win Kopple the first of her two Oscars.
I have fond memories of films I saw here for the first time. In that first year, for example, I caught the Coen brothers' debut, Blood Simple, as well as Places in the Heart and Steve Martin's All of Me.
This year's edition will be remembered for putting both Jay Roach's Trumbo and James Vanderbilt's Truth in contention for the Oscar race. I saw the two films back to back on Sunday - and they are guaranteed to both grip you and infuriate you, because of the way they resonate with the political situation we find ourselves in (and to which we doomed ourselves in 2004).
Truth stars Cate Blanchett as Mary Mapes, a journalist and producer for 60 Minutes who, in 2004, came across what seemed to be evidence that then-President George W. Bush, who was seeking reelection, had received preferential treatment to get into the Texas National Guard (and avoid being sent to Vietnam), then essentially skated on the last couple of years of his guard duty, again thanks to pulled strings. But Mapes was the victim of forged documents and looming deadlines; while she had the story right, she and her boss, Dan Rather (played with canny folksiness by Robert Redford), both took the fall for the doctored documents.
The Mapes story itself is more than a decade old, but the problems it represents remain fresh. While Mapes and Rather made mistakes, they were hung out to dry by both CBS (more concerned about profits than seeking the truth) and the rest of the media. CBS' competitors seemed obsessed with bringing down CBS, rather than pursuing the substance of the story itself: that Bush, in all likelihood, had used his connections to avoid Vietnam, then used them again to skip out on a lot of duty.
As Vanderbilt's film points out, CBS (and Viacom) were basically afraid of antagonizing the Bush White House - which used its mastery of misdirection and strong (but inaccurate) messaging. Blanchett captures the frustration of Mapes, a hard-charging journalist who finds that she's been turned into the story, in order to discredit her efforts on the real story.
Blanchett is already being touted for an Oscar for her work in the upcoming "Carol," but this performance - tough, smart, vulnerable -- may also make her a contender. She has strong support from Redford, as well as Dennis Quaid, Elisabeth Moss and Topher Grace, as her investigative team. Truth is a film guaranteed to reignite this controversy and, perhaps, finally bring the truth out into the open.
Jay Roach's Trumbo is equally good at making the blood boil.

This commentary continues on my website.
REAL LIFE. REAL NEWS. REAL VOICES.
Help us tell more of the stories that matter from voices that too often remain unheard.