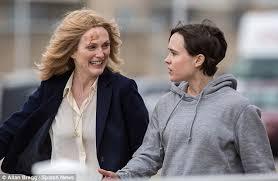 Three-fourths of the way through my second day at the Toronto International Film Festival today, I realized that, beside the documentary I'd seen Sunday, all the movies I'd chosen turned out to be dramas based on true stories. And every one of them dealt with an injustice of some sort.
Sunday, it was Trumbo and Truth. Today, the day began with The Program, a Stephen Frears film about Lance Armstrong. I followed that with the shattering Freeheld, based on the true story of a New Jersey police woman who, as she faces death from cancer, discovers that the county for which she works will not let her assign her pension benefits to her female domestic partner.
It wasn't until Forsaken, my seventh film in two days, that I saw a work of fiction. I enjoyed it, though I knew it wasn't much more than a middling western.
Peter Sollett's Freeheld was, for me, the find of the day -- an intensely emotional film based on a true story that could easily win Julianne Moore her second Oscar in a row (and, perhaps, earn a nomination for the terrific Michael Shannon). Moore plays Laurel Hester, an Ocean Township, NJ, police detective who is a closeted lesbian. Then she meets the love of her life, a young mechanic named Stacie (Ellen Page).
It's 2005, so they file papers to become domestic partners, as allowed then under New Jersey law. They buy a house - but then Laurel is diagnosed with terminal lung cancer. She applies to have her police pension assigned to Stacie (so she can afford the house), but the local county freeholders (comparable to county legislators) vote to deny her request because, well, traditional marriage. While the state mandates this arrangement for state employees, it's optional for local government - and these guys are all facing imminent reelection.
This, of course, is shortly after the Bush reelection campaign of 2004 whipped up a frenzy of fear about the threat that "gay marriage" represented. But Hester develops some unexpected allies, including a Jewish gay-rights activist (Steve Carell) and even Hester's on-the-job partner (Michael Shannon in a role he infuses with empathy). You can look up on the Internet to see whether Hester won her case or you can wait and watch this wrenching story that features an equally heart-breaking performance from Page as the young woman confronting discrimination at her emotional low-point. It's easy to see this film winning the festival's audience award.
Ben Foster gives a chilling, charming performance as Lance Armstrong in The Program. Stephen Frears' film is based on the book by Irish sportswriter David Walsh (who lost a libel case to Armstrong in English courts, only to have the fine returned when it turned out Armstrong was lying about not using performance-enhancing drugs).
This review continues on my website.
Popular in the Community