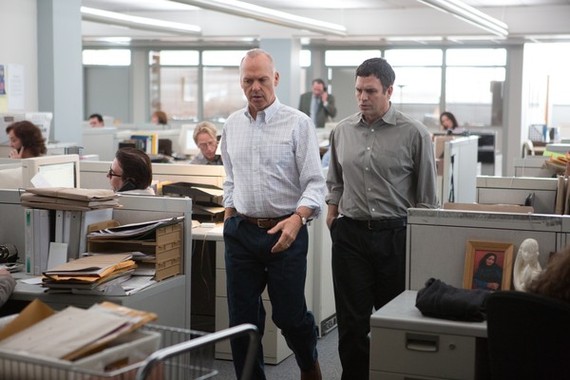 It's been a number of years since I started scheduling myself for the second half of the Toronto International Film Festival, rather than the first few days. I'm not someone who either is assigned to or feels the necessity to be the first person to see a film and register my opinion.
As a result, by the time I get here and start seeing films, others have already rushed to judgment. I counted no fewer than a half-dozen films being touted by different bloggers as "the best film of the year" before I even arrived in Canada. A couple of those turned out to be far less impressive than the hype would have you believe.
But, during my final day at TIFF today, I saw what may, in fact, be the best film of the year. While I've seen films that will definitely make my list of favorites for 2015, Spotlight was the one that gave me that tingle: that giddy feeling that I was seeing something important, something special, something that will be hard to top before year's end.
Directed and co-written by Tom McCarthy, the film is a journalistic thriller on a par with All the President's Men. Like this year's Truth, it looks at journalists battling to get at the crux of a story. But, unlike that film about Dan Rather and the George W. Bush-National Guard story (in which the journalists were punished for their efforts), this one features reporters doing what they do best: exposing malfeasance and bringing the malefactors into the light.
In this case, the protagonists are an investigative group known as the Spotlight team at the Boston Globe. Set in 2001, the film follows these reporters (led by Michael Keaton and including Mark Ruffalo, Rachel McAdams and Brian d'Arcy James) as they track down the pedophilia scandal kept under wraps for decades by the Boston Archdiocese. The deeper they dig, the harder the Catholic Church pushes back - in Boston, a town the Church practically owns.
McCarthy masterfully handles a sprawling tale with a strong ensemble cast (which also includes John Slattery, Liev Schreiber, Stanley Tucci and Billy Crudup, among others). Each of the reporters follows leads that take them closer and closer to what they're seeking: proof that the Archdiocese knew about and sheltered pedophile priests, moving them from parish to parish instead of defrocking them and making them pay for their crimes. The reporters battle the Church's long arm - but also have to struggle with their own urge to rush to print, rather than waiting until they have the entire sordid story nailed down.
In an era when newspapers are dying on the vine, outstripped by the Internet and defanged by corporate owners whose only concern is the bottom line, it's a heartening tale, though the story they uncover is sickening. Sunshine, as they say, is the best disinfectant - and these reporters are trying to open the blinds on a church full of vampires.
As it happened, Thursday was yet another day where the three films I saw all were rooted in true stories. The second film, Our Brand is Crisis, is based on a 2006 documentary about American political consultants (led by James Carville) helping a former president of Bolivia run for a new term.
The film is certainly the most watchable and coherent film from overrated critical favorite David Gordon Green. Working from a fictionalized script by Peter Straughan, it's more Hollywood than docu-drama.
This commentary continues on my website.
Calling all HuffPost superfans!
Sign up for membership to become a founding member and help shape HuffPost's next chapter