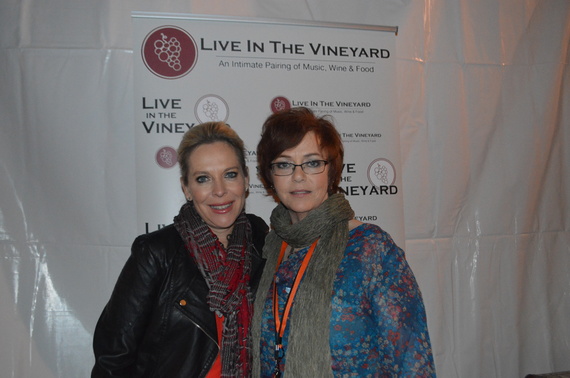 Bobbi Hach-Jacobs and Clare Parr should be fierce competitors in the cutthroat world of music promotion and marketing. But as leaders in their industry, they found a friendship through their love of music and musicians and bonded as dear colleagues and close friends.
For over 20 years, both Bobbi and Clare individually made their life's work about promoting bands and musicians, each owning their own radio promotion companies. 24/7 their worlds are music, music, and more music. They connected within the male-dominated music industry and nurtured a friendship through the natural course of life's challenges. They relied on one another through the deaths of all their parents, the births of babies, and fighting serious illnesses. Theirs is a relationship that developed from a place of true friendship and camaraderie.
Clare Parr comes from a family lineage of radio and broadcasting giants and in 1999 created her own promotion and marketing business, The Navigator Company. She currently promotes over 65 artists.
Bobbi Hach-Jacobs took her enormous success in promotion, publishing, and event marketing and created BSG Entertainment in 2005, now one of the leading companies in music promotion and marketing business in the country.
It was not until 2008 that Bobbi and Clare began collaborating on their labor of love: Live in the Vineyard.
Live in the Vineyard, an intimate pairing of music, wine, and food was born after Bobbi came to the Napa Valley for a "wine and foodie" event in 2008 and called Clare late one evening to tell her how wonderful the evening had been and how much she loved the Napa Valley, but that a key ingredient had been missing -- music.
At that time, Clare and Bobbi were noticing the struggle that new musicians were having getting new music on the radio and how much the industry was changing. It struck them they could marry their world of music with the world of food and wine in Napa Valley to helps shine a spotlight on these new artists. They chose to help out a young musician, Jason Mraz, whose song, I'm Yours, they wanted to get on the radio. They gathered up Matt Nathanson and a few other Indie musicians to promote at their first event.
Bobbi and Clare went to Napa and convinced the Miner Family Winery to let them use their wine cave and got eight west coast radio stations to promote the event as the ultimate "girlfriend getaway." The idea was to have a private event that people could win tickets on the radio to attend. They billed it as "girl time" -- an opportunity to grab your best friend, go drink wine in Napa, and hear great music.
They had no idea that they would ever do another Napa Valley music, food, and wine getaway, but the first event was so successful that 16 radio stations opted in to promote it and then immediately afterwards the record labels and musicians asked Bobbi and Clare to do more of these events.
Since 2009, the dynamic duo have been doing two events every year -- in April and November. Now over 250 radio stations promote Live in the Vineyard, including Sirius Satellite and XM, along with the Starwood Hotels and Southwest Airlines.
For Bobbi and Clare, their biggest challenge is trying to balance their individual promotional businesses, their Live in the Vineyard work, and their family life, while trying to still maintain some social life.
But their love of music and the people involved, whether the executives, sponsors, or the 250 radio, airline, hotel awards and magazine contest winners, keeps them motivated to do it again, year after year. Clare said: "With power comes responsibility, and we know Live in the Vineyard makes important connections for our musicians. Every person that is a part of Live in the Vineyard, is made to feel special and empowered and encouraged. We choose musicians and chefs and winemakers that are just not great artists but are great people."
As two busy business women, mothers, and friends, Bobbi and Clare started Live in the Vineyard mainly to have fun together and as an opportunity to be their authentic selves within a world they knew and loved. What they did not imagine was that their Live in the Vineyard events would touch so many people and be such a critical vehicle for their artists to get their music out to the world. Now it has truly become a way that they give back within a world they care so deeply about and is so important to them.
Both Bobbi and Clare also bring a philanthropic twist to their events. Whether it is City of Hope, a nonprofit close to Clare's heart as a 3 time cancer survivor, Jewelry for a Cause to get illegal hand guns off the street, or the Napa Food Bank to feed the hungry, each event raises awareness and funds for causes that Bobbi and Clare care about and support.
Bobbi and Clare are masters at introducing, matchmaking, and connecting people that are beneficial to other people. This includes mentoring younger women in their own companies and with Live in the Vineyard.
"We are actually who we say we are," Bobbi told me. "Two women who love their work, the musicians and people from all walks of life. Like my father always told me, 'if you follow your heart and love what you do, you will always be OK'."
And Clare chimed in, "We want people to live in the moment and be brave and be empowered to make passionate choices about things and the people they love."
These two women are role models for us all.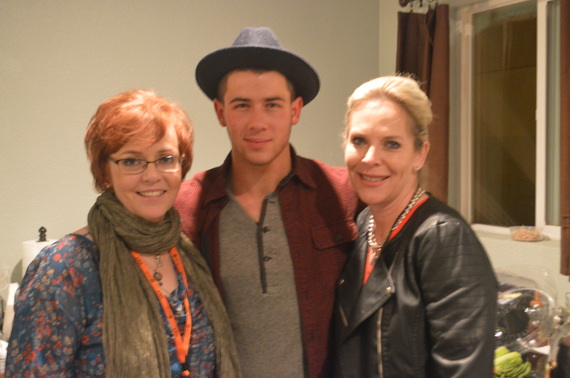 Calling all HuffPost superfans!
Sign up for membership to become a founding member and help shape HuffPost's next chapter