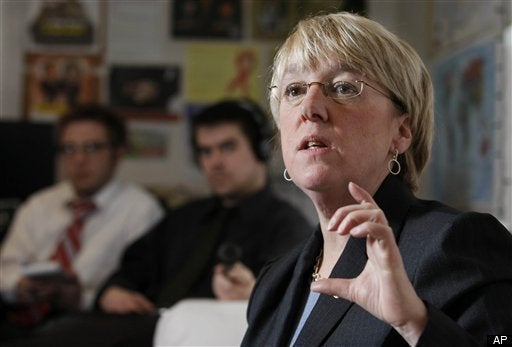 Another busy 24 hours of poll releases provides new confirmation that the Senate contests in Nevada and West Virginia remain very close, while a new CNN/Time survey in Washington confirms that Democratic Senator Patty Murray continues to do significantly better on surveys that use live interviewers than those that ask questions with an automated, recorded message. Two new Delaware polls confirm that Democrat Chris Coons is crushing "Saturday Night Live" favorite Christine O'Donnell, while two new Democratic polls show a potential tightening of the Sestak-Toomey race in Pennsylvania that's at odds with the independent public polls.
And a Pew Research Center report throws a monkey wrench into our polling obsession with a new report suggesting that virtually all of these polls may err in the Republican direction by excluding Americans who cannot be reached on landline phones.
To win an absolute majority in the Senate, Republicans need to pick up 10 seats. Based on current polling, their best hope for that 10th seat is in Washington, where Democratic Senator Patty Murray is battling Republican challenger Dino Rossi. Whether those hopes are real or illusory may depend in part on what mode of polling you trust most.
Yesterday, CNN and Time released a new live-interviewer survey that shows Democratic Senator Patty Murray leading Republican challenger Dino Rossi by eight percentage points (51% to 43%). On Tuesday, a new live-interviewer Elway poll gave Murray an even bigger lead (55% to 40%).
These two new polls confirm a continuing pattern in this race: The live-interviewer pollsters, CNN/Time and Elway show Murray doing consistently better than the automated polls from Rasmussen Reports, Fox News and Rasmussen subsidiary Pulse Opinion Research and SurveyUSA. This week, for example, two new Rasmussen and Fox/Pulse polls showed a very different result, Rossi leading Murray by 3 and 1-point margins respectively.
Our standard trend estimate for Washington now gives Murray a slightly better than three-point lead (48.9% to 45.7%), still qualifying for toss-up status, but just barely. Which pollster is closer to the truth? Though the differences may converge over the next two weeks, we will likely not know for certain until all the votes are counted.
The mode of survey alone does not differentiate as much in West Virginia, where another CNN/Time poll confirms a very close race between Democrat Joe Manchin and Republican John Raese. This first West Virginia survey from CNN and Time, which is also the first West Virginia public poll this year to use live interviewers, shows a tie (44% each). An automated poll from the Democratic firm PPP released earlier this week gives Manchin a slight edge (48% to 45%), while last week's automated Rasmussen poll gave Raese a 6-point lead (50% to 44%). Our trend estimate blends all of the polling and shows a toss-up, Manchin at 45.6% and Raese at 44.8%.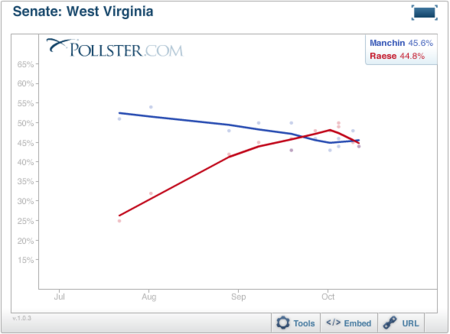 In Nevada, two new polls confirm the continuing deadlock between Democratic Senator Harry Reid and Republican challenger Sharon Angle. The first Nevada poll from Massachusetts' Suffolk University shows Reid with a 3-point edge (46% to 43%), while the latest Rasmussen automated poll puts Angle up by 1 (49% to 48%). Our trend estimate is virtually unchanged from yesterday, continuing to show a virtual tie
-- 46.4% for Reid, 46.2% for Angle.
In Delaware, two new polls confirm that Democrat Chris Coons is crushing Republican Christine O'Donnell. A CNN/Time poll shows Coons leading by 19 points (57% to 38%), and a new University of Delaware/SurveyUSA automated poll shows Coons leading by 21 (54% to 33%). Our trend lines estimate Coons' lead at 19 points (55.5% to 36.4%).
In Pennsylvania, a new Rasmussen automated poll released yesterday shows Republican Pat Toomey leading Democrat Joe Sestak by ten points (49% to 39%), roughly the same margin as measured on previous Rasmussen polls.
That result is sharply at odds with two new Democratic-sponsored surveys released yesterday showing a much closer race. A poll conducted last week by Sestak's pollster David Petts showed Toomey with one-point edge (46% to 45%), while a poll conducted over the weekend on behalf of the Democratic Senatorial Campaign Committee (DSCC) by the firm Garin-Hart-Yang showed Sestak up by 3 (47% to 44%). (Interests disclosed: Until 2006, I was a Democratic pollster and business partner of David Petts).
The Democratic polls contradict not just the new Rasmussen poll but also 20 independent surveys conducted since August showing Toomey leading by margins ranging from 3 to 10 percentage points. It is certainly possible that the new Democratic results represent the sort of statistical bias we often see in publicly released partisan-sponsored polls (discussed at more length here). But as the Philadelphia Inquirer points out, the the launch of new attack ads in Pennsylvania this week by the National Republican Senatorial Campaign Committee (NRSC), suggests that the DSCC's Republican counterpart "is acting as though numbers are moving in this race."
More data will clarify the Pennsylvania picture, but for now the three new polls narrow our standard trend estimate slightly, to a 6.4-point Toomey advantage (47.6% to 41.2%). With the two partisan polls excluded, Toomey's lead would expand to roughly eight points (48.3% to 40.1%).
Last but not least, a new Pew Research Center report released yesterday finds a potential bias toward Republican candidates in polls that do not call Americans reachable only by cell phone, a potential skew that appears to have grown significantly since 2008.
Pollster reader and Republican consultant David Kanevski asks via Twitter whether we could add a filter to our charts so readers can select only polls that sample both cell and landline phones. Unfortunately, such a filter would exclude most of the statewide polls released to date and, as far as we know, every survey discussed in this article (more details on the handful of statewide pollsters that do interview using both landline and cell phone samples in my review of the Pew Research report).
So is it possible that the totality of polling in the statewide contests is skewed slightly in the Republican direction? Yes, though we will not know for certain until the votes are counted. It is worth keeping in mind, however, that while Pew found a similar though more modest skew in 2008, their post-election analysis found no evidence of any consistent Republican bias in statewide polling in 2008. If anything, polls in 2008 erred more often in the Democrats favor. Still, this potential problem is one we will continue to focus on over the next 20 days.

Popular in the Community