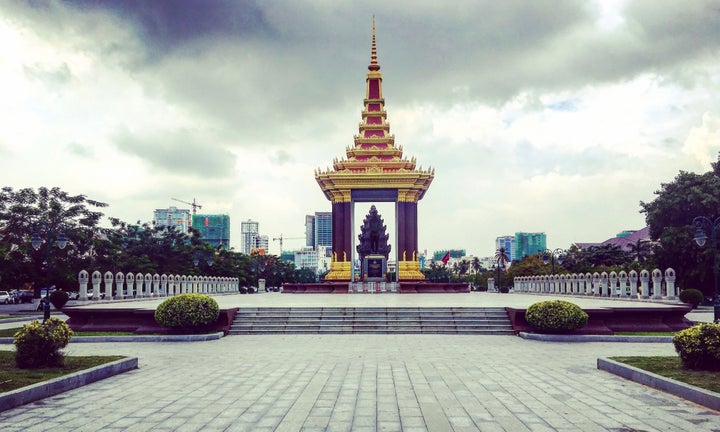 With two months of traveling through Southeast Asia under our belts, we were starting to feel like quite the experienced world travelers. Then we arrived in Phnom Penh, a city like none we've ever been to before. Phnom Penh is not a typical tourist destination. It's rough around the edges, densely populated, and quite hot, but we quickly fell in love with the energy and history of Cambodia's capital city. Here are some of the must-see's for the area, and then our tips for living like a local in Phnom Penh.
Street Life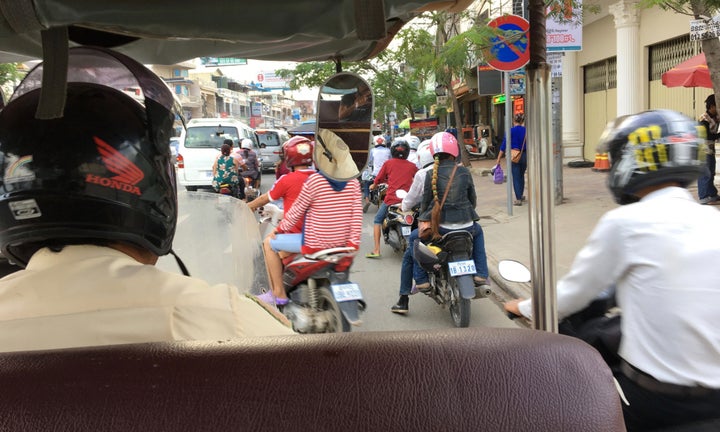 The streets of Phnom Penh are filled with tuk tuks, motorbikes, and thousands of people. It can be a bit daunting; just walking down the street with so much going on. If you have ADHD, be sure to bring your Adderall - you'll need all the focus you can get. With so many distractions it's easy to get your pockets picked. Guys: keep your wallets in your front pockets and hold on tight to your cellys. Locals on motorbikes are also known for snatching a loose phone right from your hand. And ladies, hide your kids, I mean purse under a garment or be sure to use a bag with a thick strap. A couple of girl friends of ours had their bags sliced and torn from their shoulder in a matter of seconds. Of course, not everyone in Cambodia is out to steal from you, but it is the first city we've encountered so far that you need to pay just a little more attention.
Get a Bike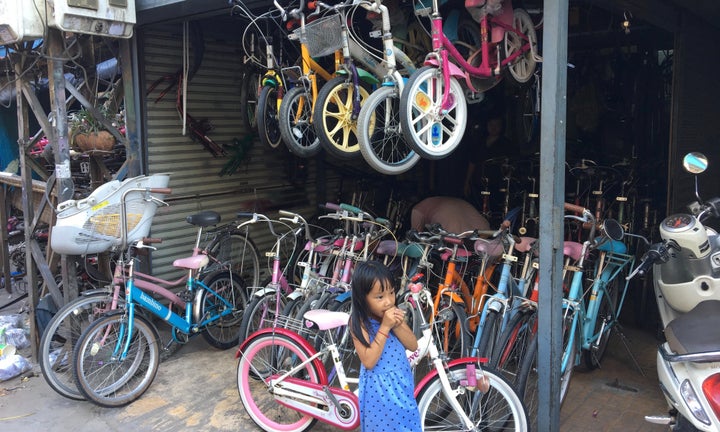 You can always get around on a motorbike taxi or tuk tuk, but it's easiest to ride a bike. For us, buying bikes for the month, at $30 each, made the most sense, but you can also rent. Bike Alley, a street full of bike shops, will have a bike for you. Since there are essentially no traffic laws, you can ride on sidewalks, opposite lanes, and just about anywhere you want. Traffic can be a pain but riding a bike gives you the ability to weave in and out, which can make all the difference.
Side Trips via Post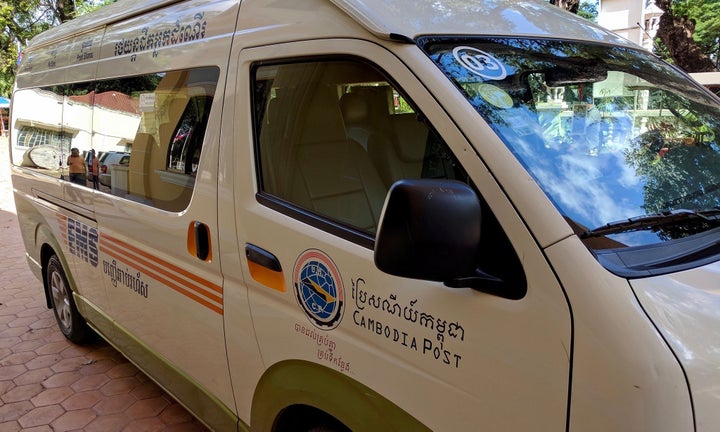 If you're taking a Cambodian side trip, the only way to go is with the mail. Seriously, a Cambodia Post VIP Van is clean, fast, inexpensive and does pickups and drop-offs at post offices across Cambodia.
Treat Yo Self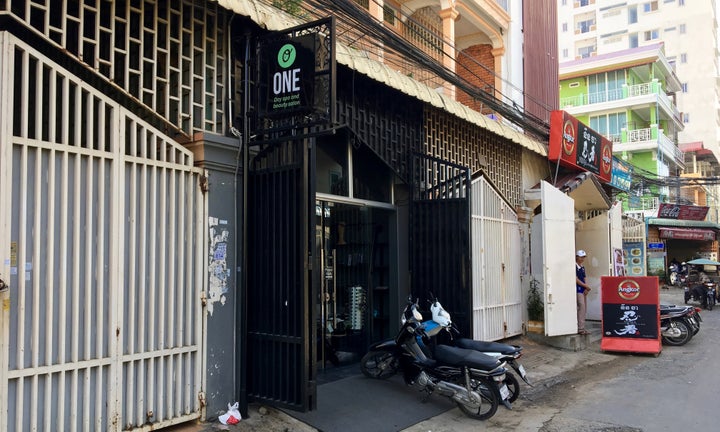 It's no secret that spa services are cheap in Southeast Asia. Cambodia is no exception. If you're going to treat yo self, why not choose a spa that gives back to the community? The Cambodian Kids Foundation runs One Day Spa & Salon and provides excellent spa services. Their mission is to provide a luxury experience while empowering women all over Cambodia. We also suggest Tokyo Barbershop for a great fade, complete with neck and back massage, or Space Hair, the salon that turns into a fabulous gay lounge after dark.
How to Tuk Tuk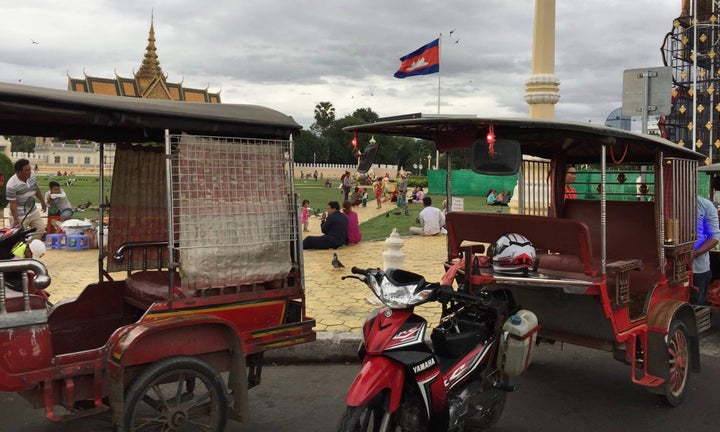 Tuk tuk drivers are hustlers. If you hesitate on how much to give a tuk tuk driver or ask how much your ride is, they will most certainly inflate the price. We've found that two bucks will cover most trips under two kilometers, but if there's heavy traffic or you're going a little further, throw in another dollar or two (depending on how much further you go).
Street #308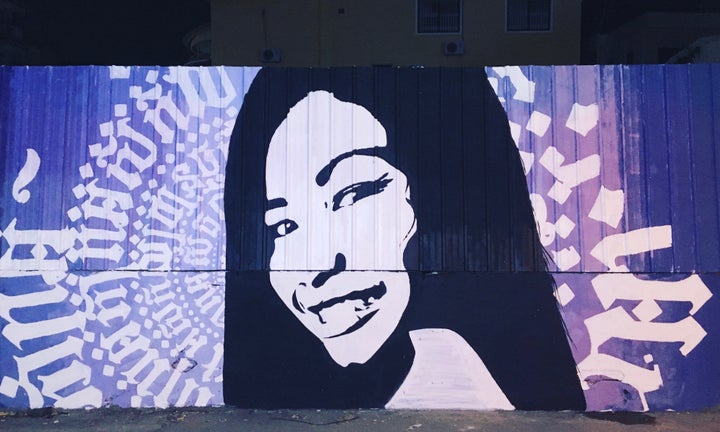 Got a Tinder date? We've got you covered. Head to Street #308 for an intimate dinner, followed by some window-shopping and a great cocktail. The area feels a little like a So-Ho street; full of trendy bars and boutique retailers. We recommend grabbing pizza and wine at Piccola, then a craft cocktail at Elbow Room, or one of the many bars that line the alley.
Find your Happy Place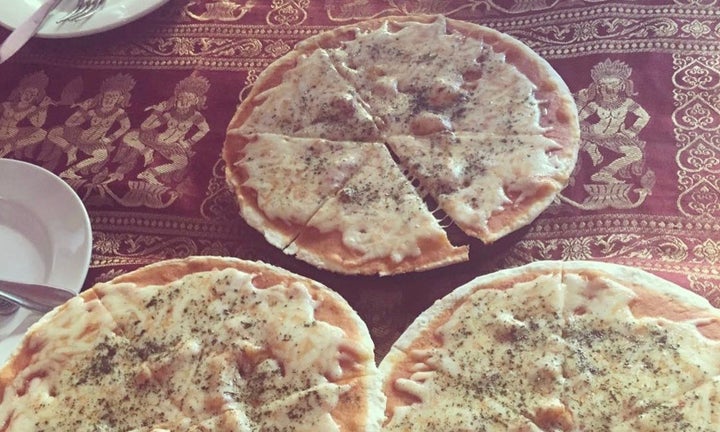 But for real, though. Cambodia is the land of happiness. When you come across "happy" on a menu, it's code for herbal joy, and it really does bring happiness. We found ourselves indulging in happy pizza… and nachos… and milkshakes over the course of our month in Phnom Penh. :-)
Night Vibes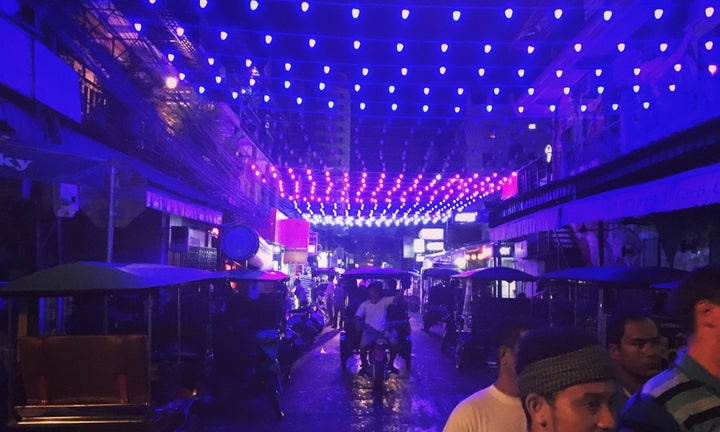 Cambodia knows how to party! The energy of this place really makes for a fun night out. Here's what you've got to do: jump in a tuk tuk and negotiate a rate for the evening; you're going bar hopping. First, head to street 278 and grab a drink, or bucket at Top Banana. Then cross the street to Club Love, where you'll find a packed dance floor. Later, you'll want to head to Pontoon or Heart of Darkness for more fun into the night. If you're looking for a little entertainment, check out Blue Chili for a drag show - Wednesday through Saturday.