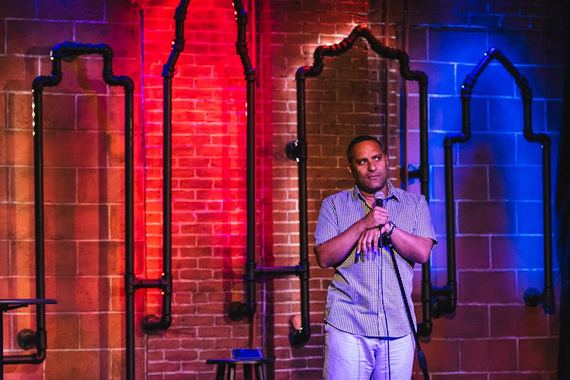 Live Nation opened their first comedy club on the East Coast in Philadelphia, Punch Line Philly, on July 8. with more planned. Building comedy clubs is a logical extension for Live Nation Comedy, which is the world's largest promoter of comedy events. They already own and operate 3 comedy clubs in San Francisco and Sacramento. Geof Wills, Live Nation Comedy president, said, "We probably should have done this a long time. There are definitely other opportunities. Now that we have this one under our belt, we could go here, here, and here. I wouldn't give you any places where we are actually going, but it's definitely pushed it to the front of the line rather than being in the back of the line."
Live Nation opened up Punch Line, which is the first comedy club to open in Philadelphia in a decade, directly opposite their new music venue, the Fillmore. Both are in Fishtown, a former manufacturing section of Philadelphia that now has been taken over by hipsters. The club has retained its industrial origins for the décor. Only the VIP section, where supposedly the jokes are funnier, has a softer, more luxe look. The club, which has a 2 drink minimum, has a well-stocked bar including my favorite liquor, Campari.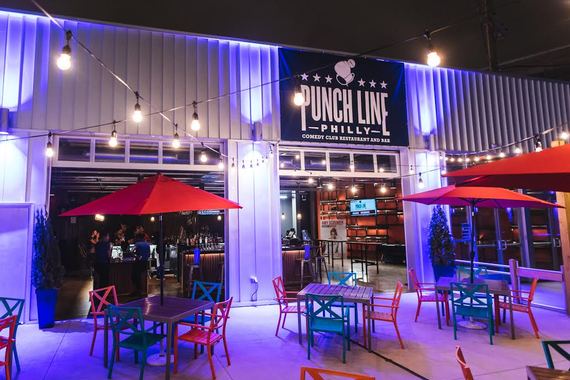 Live Nation executives probably will be laughing all the way to the bank with the opening of this club. The first two headliners, Dave Chappelle and Russell Peters, sold out the 300 seat club for multiple engagements despite no one knowing about the club. Wills joked, "Tony Woods, one of the acts that I hired to open for Dave Chappelle and a stable headliner on the Eastern Seaboard, said to me, I gotta tell you, Wills, no one even knows this place existed. Yet here we are with a sold out audience."
With the club opening one day after the fatal shootings of 5 cops in Dallas, it seemed, at first blush, like an inauspicious start. Or maybe not, the one thing these turbulent times definitely need is more laughter. I initially hesitated to attend the opening because I wasn't sure that I could laugh again so quickly after the tragic events of the past week. Laughter proved once again that it really is the best medicine. I walked out of the club with a smile on my face.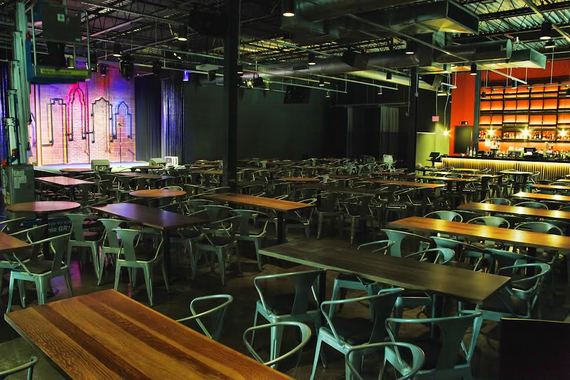 The MC of the evening, Ruben Paul, surprisingly was the funniest act of the night. As a first generation American myself, I could relate to being embarrassed by immigrant parents. It didn't matter that Paul's parents' favorite dish was fried bananas and mangoes while mine were kasha and bow-ties and borscht. His routine was a reminder of the universality of the human experience and that there is more that unites us than divides us.
"Sit down" comedian Steve "Short Bus" Krause next performed a funny routine that enlightened the audience about life in a wheelchair. Krause, who suffers from arthrogryposis that limits movement in his arms and legs, invited the Punchline crowd to watch him climb the infamous "Rocky" steps at the Philadelphia Museum of Art on his back for a fundraiser during the weekend. He did, in fact, successfully complete the climb and reached the top of the steps on Sunday morning.
Russell Peters, who is a national hero in Canada and has a huge following among Asians and Indians, spent much of his 60 minute show conversing with the audience in the first few rows. Some of those sitting further back felt left out. I was in on the joke by default. Peters chose to pick on a friend of mine who is a sleep doctor. He was hilarious when he tried to discern what exactly that entails. I couldn't stop myself from howling when he had the chutzpah to ask her if she met her date on Tinder since I had wondered the same thing myself.
Father-daughter relationships are typically the mother-lode (pun intended) of humor with one exception- buying your 5 year old daughter a $10,000 castle bed that she never sleeps in. Of course, Peters had done exactly that so that part of his routine fell flat for me. But realizing he threw away $10,000 on a child's bed was a good reminder of the earning power of successful comedians, who unlike rock bands don't travel with huge entourages.
Overall, the show was good not great. The show was well worth the price of admission since I left feeling the weight of the world had been lifted from my shoulders. More Punch Line comedy shows might be just what the doctor ordered.
Photo credit for first 2 pictures- Steve Garfinkel Photo Credit for last picture- Scott Weiner
REAL LIFE. REAL NEWS. REAL VOICES.
Help us tell more of the stories that matter from voices that too often remain unheard.