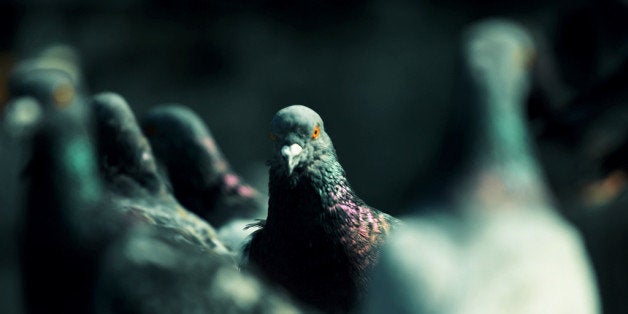 More than two decades ago, when I first became active in animal protection, I went to protest what was then the nation's largest pigeon shoot -- in Hegins, Pennsylvania. The organizers trapped thousands of live pigeons from cities and other areas where the birds lived and then trucked them back to Hegins for the Fred Coleman Memorial Shoot, a Labor Day affair that had gone on unchallenged since the 1930s.
During the day, all day long, the organizers released the pigeons from boxes just yards away from a line of waiting shooters, who maimed and killed the birds as a target shooting exercise. Little boys dashed into the fields to twist off the heads of the wounded, flailing birds, compounding the cruelty with a clean-up process that just had to deaden the empathy of kids conscripted to participate in this perverted adult spectacle.
After some years, a state court ruled that humane society police officers could enforce the anti-cruelty laws of the state and that such laws did apply to pigeon shoots. That spelled the end of the Hegins shoot, but, amazingly, other live pigeon shoots persist, in more clandestine circumstances, in other parts of Pennsylvania, hiding in the shadows and obscured from public protests or scrutiny. Last week, the Senate Judiciary Committee considered a bill to ban the slaughter of dogs and cats for human consumption, and added to it the target shooting of dogs and cats and live pigeon shoots. They passed the bill, H.B. 1750, by a vote of 10 - 4.
Now the National Rifle Association is attempting to use its lobbying muscle to prevent the consideration of this bill on the Senate floor, threatening lawmakers with retribution, should they support H.B. 1750.
Can you imagine that there is still controversy anywhere about whether it's right to ban these spectacles of cruelty? A spectacle that causes obvious pain and suffering to animals. A spectacle that cannot be called hunting because there is no licensing, hunting season, no bag limits, and no consumption of the animals shot. An activity that has superior substitutes such as clay, skeet or trap shooting, involving the use of inanimate objects -- with many of these forms of target shooting recognized as an Olympic sport. A spectacle that has long fallen out of favor throughout the world.
Witnessing the cruelty of pigeon shoots changed the life of The HSUS's current senior vice president of campaigns, Heidi Prescott. At the time, she was a volunteer and a wildlife rehabilitator. At her first shoot, it didn't take her long to come across a wounded bird who had been suffering for hours and was gasping for breath. The bird's injuries were so severe that she helped to humanely euthanize the animal. She says that after this experience, she made a pledge to campaign against pigeon shoots until they were ended for good. She's been fighting for 20 years for the enactment of this policy, and she's been joined by a strong group of responsible lawmakers, including State Representative John Maher, and State Senators Stewart Greenleaf, Dominic Pileggi, Pat Browne, and Richard Alloway, who are similarly committed to ending this cruelty.
Now, other state lawmakers must join them and demonstrate resolve, in the face of hollow threats from the NRA. No lawmakers have ever looked back, despite opposition at the time, and wondered whether they should have voted to outlaw dogfighting, or cockfighting, or malicious cruelty to animals. And the rest of us only look back and wonder why those legal protections for animals took so long.
Live pigeon shooting is a cruel and frivolous form of fleeting entertainment, with no larger social purpose or benefit. It is not hunting -- it is a disgrace, and lawmakers who fail to stand tall on issues with this kind of moral clarity should feel only shame and embarrassment.
Popular in the Community