We are 18 debris-strewn miles West of Port-au-Prince. I am leading an international NGO team in Haiti as part of the recovery and reconstruction here following the January 12 earthquake.
Our objective is to provide post-disaster family-care programming for orphaned children living with their extended families in Leogane.
In addition, we are involved with our partner NGOs to provide education, health care, and clean water for the city's children. Education is key, and our partners are focused on primary, secondary, and long-distance learning via Skype. Emphasis is on helping to decentralize Haiti, building opportunities for people to leave the nation's overcrowded capital.
We are camped across the street from 6,000 homeless Haitians in Leogane Stadium, with another 1,000 living in tents next to us. We are on Day 2 of the trip, camped out on the cement floor of the Belo Water Company factory, and our days begin at dawn.
We arrive in Carrefour, a poor community along the main road from Port-au-Prince to Leogane. Our meeting begins at 8am with a Haitian NGO led by a dynamic Haitian-American, Slajanna "Tammy" Riche who came down from Long Island immediately after the quake.
Tammy has founded "Next Haiti" to serve the people living in primitive concrete homes and tents built up the steep mountainside. She would like us to accept two orphaned children. One of the children lost their father when she was three and now her mother has been killed in the earthquake.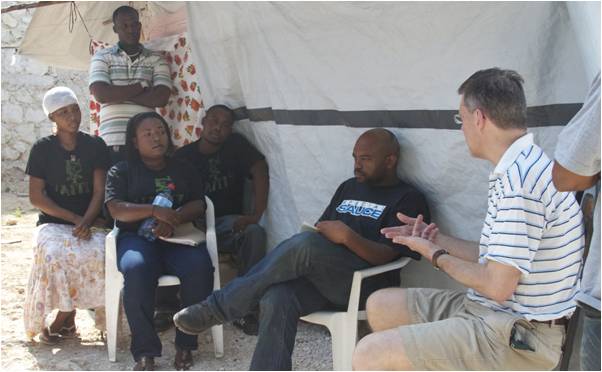 Meeting Haitian-American Tammy Riche of "Next Haiti" was a high point of our trip.
While we were in Carrefour, we visited one of our team member's childhood home which survived the quake but was consumed by fire in just the last few weeks. The one-room home, with a sweeping balcony view of the harbor below, was home to his entire family until he migrated to the U.S. at the age of six.
Upon our return, we see the effect our Radio Amikal FM 101.5 interview the night before had had: almost 200 applicants wait in the hot sun to interview for one of our ten college scholarships in Beijing, China. We are working to obtain university scholarships in the U.S. for them as well.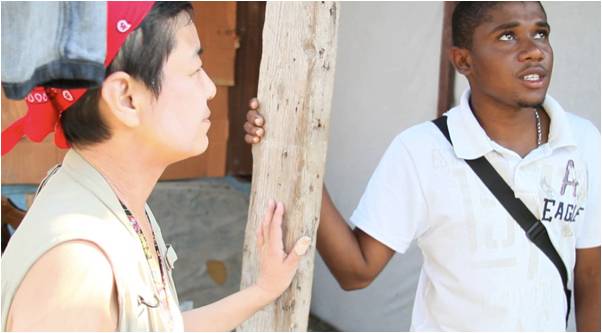 Japanese journalist Keiko Tsuyama helped us to organize our interview process.
We have decided to train 40 Haitian recent college graduates in English and Chinese for one year at our own expense, so that the ten best candidates indentified over a year of study will be prepared to study in Beijing.
Our team members Kona Shen and Vanessa Kim lead the candidate interviews in English, French, and creole in a process lasting seven hours.
Our panel of team members gave each an academic grade, A-F, for the interview, and we plan to bring back the Top 50 applicants tomorrow. Each graduate is photographed with their high school diploma. Team members Steve Hanks, Keiko Tsuyama, and Evens Anozine assist in the process.
As we wrap up the college scholarship interviews, we meet with two Board members of the primary and secondary school here we wish to partner with, Magarette and Dominique Beauliere. The meeting goes brilliantly. It looks like we will partner with Ecole Primeraire la Redemption and Nouveu College Surin Eveillard Secondary School (high schools in Haiti are referred to as "college").
The local leadership of another one of our local NGO partners, the Colline Academie, dropped by. Communications are poor here, and I was en route with car and driver to their fallen facility at the exact moment they arrive at our base, so I am called by cell to return.
Before I return we drop by to see if our fellow team members meeting with the Sri Lankan commanders of the U.N. troops have finished their first meeting. The U.N. Peacekeepers here in Haiti are known by the long acronym "MINUSTAH."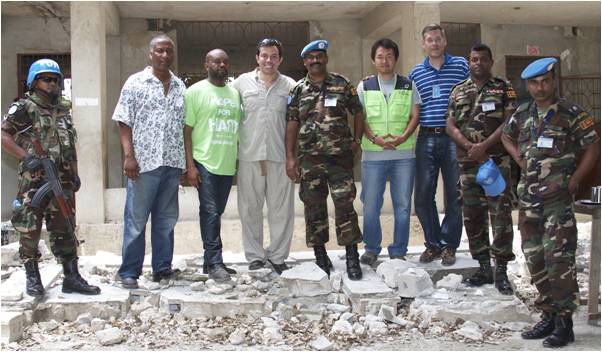 Our team became good friends with the United Nations soldiers in Leogane.
The Colline Academie leaders tell us there had been a miscommunication and their original ten orphan applicants had not been appropriate. The children had been legally "abandoned," but not necessarily "orphaned." The staff promised to provide further screening and bring children back to our base camp for introduction.
Meetings continued under the hot afternoon sun, and I meet with another candidate for our local director, a Haitian-American who had been living in Florida but who had returned to give back after the earthquake.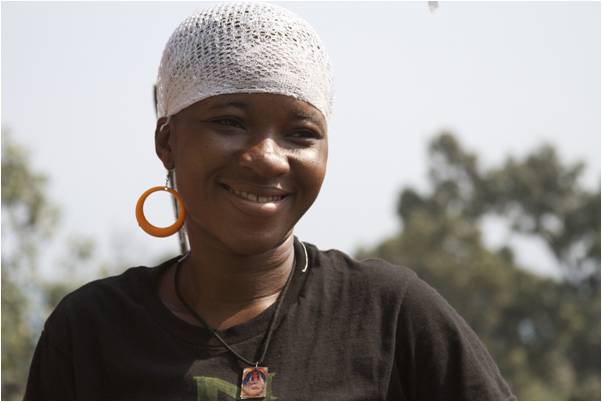 Our strategy is to work with local leadership, including this volunteer from Next Haiti.
We end our long day with a long team meeting, agreeing to focus our educational efforts on about-to-graduate high school seniors who will need to remain in school through the national exam in June 2011. Because of the earthquake and utter destruction of Haiti's educational infrastructure, this year's exam has already been postponed at least six months.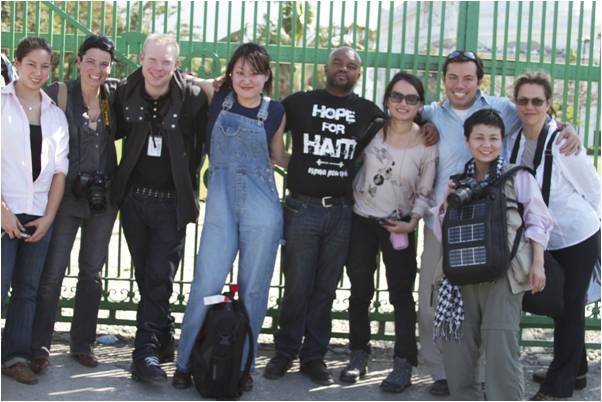 Frequent team meetings were essential to the tremendous success of our mission in Haiti. Here our international team poses in Port-au-Prince before a meeting.
Finished for another day, our team heads to a local generator-powered night spot -- basically a shack spilling into the street. The universal drink is the country's most prominent beer, Prestige. We unwind for an hour, continuing our group bonding. Exhausted, we head back through the rubble in the dark to our base camp, to sleep on the hard floor under mosquito nets in the oppressive heat.
Photos by Morgan Freeman.
Calling all HuffPost superfans!
Sign up for membership to become a founding member and help shape HuffPost's next chapter