Up before sunset in post-disaster Haiti, showering in the outdoor latrine in the pitch dark, I trust there are no spiders, lizards, or snakes to bite me in my pre-dawn daze. I am leading an international relief team here in Leogane, the quake's epicenter.
Relief work, I think sleepily, looks more glamorous on TV than in reality. With almost twelve of us in this group representing various NGOs from around the world, I wanted to take my own shower before the line formed.
As founder of Orphans International Worldwide (OIWW), I have been here in Haiti to deal with children many times in the last decade. I was here after the 2004 flooding in Mapou, 31 miles southeast of Port-au-Prince, and then in Gonaives after Hurricane Jeanne the same year, 106 miles west of the capital.
Breakfast at 8am, and then we begin our daily meeting. We expect two more large tents to arrive today courtesy of Dr. Tiffany Keenan in Jacmel, as well as the router box necessary for us to connect to the Internet. We already have the satellite disk.
I know Tiffany through Paul Stevers, the visionary founder of CharityHelp International (CHI), who introduced us. CharityHelp International and Skype are partnering with us to bring connectivity to earthquake-ravaged Leogane.
By the time we are connected to the Web, I will have gone over 72 hours without access - at 300+ e-mails per day, I will have an avalanche of over a thousand e-mails to respond to. A scary thought!
Paradoxically, I dread the Internet coming on, but know we cannot live without it. I need to start transmitting our story to the world. We have three professional photographers and videographers with us, and they have already captured over 3,000 images in our first 48 hours. And Leogane needs more connectivity to the world.
My own Stewardship Report launches next month, and we will have all of the thousands of images available to the public. Our colleague Morgan Freeman has been videotaping our relief efforts (here).
Today will be busy. We continue to interview high school applicants for the ten full four-year college scholarships arranged for them in Beijing. We are interviewing candidates to direct Orphans International Worldwide Haiti, and co-direct the other NGOs that we have partnered with.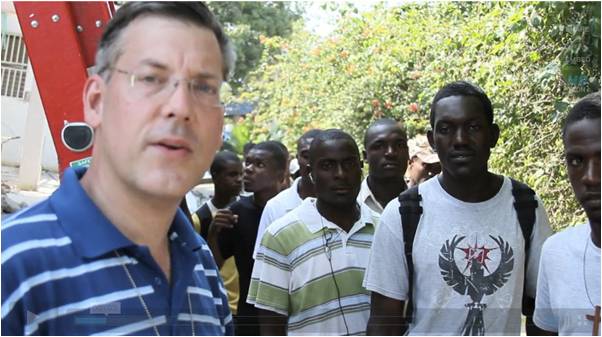 Almost 200 Haitian high school graduate applicants applied for our college scholarships.
This afternoon we will screen the first ten children for the Orphans International Worldwide Child Sponsorship program. They need to be orphaned and living in the care of extended family members. The Colline Academie has already provided us with a list of ten children they identified, and we hope to meet with those children as well.
We will continue to tour and negotiate with the two schools that remain standing, despite all odds, after the earthquake. And we will set up additional tents -- for communications, education, and orphan care administration.
After the earthquake in Aceh, Indonesia, the International Rescue Committee (IRC) outfitted our health clinic there. We are speaking with various health partners now about the possibility of doing the same for us here.
At 10am the heat has risen to the level that my fingers are sweating, making use of the laptop's touchpad difficult in the absence of my mouse. I use my bandana to keep wiping down my mosquito-bitten face, as the sweat drips onto my keyboard and glasses.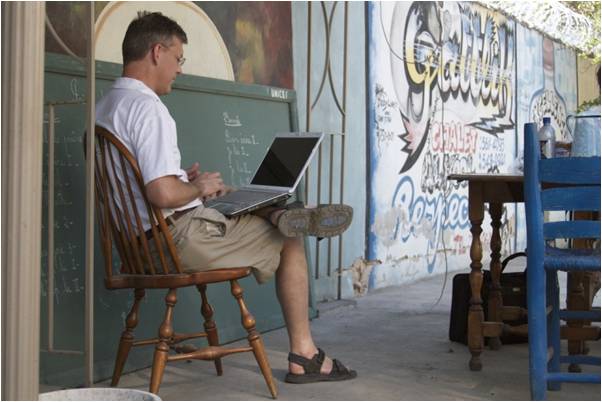 Sitting at the table at our Haitian base camp, writing for the Huffington Post and Daily Kos.Ecole la Redemption for an hour before heading off to tour it as a group. I had seen it individually yesterday, but our group has not. It is amazing, built to be earthquake-proof with expensive rebar (reinforcing concrete rods) and no cement walls.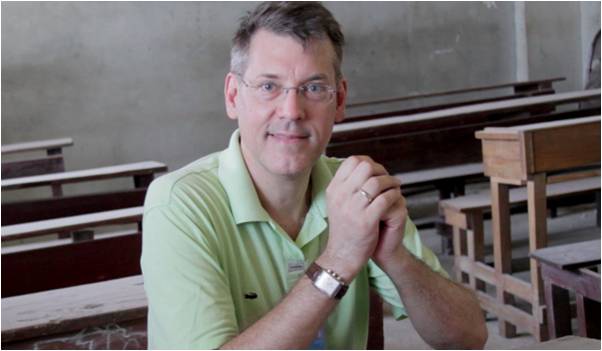 The author sits in a classroom of our new Haitian partner, Ecole la Redemption.
We shot a video in one of the dust-covered classrooms. I sit at the desk of a child who must have fled in terror when the earthquake hit. All of the chalkboards read in cursive French "January 12, 2010" - the day the earthquake destroyed Haiti (here).
Education is key to the future of beleaguered Haiti. Only 20% of school-age children are in schools, and 80% of these are private. School age kids are now more than half of Haiti's population - almost five million of them. Yet less than one million are in school. And until next week, when Haiti's schools officially re-open, virtually no children have been educated since the quake.
We take a group break in the incessant afternoon heat to eat machete-cut fresh coconuts, drinking the sweet juice and then scooping out the milky meat inside -- a delicious break. This time of the year, I should note, is not the hottest in Haiti. It gets much hotter as summer comes. The rainy season will soon begin, bringing with it flooding and disease.
We return to our base camp to set up our second tent. At 18 by 27 feet, it is large enough to be a classroom for 40 students. The tent was passed on to us by Dr. Tiffany Keenan. The yard has now been almost completely cleared of debris. The local children began to drift in through the hole in the wall to the refugee camp and through the side gate to see what we are doing.
A nursing supervisor waits patiently to be interviewed for the position of our interim Haitian director. We will leave a local director behind when we leave, augmented soon by a global officer from Orphans International Worldwide. We have a particularly strong candidate for the global officer as well, a member of our volunteer team from America who speaks Creole well.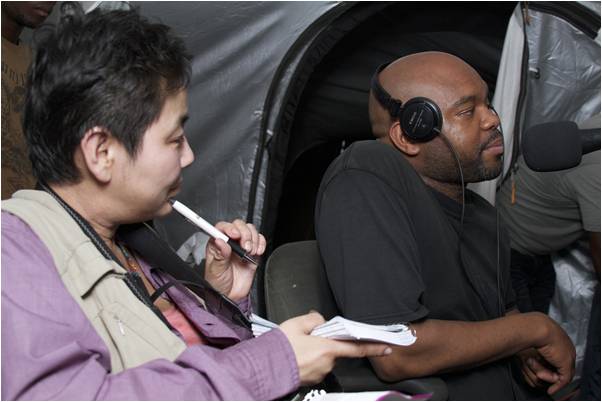 Team members Keiko Tsuyama and Evens Anozine speak on local radio from their tent.
Darkness descends here by 6:30, and Haiti is then brilliantly lit by the moon and stars. There are no street lights or electricity. We hike across town in the dark to do an interview with Radio Amikal FM 101.5, which is operating out of a tent on the grounds of Saint Rose Catholic Church, the most famous church in Leogane. Celebrating 500 years as a congregation this summer, the church was completely destroyed.
We discuss the full scholarships we have available for recent college graduates and wonder if word would get out for tomorrow's interviews. Almost 200 high school students will show up the next day.
The day ends with a ritual cold shower to rinse the cement dust from our hair and feet. I wonder again about getting bit by a spider, lizard, or snake. The cycle continues. Good night, Haiti.
Photos by Morgan Freeman.
Calling all HuffPost superfans!
Sign up for membership to become a founding member and help shape HuffPost's next chapter