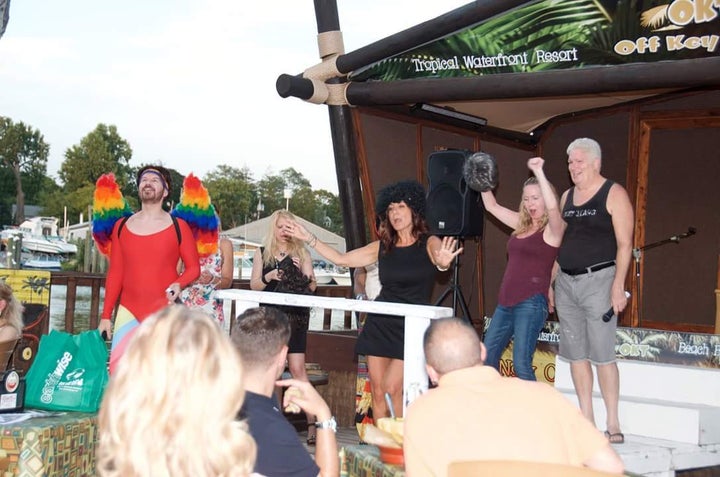 A flamboyant burst of color, feather boas, heels, song, and laughter, entwined with a bit of drag, joke and a tribute to Ricky Martin, hugged the beachside venue of Off Key Tikki, in the form of humorist's Ike Avelli's "50 Shades of Gay".

Although performed mainly in New York City and Atlantic City, Long Island was finally fortunate enough to celebrate the talents of Tym Moss, NYC night life singer and entertainer, recording artist, Amber Ferrari, and drag star, Viki Villainess, while the mastermind of creativity Ike Avelli showcased a riveting, somewhat adult variety explosion. The interactive crowd cheered the performers and literally begged for more when the hour and a half performance had ended in a grand finale involving the entire outdoor venue.

Between Avelli's 7 changes of costume and gaiety, all vibrant with the essence of rainbow, heels and dazzling, golden lit sneakers, ( I was jealous ), Moss's song and animated endeavors, Viki Villainess's uniquely comedic drag, and Ferrari's huge voice, "50 Shades of Gay", proved to be "the performance of the summer". On several occasions the audience was called upon to volunteer and take part in various numbers, with shots of fireball as their reward. The singing was full of parody, and humor, the standup actually uproarious, and the attitude relaxed and comfortable.

The venue was also treated to an appearance by Jiggy who opens the tour for "The Impractical Joker's", and his podcast buddy Jon, who set the tone for the evening's adventures. Their special brand of comedy caused the congregation as well as their own brand of fans and followers, to shriek with laughter and merriment.

Ultimately the night was a "blast"! If you are lucky enough to catch "50 Shades", I guarantee you that your life will be enriched from the experience. Rumor has it that after their tour of Florida, the crew plans an encore performance in late August/early September....stay tuned...
Popular in the Community