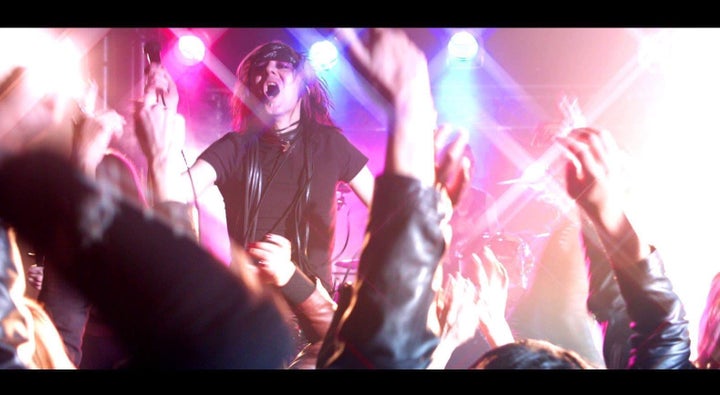 Toggo Ultrarock has a unique style that is evident the moment he takes the stage. Assuming appearances of a raging punk/glam rock band, all assumptions cease the moment Toggo takes the stage with his band and starts evoking his melodic lullabies and acrobatic vocal runs.
His brand of music is both pop, rock and EDM all at the same time, carving out a unique, yet irresistibly commercial style that you'll be hard pressed to compare to anything else out there.
The Norwegian-born rocker opened the show at NYC's Bowery Electric with an eerie, haunting, and compelling orchestral interpretation of Oasis's "Wonderwall", which immediately captured the crowd's attention. The song showcased Toggo's crooner-smooth 4 octave range as he took huge liberties and flirted with melodies that surely would make the Gallagher brothers choke on their pints.
Songs like "I Want Nothing", "Cannonball" and "Fucked Up Hair" (where he managed to get a normally-cynical NYC crowd to sing and scream at the top of their lungs) seemed to be audience favorites, while others took a liking to songs like "Fuck You Just Fuck You", "It's You I Want" and "Blue-Striped Cow", where Toggo once again got the crowd singing along with him. Brilliant way to get them hooked on his songs.
With "California Royals" Toggo and his band mashed up Lorde's Royals with Rihanna's California King Bed, with the addition of virtuoso-speed guitar riffs and background vocals that would give Queen a run for their money.
I would be remiss if I didn't mention Toggo's talented and entertaining-to-watch band, which is Johnny Santoro (guitars), Jay Stevenson (bass) and Tony Erickson (drums). Complimenting Toggo's energy, as well as his pretty-boy glam/punk image, his three bandmates jumped frantically around the stage, while still somehow providing consistent 3-part vocal harmonies throughout the concert. Great fun to watch.
Toggo Ultrarock is truly an original artist. The kind you're not going to find in just any music venue, even here in New York City. Every element of this artist is exciting and imaginative. And if his drive and work ethic matches his talent, Toggo Ultrarock will not be an underground name for much longer.
Related
Popular in the Community