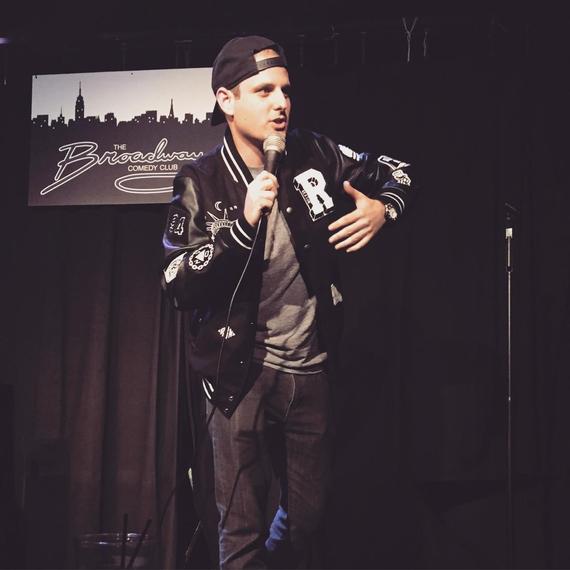 Stand up humorist "Jiggy," best known at the moment for opening for truTV's Impractical Jokers while on tour, rocked the stage of the two sold out shows at The Broadway Comedy Club in New York City this past Sunday. Basing the performance on the fact that he can never get a second date in, "Jiggy: 50 First Dates, 0 Second Dates", he treated the audience to over an hour of stomach-holding laughs and teeth-showing grins that didn't stop for a moment!
In his support, Jiggy (aka Mark Jigarjian), had a bunch of very special opening acts. Beginning with Doug Key, calling himself the gay offspring of Tom Cruise and Christopher Reeve, both of which he resembled, followed by one of the writers for Impractical Jokers, John Szeluga, who you know has to be funny to be able to write for the show, and then one of the producers of The Jokers, the hysterically crazy, Jay Miller, a respectable comedian in his own right, and always laughable the first Monday of each month at "Staff Infection" at The Pit in New York. Ultimately Jiggy's last supporting opening act was surprisingly Sal Vulcano, one of the Jokers himself. Sal was funny enough to take his act solo, sorry Jokers... I felt the fact that these exceptional comedians opened for Jiggy, says a lot for the young comic, as I happen to know him through interviews and slightly personally, and feel that he is a rare individual.
Jiggy is currently pitching a new comedy series to the networks that deserves to be picked up, and if it is, watch it world!
The fact that Jiggy's showcase was clever, riotous, and facetious for over an entire hour, says a lot. His material was unique, and his presentation refreshing, especially when he summoned his roommate and DJ, DJ PJAY up to the stage to Imitate him.
Despite the fact that standup never was my thing, and despite the fact that I am constantly telling Jiggy that he isn't funny, I now publicly retract the teasing and am willing to let this review serve as an apology. Jiggy: you are very funny!
Calling all HuffPost superfans!
Sign up for membership to become a founding member and help shape HuffPost's next chapter