A janitor tasked with cleaning a Syracuse, Utah, movie theater is in a legal mess for allegedly organizing a live sex show at the cinema.
Anael Ibanez, 36, allegedly set up an x-rated act by contacting potential participants through Craigslist, according to Fox Salt Lake City. He was arrested on Thursday along with five others, four of whom were participating in the after-hours event and one who was watching, cops said.
"He had kind of a tiered schedule," Syracuse Police Chief Garret Atkin told the station. "So they would pay $75 if they wanted to actually be involved in the performance, $50 for a second row seat and $35 for a third. To prove how many people he thought were coming, he told our undercover informants, when they showed up he said, 'I don't have any seats left in the first two rows.'"
When the cops made the bust only six people were there, the station reported.
According to the Associated Press, Krystle Morales, 21, Lillian Scott, 22, Shelby Boyce, 21, and Troy Manning, 33, were arrested for allegedly taking part in the sex show. Terrill Holiday, 43, was arrested for allegedly watching.
The AP reports that police don't think the theater owners had any idea their business was being used for pay-to-watch fornication.
"We only just heard about it early this morning ourselves, and we're absolutely shocked and appalled," John Shorba, vice president of operations for United Entertainment Corp., which owns the Syracuse 6 theater, said in an email to the Standard-Examiner. "We are a family-owned company and of course do not condone actions like this."
Before You Go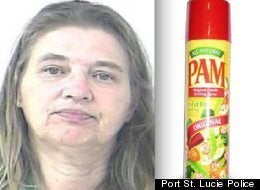 Bad Sex
Popular in the Community