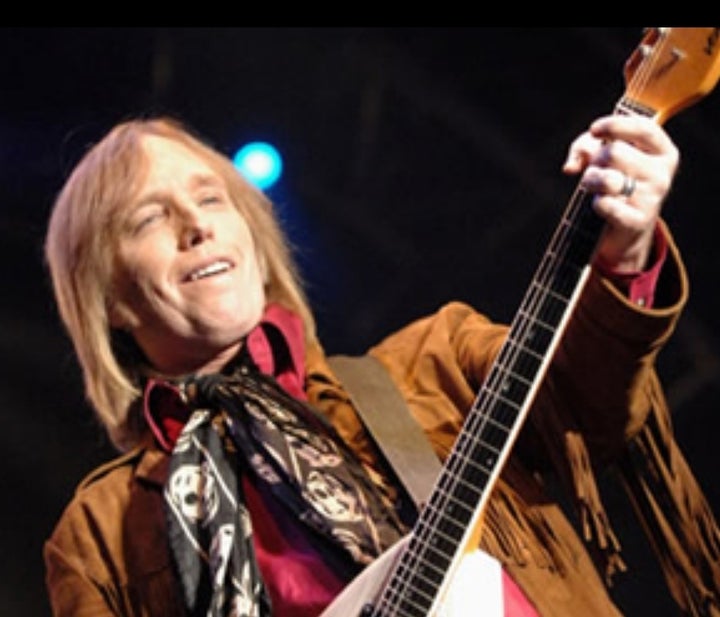 On Oct. 2, Tom Petty died, just short of his 67th birthday.
This year alone, we have already lost Chester Bennington of Linkin Park and Chris Cornell of Soundgarden to suicide by hanging, Gregg Allman to liver cancer and bandmate Butch Trucks to suicide by gunshot, Chuck Berry to a heart attack, Grant Hart of Husker Du to liver cancer, Gord Downie to brain cancer. Gone are both Trans-Siberian Orchestra founder Paul O'Neill (accidental drug overdose) and bassist David Zablidowsky (when a tractor-trailer struck the RV of his other band, Adrenaline Mob). No longer with us are J. Geils, and Steely Dan's Walter Becker.
As for last year, I am still reeling from the deaths of Leonard Cohen and David Bowie, as well as Keith Emerson, who shot himself because he felt that he could no longer perform well, and bandmate Greg Lake, who succumbed to cancer. Glenn Frey, Merle Haggard, Paul Kantner, Leon Russell, Maurice White, Prince, Glenn Frey, George Michael, Dead or Alive frontman Pete Burns and Status Quo guitarist Rick Parfitt. RIP to all of them, and too many others.
Can we all let out a collective scream of angst?
Petty, whose official cause of death was a heart attack, suffered from a fractured hip and several other major life crises that may have contributed to, or caused his undoing.
We want to believe that they are infallible, but drugs intervene; life happens, perhaps on a grander scale to musical giants; internecine discord, so to speak, between band members results in dreadful fallings-out.
"Let's face it, it's not hard to do the math," said Jim Sullivan, a former Boston Globe music critic who writes for WBUR's ARTery and hosts the video/podcast show www.BostonRockTalk.com. "We all have limited time here on earth and it would seem our rockers, many who have not led chaste lives, have done some damage to their systems over the years, with deaths in their 60s becoming not all that uncommon."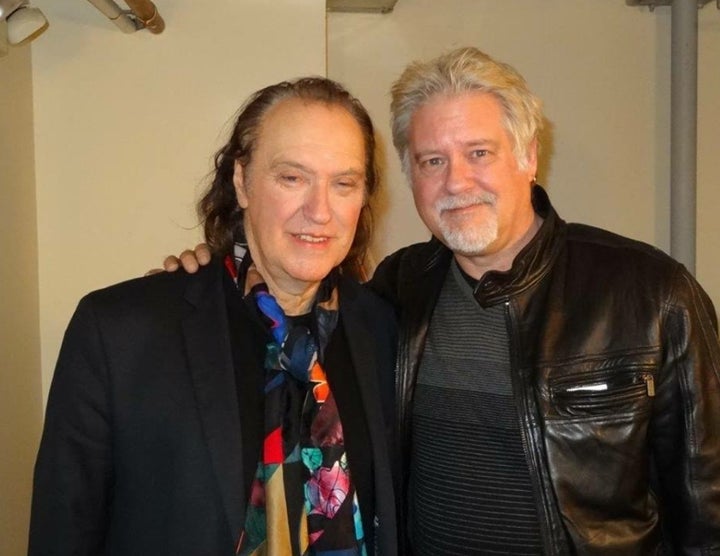 Although Tom Petty and the Heartbreakers sold over 80 million albums and commanded a huge following, I can't claim to have been a devotee, and I never saw them live. I've always leaned towards edgier stuff, the artier the better. But as classic rock goes, I hold more of an enduring appreciation for progressive rock and anything with poetics and depth, rather than Petty's signature straight-ahead variety.
I found myself singing Petty's songs anyway, and feeling very melancholic about his passing.
You will most likely catch me at 80s post-punk shows. Musical highlights of the past year or so included the Chameleons Vox, Wire, The Chills, Billy Bragg, Midnight Oil, Pere Ubu and Stiff Little Fingers. And I'm looking forward to seeing Gary Numan next month. But in my very early day, it was all about Alice Cooper, Jethro Tull, the Moody Blues, Yes, Vanilla Fudge, Iron Butterfly, The Electric Prunes, the Kinks, the Grateful Dead, Traffic, King Crimson. Mainstream didn't do it for me then, and doesn't now.
And those formative musical experiences don't leave you.
That was a wise thing to do, according to some fans.
"I've seen Black Sabbath, Queen, Aerosmith, Rush, Fleetwood Mac, Eagles, Elton John..." mused Chuck Daly, a New York-based production assistant on MTV's TRL. "It's so important to see the legends while we can." Daly, who is in his late twenties, continued. "We are fortunate that many of the great innovators of rock music are still performing, but they won't be around forever, so we must take advantage of these special opportunities."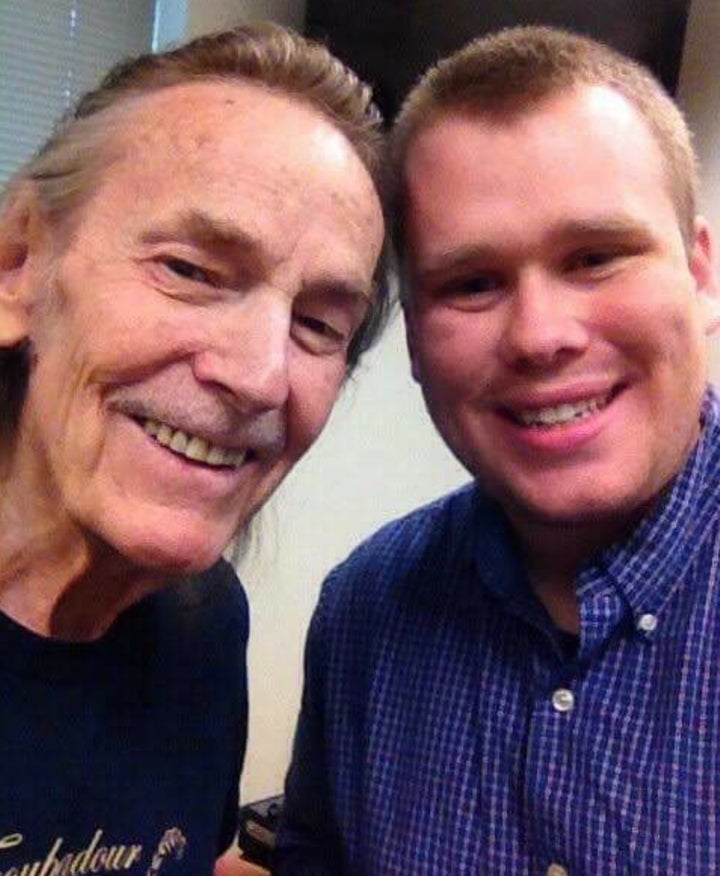 Joe Norton, a software support manager from Framingham, Mass., agreed. "It's important to support veteran music acts throughout the years for a number of reasons," he said. "The acts, whether solo or in a band, mature and refine their craft. Some maybe have lost their edge a bit, but their skills have often improved."
True, but you often still enter a tad apprehensively. "You have this lurking fear that this might be the last time you'll get that chance with that particular artist," said Sullivan. "I know I'm feeling that way if The Fall's Mark E. Smith ever manages to tour the U.S. again," he added. "But I'll be there even if he's in a wheelchair, as he's been doing in England."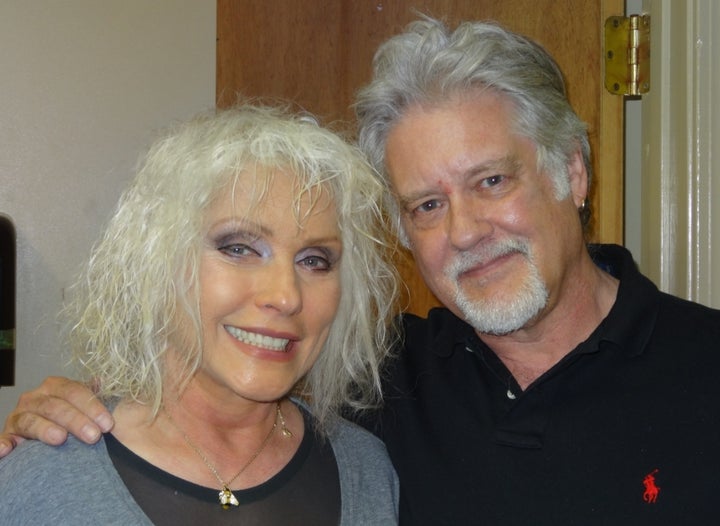 Sullivan admits to trepidation. "Am I forcing something I shouldn't be forcing? Am I viewing this through rose-colored glasses, filtering with the scrim of nostalgia?"
"Without you, we wouldn't be able to play this music," Jon Anderson said during the Yes show. (But without him, we wouldn't be able to enjoy it, or to savor our memories.)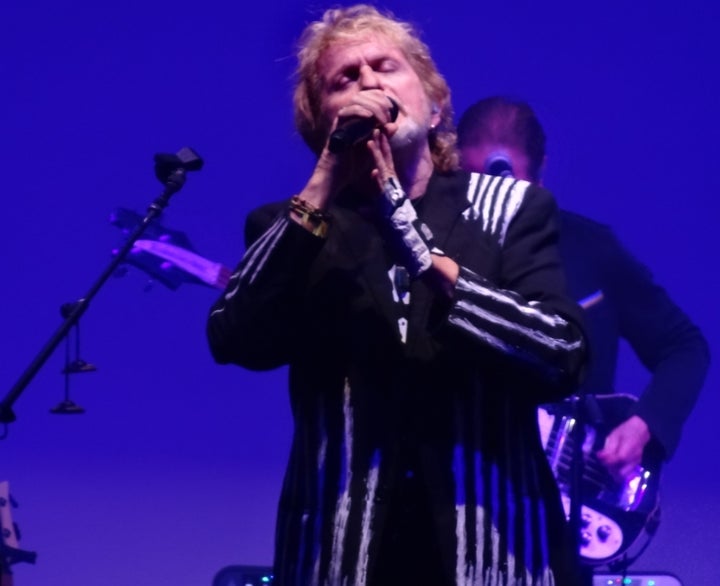 I had seen ARW last year, and so the experience was not quite as magical. Nonetheless, I had nothing to fear. Anderson's pipes are doing just fine; Wakeman's keyboard wizardry is not a whit diminished.
Louis Molino III on drums and Lee Pomeroy on bass, who have respective associations with Supertramp and ELO (two bands definitely not in my fangirl sights over the last 30 years), rounded it all out, astoundingly so. The ARW-fronted Yes, who along with Bill Bruford, Steve Howe, Tony Kaye, the late Chris Squire and Alan White were recently inducted into the Rock and Roll Hall of Fame, is due to release new music, as well as a recording of a show at the Manchester Apollo earlier this year.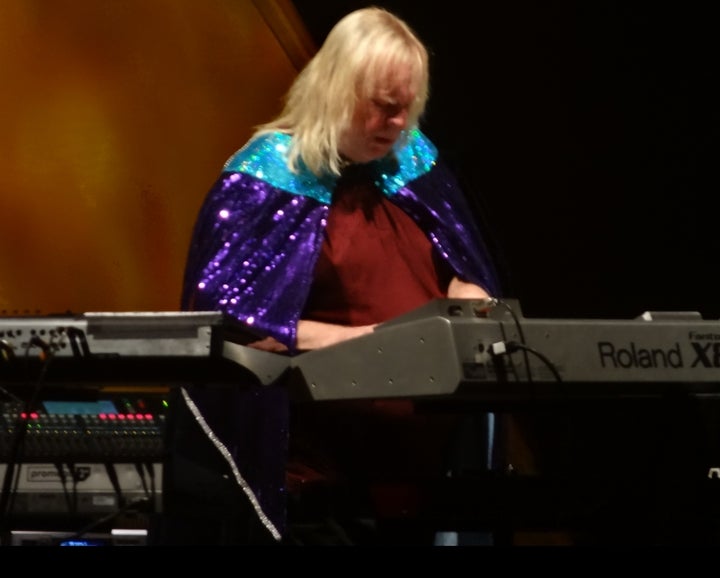 "I feel like lying down," said the sprite-like Anderson, jovial and chatty throughout. "Maybe not," he continued, moving into "I Am Waiting," and, through the long evening, playing acoustic guitar, triangle, zills, tambourine and harp.
"Heart of Sunrise," "Awaken" and the encores "Owner of a Lonely Heart" (during which a keytar-strapped Wakeman and Rabin appeared in the upper box seats amid delighted fans) and of course, "Roundabout," were played both feverishly, and at length.
As I walked into the King Crimson show a month later, I beheld an 8-piece setup with three, yes three, drum sets – in the front, no less. The iconic Robert Fripp stood in the back row, albeit lit up in a befittingly white glow.
Signs proclaimed that no cellphones were allowed, and that anyone brandishing one would be asked to leave. Although I thought that a bit odd, given the signature technical prowess of the feature act, I grudgingly complied. Hence, I scribbled notes onto a paper plate and like others, snuck out my contraband device only for a couple of quick photos. While I hoped for an Eno-esque performance – and there were certainly flashes of ambience throughout – I got an orchestral, theatrical, symphonic, and experimental mix that was downright euphoric.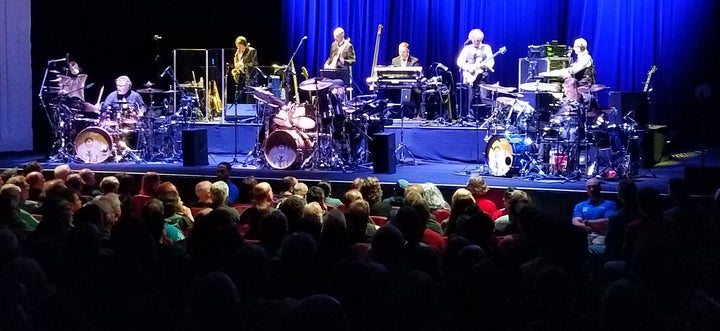 Astride Fripp were Bill Rieflin, playing varied instruments, guitarist Jakko Jakszyk, and bassist Tony Levin, while Gavin Harrison, Pat Mastelotto and Jeremy Stacey, manning those drum kits, captivated with call-and-response routines, or playing in cohort, or soloing.
Mel Collins' moody and melancholy sax dominated "Starless," but the mournful lead soon bled into a polyphonous melee. Like a musical sandwich, it resumed to finish the piece.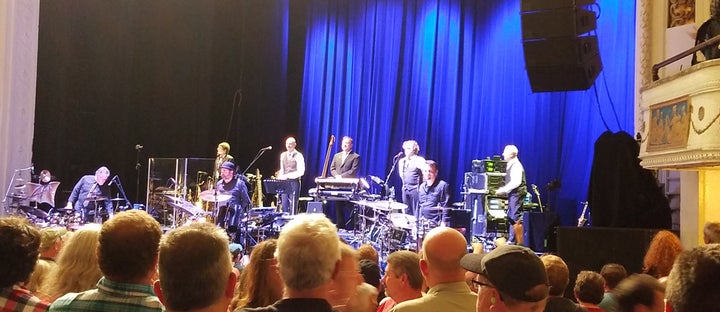 Following intermission, standouts were "Moonchild," which featured Levin's plucking bass, and a majestic "Court of the Crimson King" that bowled the crowd over. Throughout "Meltdown," Collins' sax was a diminished soupçon of subconsciousness within a jungley swamp of sound. The encore? No less than Bowie's "Heroes," followed by an exquisitely cacaphonous "21st Century Schizoid Man."
This 2017 King Crimson did not seem quite so radical to my ears as in the past (maybe due to too much industrial music along the way). In fact, they were often melodic, and would possibly not be out of place on a symphony stage. Was this indeed the stuff my parents didn't want me listening to?
But that is no complaint. "Their music sounded as fresh last night as it did listening to their albums back in the day," said Louis Higier, a Boston-based banking compliance consultant who, nonetheless, has a vast breadth of rock appreciation from classic to punk and beyond. "Whether it's adding three drummers or tweaking the composition, the performance didn't sound dated. Good music from great musicians!" he enthused.
These two recent shows lent my aching fan heart both healing and elation. Both still had it, and more than proved that veteran greats have a lot to keep on giving.
"Every few months, it seems we lose another legend, and then all the tributes come out, but we should appreciate them while they are still with us," said Daly. "These are experiences I will treasure for my entire life."
Norton reminded me that our music idols are not getting any younger. "So it is important to value the remaining time we have with them. Some bands I can proudly say that I have seen over five decades!" he said.
"You'll find the reality varies, widely," said Sullivan. "As a fan, you're rolling the dice that a), the music still means to you what it once did; and b), it still means something to the artist and is not just a walk-through. Sometimes, memories are best left undisturbed; other times, it's a blast to have fresh memories kick in and add to the ones already there," he said.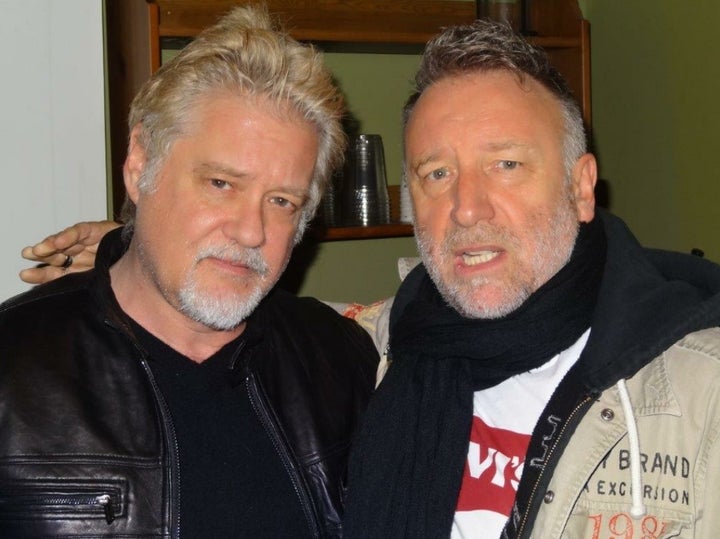 "Through ups and downs, no matter what is happening, there has always been music to help guide my emotions," Norton said.
We know why we go to shows. We go with our buds, our siblings, our others. Mesmerizing music takes us outside of ourselves and our daily worlds, and brings us together, with our concert kindred, onto the same astral plane.
We go because it is an experience as musically close to religion as we can attain. We go to see how the music heroes that have enriched our lives – or how we – have grown and changed.
As rock icons like Tom Petty leave us for stages unknown, and we try to come to terms with huge loss amid reverent memory, solace can only lie in continuing to support and enjoy the heroes that remain.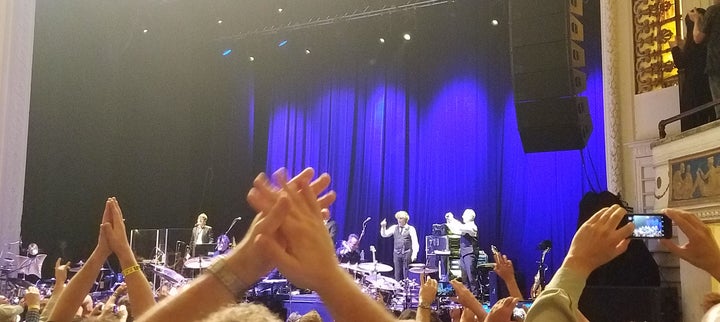 Susie Davidson tweets at @SusieDavidsonMA.