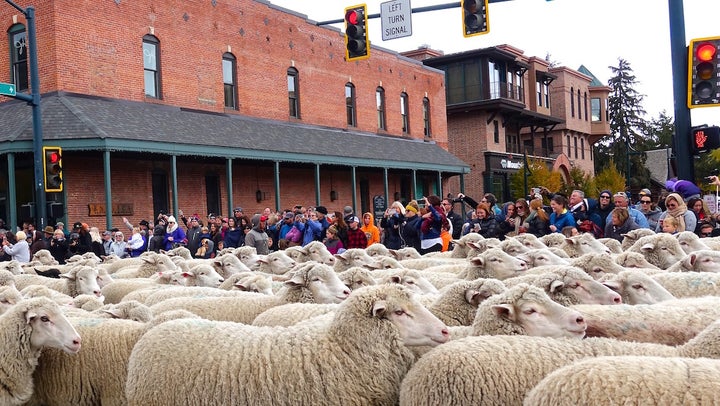 You might think the President was about to pass through town, instead of one of the most humble, docile and unassuming of creatures. The parade isn't until tomorrow, but the locals of Ketchum, Idaho (population 3000), have already put down their chairs to stake out prime spots along Main Street. Why did I fly all the way from balmy California to blustery Idaho to witness this wild and woolly event? In these thorny, threatening days, when it seems like the news is forcing me to swallow razor blades, I long to be surrounded by warm and fuzzy things. And what could be warmer, fuzzier, or less threatening than the 1500 sheep that will have their fifteen minutes of fame here tomorrow?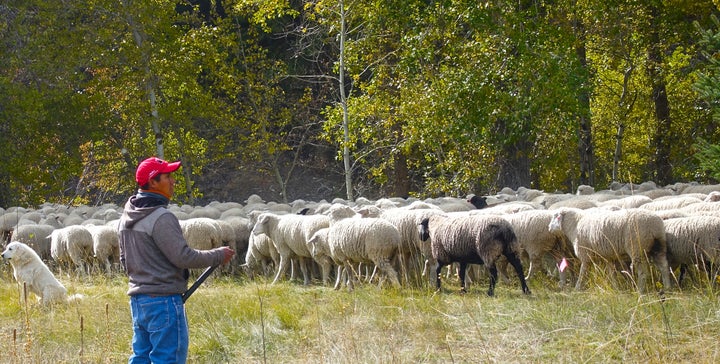 October is a critical time of year for Idaho ranchers and their sheepherders. They must drive hundreds of sheep south from the high summer pastures in the Sawtooth Mountains to warmer grazing land in the Snake River Valley. In the old days, the flocks were driven down side streets to avoid a fuss. But in 1996, when locals, led by John and Diane Peavey, launched the Trailing of the Sheep Festival, they rerouted the animals down Main Street. Ever since, for a brief shining moment once a year, the walking bundles of wool are cheered like conquering heroes.
In neighboring Hailey, I stop by the Folklife Fair that kicks off the sheep festival. It's a homespun lovefest: spinning, weaving, crocheting, knitting and needlework. The mood is mellow, as if the tactile sensation of running wool between your fingers calms the soul.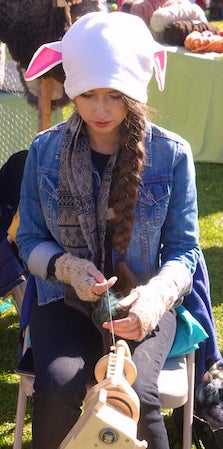 Music drifts towards me, a startling medley of Scottish bagpipe, Peruvian panpipe, Polish violin and Basque flute. Dancers from wildly different cultures each take their turn, blurring into a giddy swirl of color. The performers are linked by their families' shared heritage of sheepherding in Idaho. They return year after year, in tribute to their ancestors' way of life.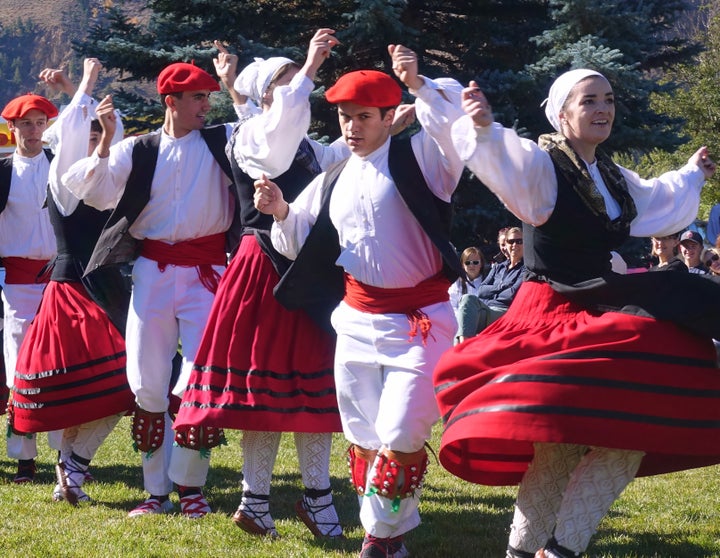 That night, foodies throng Ketchum restaurants for specialties including lamb-belly BLT, lamb carnitas and cumin lamb sausage pizza. I attend the Sheepherders' Ball at Whiskey Jacques, a lively Main Street hangout. Over a tall glass of Maggie's Dog Slobber Brown Ale, a local brew, I confess to my guide Carol that I came here with a personal agenda. My new historical novel, David and the Philistine Woman, reimagines the story of the young shepherd David and his battle with Goliath. I'm eager to discover whether any link exists between the solitary shepherds of David's time and the sheepherders of today with their horses, sheep dogs and pickup trucks. Are there still men like David, who daydream of green pastures and weave lonely songs under the starry sky? Carol nods. "I'll show you tomorrow!"
The next morning, she drives me to a secluded spot in Eagle Creek Canyon. I follow her down a trail to a sun-dappled aspen grove. She points at carvings in the aspen bark. "These were made by sheepherders who tended their flocks here." The carvings depict simple things: a house, a van, a church. I think back to David, the young shepherd in my novel, and how he must have played his lyre to his flock to ease his loneliness. I imagine that solitary sheepherders carved these images to express their own longings, to comfort themselves with thoughts of home. Yes, perhaps an enduring connection reaches across the centuries after all. I realize these weathered trees are nearing the end of their lives. It strikes me that these carvings in aspen bark are as fleeting as David's songs to his flock.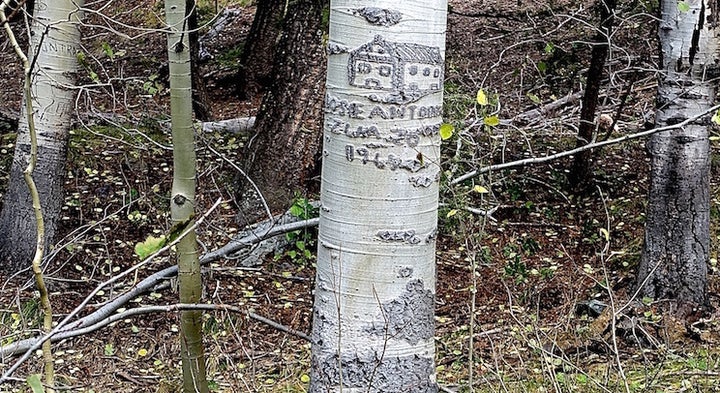 We hurry back to Ketchum. I've seen how remnants of the sheepherders' world are vanishing. It brings home to me that the Trailing of the Sheep Festival helps keep the age-old culture alive. We arrive in town not a moment too soon. A restless throng of locals and tourists lines the curb. Children shove and crane their necks. One shouts, "Here they come!"
As if to herald their approach, wooly wisps of snow drift down from the clouds. Sheep, 1500 of them, trot down Main Street in a fluffy flood. No frenzied stampede flattening everything in its path. No thundering hooves. And yet, the sight of hundreds of sheep on the move, en masse, is formidable. One man stands alone in the path of their relentless advance: Father Kenneth Brannon of Ketchum's St. Thomas Episcopal Church. Father Brannon has performed the blessing of the sheep for more than a decade. The wooly surf flows harmlessly around him. "Once I realized I wouldn't get trampled," he tells me later, "I realized this was a great honor."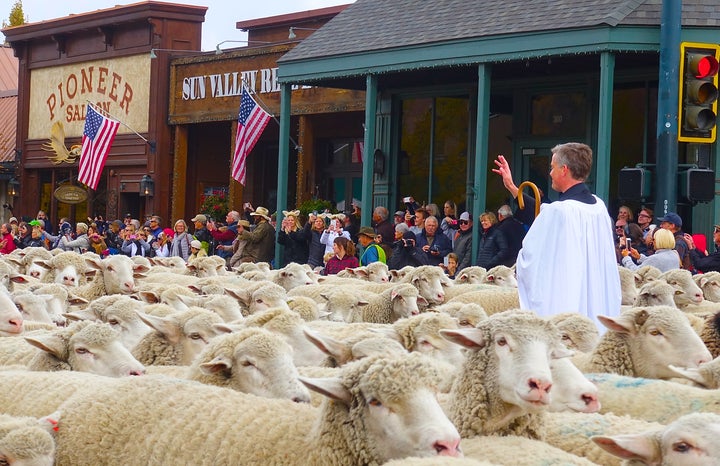 Vigilant sheepherders and their Border collies make sure that no ewe makes an unauthorized U-turn. Great Pyrenees guard dogs prowl along the perimeter, alert for troublemakers, whether of the two or four-legged variety. The sheep horde surges ahead, unstoppable. As quickly as they come, they are gone.
The audience scatters. Humans, it seems, are neither as obedient nor as orderly as a well-tended flock. But the mood of the departing spectators is upbeat. In our brutal, hard-edged times, there's comfort in a homespun world of fleece. And the sheep? During the Trailing of the Sheep Festival, the meekest of creatures inherits the earth (or at least a few blocks of Ketchum, Idaho). www.paulboorstin.com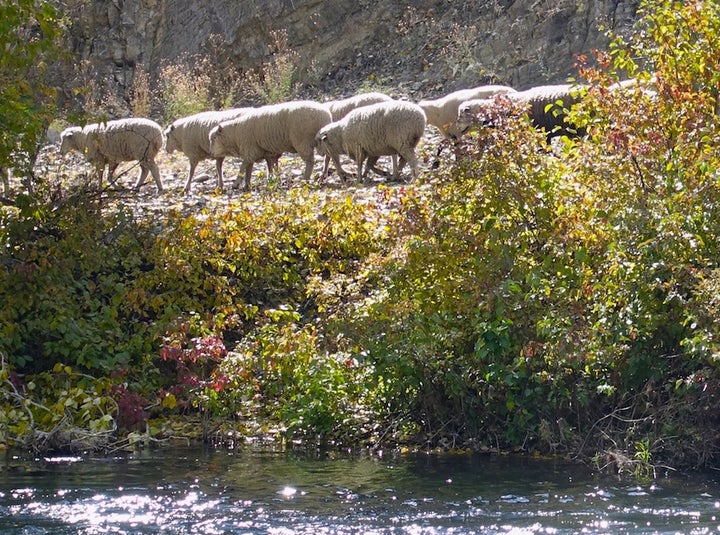 Popular in the Community