While the Today show may seem to be on the cutting edge, their approach was a bit reserved. The first live testicular exam on television was performed on This Morning, a morning show in the U.K., in 1999 by Dr. Chris Steele. I had the pleasure of meeting Dr. Steele in 2009 and we discussed how censored the U.S. media was about educating on testicular self exams.
When we spoke over five years ago we both joked that no one would have the balls to show real testicles on U.S. television, and it appears our visions are still correct as the Today show exams were conducted with a bit of smoke and mirrors and cloaked behind closed doors. This is in contrast to another "real" live self testicular exam shown on This Morning again this week.
Testicular cancer is the leading cause of cancer in guys age 15-35, but it can occur at any age, so all men should know how to do a monthly self testicular exam. Self testicular exams are the best tool men can use to detect testicular cancer early when it is almost 100 percent curable. If caught in later stages the outcomes are not as favorable and the treatment burdens are much higher.
Geist, age 39, and Daly, age 41, are a bit outside of the age range at highest risk for testicular cancer, as are probably most of the viewers of the Today show. However, it isn't just young men that need to hear these messages. Parents, partners and other loved ones need to be educated and encourage young men to perform their self exams monthly and more importantly to go to the doctor if they notice something wrong.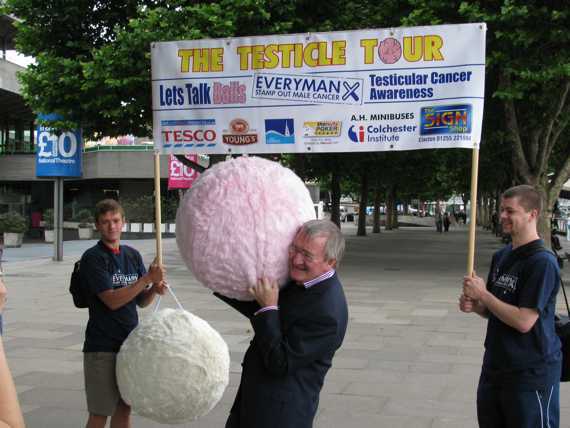 I do wish the Today show could have used a few less sophomoric jokes and giggles and instead gave more information about the steps of the procedure. A simple diagram would have at least provided some real education and made the segment less of a media spectacle. However, in making baby steps, beggars can't be choosers.

For diagrams on how to do testicular self exams you can check online or get the Ball Checker app for testicular self exams.