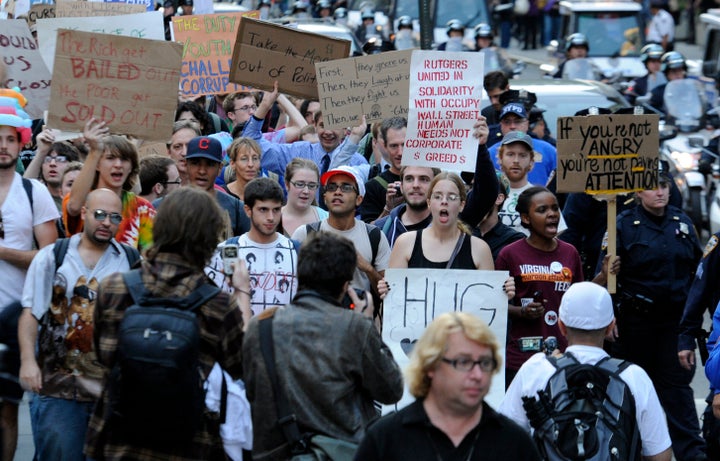 Occupy Wall Street, a cause that began as a small band of protesters in Zuccotti Park, has gained international recognition with protests spreading to London and an Egyptian activist addressing the crowd in New York Saturday.
"I am coming from there -- from the Arab Spring. From the Arab Spring to the fall of Wall Street," Ezzeldin said, his voice echoed by the crowd of thousands, HuffPost's Matt Sledge reports. "From Liberation Square to Washington Square, to the fall of Wall Street and market domination, and capitalist domination."
Since starting Sept. 17, Occupy Wall Street has gained endorsements from major unions and progressive leaders as well as prominent politicians. The group is growing so quickly that protesters marched to Washington Square Park Saturday to discuss expanding to other sites. It has survived police crackdowns in Seattle and mass arrests in New York. Within a few short weeks, it has come to resemble a movement, with more than 900 meetups in 900 cities across the country. 'Occupiers' have erected tent cities in town squares and held rallies in front of city halls.
Organized labor has also backed the protests including during a march this past Wednesday that brought 10,000 protesters to lower Manhattan. Though the demonstration was peaceful, some protesters ended up in confrontations with police and 28 participants were arrested. At least one baton-wielding incident produced mass outrage. These incidents will either become minor distractions or defining moments.
"We're very excited to have our union brothers and sisters march on the heart of greed," spokesman Patrick Bruner told HuffPost's Matt Sledge before a 10,000-strong Wednesday march organized in coordination with labor.
"We don't necessarily think that the way they're structured is the best," Bruner said, referring to the unions' top-down organizational style. "But we believe the 99% needs a voice, and they're one of the few remaining."
Despite gaining traction across the country, protesters have been criticized for not having a clear platform. However, they adopted the "Declaration of the Occupation of New York City" last week. Their list of grievances is long, with issues including the foreclosure crisis, work-place discrimination and student loan debt. The protests in New York and other cities focus on income inequality, a theme common in the group's internet presence, including on a Tumblr that showcases Americans dealing with joblessness and other issues.
Even if the protesters were able to narrow their concerns to one, easily defined goal, some organizers say that would miss the point. So what comes next?
If you've been to an Occupy Wall Street event anywhere in the country, we'd like to hear from you. Send OfftheBus your photos, links to videos or first-hand accounts of what you've seen for possible inclusion in The Huffington Posts's coverage at offthebus@huffingtonpost.com. If you would like to sign up to be a citizen journalist through OfftheBus, sign up at offthebus.org.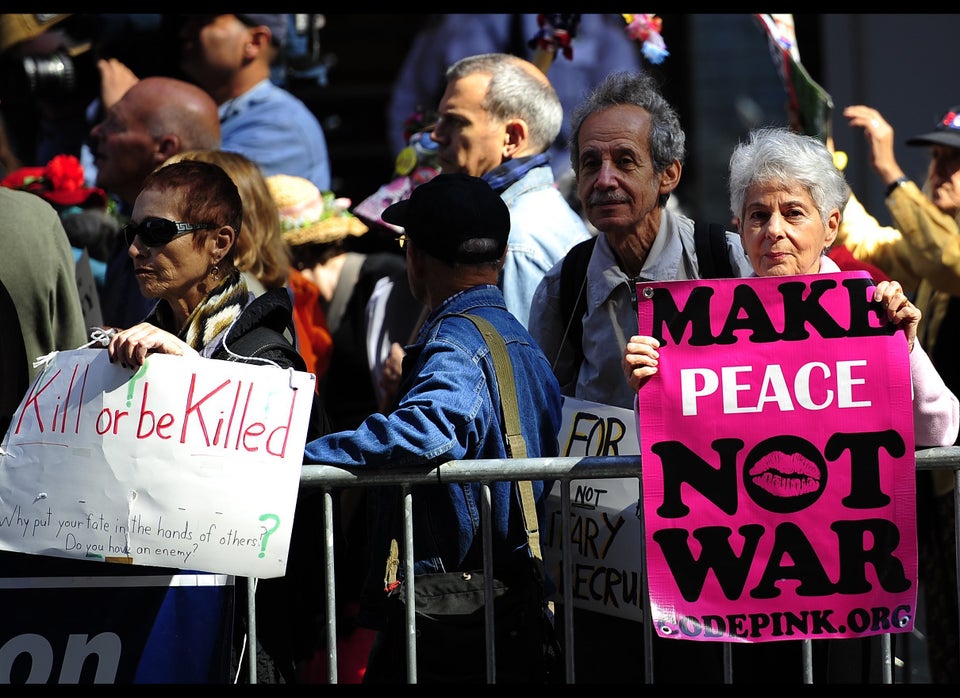 Occupy protests
Popular in the Community