We're in it to win it, and it seems like lesbian life is exploding around us, everywhere from the big screen, with movies like Blue Is the Warmest Color, to the small screen, with a lesbian couple in The Fosters, and then on to amazing local events and national happenings. It's hard to believe that it's difficult to find gay women for friendship, let alone dating, anymore.
And all the hoopla about same-sex marriages, suing states for equal rights and being out out out of the closet is paying off.
It's definitely paid off if you live in one of the 16 nations where you now enjoy legal and equal rights. In our great land of the brave, there's still a lot of fear about lesbians. Maybe it's that word, "lesbian."
It's taken me a long time to get used to it and to embrace it. I used to think it could be confused with the body part labia because they certainly are related in important ways. But after reaching my 50s, I just had to give up, embrace the word and decide to enjoy it in a big way.
One big way I'm enjoying being lesbian has been by creating my own great lesbian events. It's a creative challenge to figure out how to engage women from around the globe as independent from financial status and without running up against civil or criminal laws that exist, but the Internet does level the playing field.
One way to use the power of the Internet is through tele-summits that are free, open and accessible to anyone. There's one that's just arrived for a couple of weeks in February. It's the Live Your Best Lesbian Life Global Tele-summit. It was created to show lesbians around the globe all the ways we can live our lives out loud, to share the creative spirit of qay women, and to inspire queer woman to take a chance on living their dreams.
Being out and loud isn't always about crazy drunken pool parties. That's not anything special in the grand scheme of things. Straight people do it. Gays do it. Everyone does pool parties.
What I wanted to create was an event that focuses on lesbians who live their lives in the public sphere for the public good of lesbians; women who make other lesbians feel great about being lesbian; women who looked at what was and said, "I'm going to change that"; women who looked at what was missing and said, "I can make that happen," and they did.
Living your best lesbian life isn't about the party; it's about finding and creating joy, health, love, and insights that lead to personal growth, creating community for lesbians of all skin colors that helps us all be better women and better citizens of the Earth.
Living our best lesbians lives out loud is about reaching women who can't live their lives out loud, lesbians who truly do live in quiet desperation, wanting simply to love and be loved but whose lives are at risk every day.
The more often we speak about our freedoms, the starker the polarity of actions such as those taken in India recently, or in Russia. The discord of freedom versus legalized discrimination and punishment must become more pronounced, because that creates the uproar, the fierceness required to break apart the anti-LGBT sentiment that exists in small-minded people and nations. I'm not advocating for violence but for the uprising of voices, global voices in dissent of countries that turn our sisters and brothers into criminals.
It's bad enough that in my own nation, the great U.S.A., I can still be fired in 29 states because I love a woman instead of a man. It's heinous, it's anti-God, and it's as small-minded as Russia and India's actions. Living here in the land of the free requires bravery.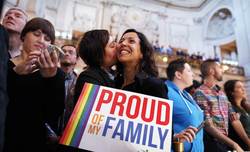 The Live Your Best Lesbian Life Global Tele-summit is a voice for joy, love, action, advocacy, laughter, creativity and all the wondrous things that lesbians can and do create. It's something you can enjoy along with women living in India, Russia and 81 other countries where being out and loud is forbidden.
This event first took place in June 2012. As it was going on, lesbians from around the globe contacted me to say: Thank you. Thank you for doing this event and making it possible for me to be a part. Thank you for helping me feel that I'm not here alone. Thank you for making it free to listen in. Thank you for showing me what life can be like.
Join me and 20 other professional lesbians, because the Live Your Best Lesbian Life Global Tele-summit is about hope, love, connection, freedom and the power of living fully out of the closet.
Popular in the Community