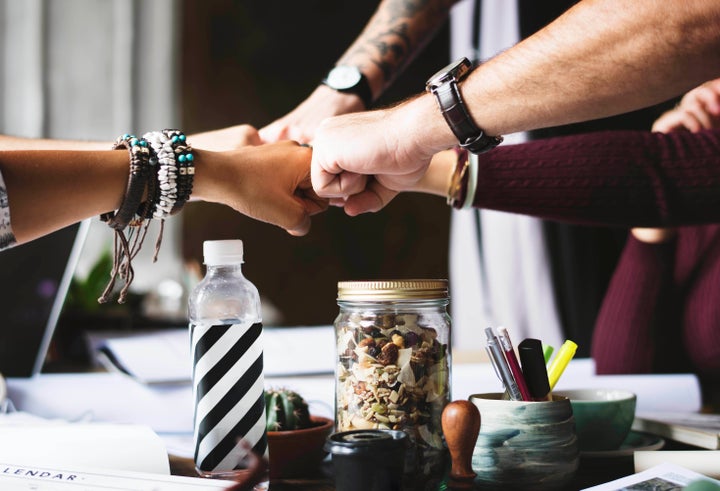 Can the words we say today create where our minds will be in a few days, months or years? Yes, but they must be voiced with an authenticity and representation of our true feelings.
Today we're getting closer to understanding that the words we say carry a consciousness that affects not only our future but the world around us, and the effect is snowballing.
We have entered a brave new age of sisterhood, and nowhere has it been more evident than with the #metoo campaign. And it is with great pride that I count friends and colleagues among these brave women who, together, have cracked the glass ceiling.
It's no coincidence that women have found the courage to stand against emotional and physical abuse. And those who voice their stories have become our modern idols, unafraid to shed their shame. We now recognize something universal is taking place, emboldened by these cries of abuse.
Previously, when a woman was successful, it created mistrust among men and envy among women. Today the divine feminism is being viewed as encouraging women from all walks to connect to something greater. These are our sisters, whose voices are impacting others with clarity and empathy. And 2018 is the year of women. It is our year to transcend.
I remember similar things being said in the 1970's when the feminist movement had another surge of assertiveness. It was a separatist movement that excluded men and, more importantly, women of color. The bottom line group separatism is not something that endures in a truly plural society. To progress as women, to heal as women, inclusion is vital.
There is a long line of men lined up outside. These are our grandfathers, fathers, brothers, sons, and nephews from a community who support us. "We aren't all bad," one young male cries, cradling his baby daughter. "Let me help."
They, too, want to understand how they can help, how they can be a part of the healing process for the women they love so dearly. These men do not want to be perceived as the enemy, but as protectors who are included in the process. And the yearning is universal.
At no time more than now is it crucial for our voices to be heard. As we look to the future, there is a challenging question we can ask ourselves. How can our feelings and words truly create change? If we are empowered, we are truthful. But to live in this truth the most important thing is not to fixate on what we are saying, but why we are saying it.
Soon, more and more women will be honored for their outstanding contributions, whether working to support their families or communities; their voices will be non-threatening, and their motivations forceful.
If you are questioning the current picture of what it looks like to be a part of feminism, we are witnessing a metamorphosis into humanism with the recognition that everyone has the right to equality.
When you gather with a group of women, or a very close friend, and read out your 2018 action plan, the power of your shared attention will help ignite your collective visions. And that will let you know very quickly if there is real meaning to what you are saying. If you can't physically get together with girlfriends, speak with them on FaceTime, or Skype. Because your energy shifts into the realm of the intuitive and if you're going through a troubling time, you could feel a bit disoriented and unfocused doing this alone.
THINK ABOUT HOW YOU FEEL, WRITE IT DOWN & SPEAK IT ALOUD.
Your friends can help you detect if your holding onto fear and likewise, charge it with power if it's in alignment with your heart. It is your process for change: you need to ask yourself the questions, and answer with truth and then dare. There is nothing to be feared for being honest, only something to be gained. And there is NO SHAME in not feeling ready to speak but listening and taking time.
There is a network of like-minded women wanting to envelop you, who will help you to heal and activate your desires very quickly. Words with passion and feeling will diminish fear, and they will activate the empowerment that is available to everyone should they choose to accept it in their hearts.
Whatever you value the most -- from humanitarianism, motherhood, science, activism, politics, and education -- it is our time to move forward; to journey together with our incredible strengths. We are the ones who weave the foundation that will stand the test of time. We are the women who dare. And we're doing it right.
There is nothing more compelling than women banding together to ride the collective wave. Create your power pack in 2018 and dare to live your words.
Suzannah's work is about giving individuals (like you!) dynamic insight into what agonizes them most and offering breakthrough solutions. She offers instant, real-time solutions to what troubles her clients — all delivered with a large shot of compassion. Schedule an Appointment Today.
Suzannah Galland is an internationally acclaimed life advisor and relationship expert. Suzannah contributes invaluable Quick Insights to the Huffington Post blog, and writes regularly for Gwyneth Paltrow's Goop.com and Spread the Light for KORA Organics by Miranda Kerr. She has been featured on Harper's Bazaar, USA Today, Vogue, Los Angeles Magazine, Glamour, and Marie Claire U.K. Visit her website or follow her on Twitter, Facebook, Pinterest, and Instagram for more Insights to Keep You in The Know.
Related
Popular in the Community