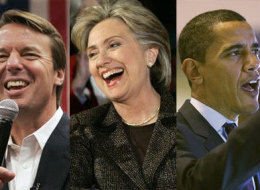 Vegas, baby! Welcome to the city of lights, decks, dice, and leggy ladies wearing sequins, feather headresses and tassles on their nipples. Also it's the situs of this latest in the never-ending series of debates, this time the MSNBC debate featuring the top three Democratic candidates: Hillary Clinton, Barack Obama and John Edwards. Not, you may note, Dennis Kucinich, who lost his 11th-hour appeal to participate earlier this evening before the Nevada Supreme Court. Sad for him, not for Brian Williams and Tim Russert, who were on the side of NBC in contesting that appeal and steamrolling over the poor elfin Congressman from Ohio in their pursuit of a historic night here in Vegas featuring a tete a tete a tete between the three Dem top dogs. And here we are! Even as Mitt Romney pops champagne in Michigan, these three discuss the economy, subprime mortgages, who's got how much hope and who's ready to lead on day one and whose father worked in a mill — plus detailed statements of policy, and Tim Russert's giant head! Tonight, as on all other nights, we liveblog it all for your pleasure and edification, with tonight's super fabulous team: Liveblog stalwarts Glynnis MacNicol and Rachel Sklar (me, your moderator) and special-guest liveblogger Lloyd Grove, Portfolio columnist and contributor to New York, Vanity Fair, WaPo and now, HuffPo. We are so excited to have him, and he's so excited to be here, so why make any of us wait? On we go! WELCOME TO VEGAS!

Rachel: (9:20:35 PM): Here we are after some technical issues...the candidates are in a round-table and all being VERY careful around each other. Their makeup looks a little clammy, I'll be honest. Tim Russert looks as robust as ever, but Hill and BriWi need a little bit of a pat-down, methinks. Oh, substance? Right. We're totally on it. Bankruptcy reform, subprime mortgages, Dem unity, and the fact that Bush wasn't a very good president. Fin. Also, Barack Obama is not a muslim, that has now officially been cleared up. So Bob Kerrey, you've been warned.
Rachel: (9:21:31 PM): First question, the elephant in the room: Race. Today, Williams points out, is the anniversary of Martin Luther King's birthday. "How did we get here?" he asks Clinton, and she says that race and gender hostilities have no place here. Look, she says, we are all going to support each other whomever the nominee may be (and she notes that she had "supported" both Edwards and Clinton in their previous bids for office, which caused an arched eyebrow here amongst us livebloggers. Meanwhile, John Edwards is left out, being neither black nor female. They all laugh about that.
Glynnis: (9:22:35 PM): There was just a cat-caller from the audience.
Lloyd: (9:22:43 PM): Oh phew.
Rachel: (9:22:55 PM): He was actually shouting down the race-based line of questioning (see video here). That was awkward. They actually stopped for him. It seemed like he was someone they were waiting for. (They weren't.)
Glynnis: (9:23:01 PM): It sounded like he was saying something about race-baiting questions.
Lloyd: (9:23:33 PM): I am ready on day one for this to be the first day of the rest of my life.
Glynnis: (9:23:34 PM): Hillary is trying to take the focus away from the racial and the divisive and point out that the nominee needs to be "ready."
Lloyd: (9:24:17 PM): "Green collar jobs?" Another Hillary fashion crime?
Glynnis: (9:24:39 PM): Something about the lighting in Nevada...it's terrible! All the candidates look ten years older and haggard.
Glynnis: (9:25:07 PM): Russert wants to know if Hillary thinks that the other candidates are "ready." But she hedges and says that's up to the voters.
Glynnis: (9:25:31 PM): However, Tim Russert doesn't look half bad, all things considered.
Lloyd: (9:26:08 PM): That is a terrible indictment of the candidates' lighting and makeup!
Lloyd: (9:27:24 PM): Hope Barack doesn't lose the nuclear codes.
Glynnis: (9:27:45 PM): Barack says strength is to bring people together, but is weak at BADLY organized! Hmm wasn't that Bush's excuse with the Osama memo?
Rachel: (9:27:47 PM): Not necessarily new-style politics: "I promise that I won't ask my various aides for a piece of paper until two seconds before I need it, dammit — for everyone's sake!" Odd. But I guess what he is trying to say is, he knows that experience means also surrounding yourself with good people.
Lloyd: (9:27:50 PM): John Edwards has been fighting since the womb?
Lloyd: (9:28:28 PM): He says he's been fighting for 54 years.
Glynnis: (9:28:42 PM): But he is weak to pain around him. Do you think he'll cry now?
Lloyd: (9:28:46 PM): Man with cleft palate again.
Glynnis: (9:28:48 PM): Tears!
Glynnis: (9:29:24 PM): Hillary says she is an instrument, particularly with children.
Lloyd: (9:29:41 PM): Hillary goes to church,. Did you know that?
Rachel: (9:29:35 PM): Yes, she was just photo-opped in church today I believe.
Glynnis: (9:29:46 PM): To whom much is given, much is expected...this is always a good thing to say.
Glynnis: (9:30:12 PM): But she is impatient and gets frustrated, when people don't understand. Further, faster!
Lloyd: (9:31:05 PM): Huge attack on Harvard business school from Hillary!
Glynnis: (9:31:23 PM): And, like a pro she brings it back to Bush's failures. She's on a roll.
Lloyd: (9:32:23 PM): Come on, let's get it on.
Glynnis: (9:32:29 PM): And takes a hit a Barack by saying you need to be a good manager. But is pointing out Bush was on time, and therefore his lacking wasn't management but the ability to sing Kumbaya.
Lloyd: (9:34:01 PM): Whose laugh is more genuine when confronted with an uncomfortable question — Obama's or Clinton's?
Glynnis: (9:34:33 PM): Theoretically, allowing the candidates to speak for longer is a good idea, however in practice, well...politicians are a little boring. Or maybe it's just that Kucinich isn't here.
Rachel: (9:34:33 PM): I agree, man. I miss that little guy. This feels so...non-confrontational. Anticlimactic.
Lloyd: (9:34:55 PM): The American people are smarter than folks give them credit for? A perfect expression of the politics of hope. Or wishful thinking?
Rachel: (9:37:35 PM): Break! Whew, we needed that.
Lloyd: (9:37:59 PM): I hope the catfood commercial isn't aimed at the demographic watching this debate.
Lloyd: (9:39:07 PM): The music is stirring
Glynnis: (9:40:07 PM): Brian Williams says that the candidates will ask each other questions!! Yowzer, will they have to look at each other to do so?
Lloyd: (9:40:42 PM): Any night where Brian Williams asks Dems about Rudolph Giuliani and 9/11 is a good night for Rudolph Giuliani.
Glynnis: (9:41:46 PM): Hillary seems a little frustrated tonight, her tone is a level higher than normal.
Rachel: (9:41:55 PM): I agree - this format doesn't do her any favors. The sitting down robs them all of the ability to grandstand at a podium, and the arms-out distance makes it difficult to throw real barbs in close quarters. The vibe is a little muted - but it doesn't feel as warm as it did last week in New Hampshire. Maybe it's lacking the group hug with the Republicans before.
Lloyd: (9:42:41 PM): Uh oh,. homes foreclosed on? Did John Edwards just twitch?
Glynnis: (9:43:29 PM): This is just the kind of question that John Edwards is waiting for; the middle lower class pitched against big conglomerates and the wealthy. And he is on a roll.
Lloyd: (9:43:42 PM): Now Edwards talking about homes being foreclosed on? Anybody going to bring up the hedge fund he worked for, the one that foreclosed on all those homes?
Rach: (9:43:55 PM): Owch! I think this format favors Edwards a great deal. He projects warmth here and, since both Barack and Hillary seem to grow in stature in public speaking, conversely he benefits from their being hemmed in to their space at the table.
Lloyd: (9:44:39 PM): Solar, wind and biodiesel!!!
Rachel: (9:44:42 PM): Yes, and that too, of course.
Glynnis: (9:44:43 PM): Obama says the reason other countries can own so much of the US is because we don't have an energy policy. Nice segue.
Lloyd: (9:45:20 PM): Barack=solar. Edwards=wind. Hillary-biodiesel.
Glynnis: (9:46:50: Touche!
Glynnis: (9:46:50 PM): Russert is bringing up Edwards' vote for the bankruptcy law and asks him if he regrets it. Edwards quickly says he does.
Lloyd: (9:46:57 PM): So far, there is no defining moment.
Glynnis: (9:47:41 PM): How long can Edwards regret votes, saying I'm sorry can only work so many times. Though, it wouldn't hurt Hillary to try it.
Lloyd: (9:48:48 PM): Miss Clinton regrets!
Glynnis: (9:48:51 PM): Senator Clinton also voted on that bill. She also regrets it, but points out that it never became law.
Rachel: (9:49:11 PM): No, but if LBJ had been around he would have made sure it that it did!
Glynnis: (9:49:38 PM): Hillary is using the word "transparent" quite a lot this evening.
Lloyd: (9:49:48 PM): Nice hit from Hillary on crazy rich severance pay for failed CEOs.
Lloyd: (9:50:04 PM): Taking a page from Edwards playbook.
Glynnis: (9:50:46 PM): Hillary says that the groups that sponsored this are primarily "black and brown" groups, meaning, African American and Hispanic.
Lloyd: (9:51:00 PM): Hopefully they're in greencollar jobs.
Glynnis: (9:51:24 PM): Hillary's tone tonight is really a notch higher than usual and also higher than both Obama and Edwards.
Lloyd: (9:51:34 PM): Oh yes. Senator Harry Reid and Speaker Pelosi--what a great legislative session they've had so far.
Glynnis: (9:51:39 PM): Snap! Obama opposed BOTH bankruptcy bills.
Lloyd: (9:52:07 PM): Hillary is definitely on steroids tonight. I don't mean that literally of course. Not at all.
Lloyd: (9:54:35 PM): Well what is Barack proposing to do about Warren Buffett? He pays at capital gains, his secretary pays income tax. Raising capital gains? I guess so.
Lloyd: (9:55:02 PM): That is dangerous in a general election, I think.
Glynnis: (9:55:42 PM): But it's a good story; it brings home the inequality in a very simple way.
Glynnis: (9:57:04 PM): The candidates are knee deep in economy talk. The economy, as a side note, was the number one concern of Michigan voters today, according to NPR this morning.
Lloyd: (9:57:53 PM): I'm old enough to remember wage and price controls, never mind freezing interest rates as Hillary proposes. They didn't work.
Lloyd: (9:58:39 PM): Cute interaction between Hillary and Edwards. Glynnis: (9:58:50 PM): Hillary is convincing; she clearly knows what she's talking about, but Obama's secretary story was clearer and more concise.
Glynnis: (9:59:27 PM): BriWi has taken a moment to explain the system of lights to the candidates...stop talking candidates!!
Glynnis: (9:59:57 PM): Big smiles from all the candidates and Edwards chumily swats at Hillary.
Rachel: (9:59:59 PM): Did he just jokingly swat her? It was cute. God, does he ever remind me of Kenneth from "30 Rock."
Lloyd: (10:00:12 PM): Obama will take money from midlevel executives who are inspired by his message -- what about highlevel execs?
Glynnis: (10:01:47 PM): Oooh, Hillary gets to ask either one a question...who will she choose?
Rachel: (10:01:52 PM): Oh, come now. Duh.
Glynnis: (10:02:06 PM): Obama! But it's not a question. She's asking Obama to join her in....
Lloyd: (10:02:08 PM): Hillary waves the olive branch at Barack. Asks him to join her in fighting Bush on Iraq.
Glynnis: (10:02:20 PM): It has something to do with Bush.
Lloyd: (10:03:20 PM): Co-sponsor her legislation? Barack says "we can work on this, Hillary." Our short national nightmare is over!
Rachel: (10:04:02 PM): "We can work on this, Hillary" reminded me a bit of "You're likeable enough, Hillary."
Glynnis: (10:04:08 PM): He's not biting, though. And that was a dodge by Hillary. A direct question would have been better.
Rachel: (10:04:12 PM): So much.
Lloyd: (10:04:13 PM): Oxymoron--luxury hotel in Kabul.
Glynnis: (10:04:40 PM): And this is just an opportunity for Barack to talk about what he will do as President.
Glynnis: (10:05:30 PM): Russert just got gotcha'd.
Rachel: (10:05:42 PM): On his gotcha!
Lloyd: (10:05:57 PM): Edwards is the cut and run candidate, as Bush would say. Hillary and Barack more measured about pulling out troops from Iraq.
Glynnis: (10:06:17 PM): He suggests that all three candidates just contradicted their Sept NH debate statements that they would NOT have all troops out in their first term.
Lloyd: (10:06:53 PM): It's Democratic primary season.
Glynnis: (10:07:06 PM): But NO. No one is committing. And they all practically climb over the table to clear that up.
Glynnis: (10:07:58 PM): Barack addressed John directly and then pulls back and asks if he's using his question! BriWi says he is!
Rachel: (10:08:19 PM): Zing! It's a nice little moment. Barack seems to be imploring BriWi to let him have this one. BriWi's not having none of it.
Glynnis: (10:08:19 PM): Suddenly the debate becomes a weird version of Jeopardy.
Lloyd: (10:08:25 PM): This discussion about military hypotheticals is getting Jesuitical.
Glynnis: (10:09:21 PM): Yes. What is the definition of combat troops seems to be the question.
Lloyd: (10:09:24 PM): I am confused by all this complicated talk about distinctions without differences involving military strategy.
Glynnis: (10:10:01 PM): And break! Barack is off stage like a bolt!
Glynnis: (10:13:42 PM): And we're back. Live live live.
Lloyd: (10:15:11 PM): Hillary for mandatory ROTC and all voluntary military. We've come a long way since Bill Clinton and his "loathing the military" letter from the '92 campaign.
Glynnis: (10:17:10 PM): Obama also supports having the ROTC on college campuses: "The obligation to serve exists for everybody."
Lloyd: (10:17:24 PM): Let's see if anybody suggests a draft--the only way to insure that the military is representative of society as a whole.
Glynnis: (10:17:44 PM): The D word!
Rachel: (10:17:48 PM): Dude, if the draft were on the table things would be VERY different.
Glynnis: (10:17:53 PM): Where is Charles Rangel when you need him?
Lloyd: (10:18:05 PM): What a question!
Lloyd: (10:18:13 PM): Be careful what you wish for!
Glynnis: (10:18:58 PM): Edwards says it is MUCH worse, which it is, but Edwards is always so angry, it is wearing after a while, even if he is right.
Glynnis: (10:19:21 PM): There are veterans sleeping under bridges, etc.
Rachel: (10:19:44 PM): Which there are. This administration sent them off with no regard to how they'd come back.
Lloyd: (10:19:46 PM): Edwards playing to South Carolina Primary voters with funding for vets.
Glynnis: (10:19:53 PM): Obama brings up Walter Read.
Lloyd: (10:20:40 PM): Hillary sits on the Armed Services Committee--an advantage in any military discussion.
Glynnis: (10:20:54 PM): The candidates are attacking Bush relentlessly, perhaps in lieu of attacking each other.
Glynnis: (10:21:28 PM): Hillary brings up, as she did at her rally on Sunday, the relatively new and widespread phenomenon of traumatic brain injury.
Rachel: (10:21:34 PM): Then she called it the "signature injury" of this war.
Lloyd: (10:21:38 PM): Yucca Mountain! Again! This is what Carter Eskew, the famed democratic media consultant, called an "aldermanic" issue..
Glynnis: (10:22:12 PM): Like alderman...like local politician [Lloyd just explained to me].
Glynnis: (10:22:20 PM): Note that the "diamonds and pearls" questioner from the CNN debate here in Nevada had also planned to ask about Yucca Mountain.
Lloyd: (10:22:24 PM): Too much on Yucca Mountain for non Nevadans.
Glynnis: (10:22:25 PM): Yucca Yucca Yucca.
Rachel: (10:22:34 PM): Yucky! (Sorry.)
Lloyd: (10:22:55 PM): I am against Yucca Mountain as well.
Lloyd: (10:23:18 PM): What about Aspen Mountain?
Glynnis: (10:23:20 PM): Everyone hates Yucca mountain.
Glynnis: (10:23:30 PM): What about Magic mountain.
Lloyd: (10:23:57 PM): Edwards against nuclear power plants---how does he expect to power his huge home?
Rachel: (10:24:10 PM): Oh, zing!
Glynnis: (10:24:18 PM): Hillary breaks the wall and addresses Edwards directly! He supported Yucca!
Rachel: (10:24:31 PM): He voted for it twice.
Glynnis: (10:24:39 PM): But that was years ago, Hillary, he says.
Lloyd: (10:24:45 PM): Hillary is not being strategic by squabbling with Edwards. She should be glad to have him siphon off votes from Barack.
Lloyd: (10:25:44 PM): Barack on solar, wind, biodiesel again. Haven't we been there, done that?
Glynnis: (10:26:10 PM): Barack wants a menu of energy options. Try the veal!
Glynnis: (10:27:12 PM): The 2005 energy bill was Dick Cheney in disguise, according to Hillary.
Lloyd: (10:27:17 PM): Cheney. Hillary finally mentions him. He's been sadly absent until now from the Dem debates.
Glynnis: (10:28:22 PM): Hillary goes there: clean energy is not going to happen by HOPING for it.
Glynnis: (10:29:02 PM): Russert wants Edwards to do a nuclear reality check. The wind will not save us.
Lloyd: (10:29:05 PM): General Electric, MSNBC's parent company, could build some nuclear power plants.
Lloyd: (10:30:05 PM): Edwards swats Hillary again, this time for real, on her taking money from energy lobbyist.
Glynnis: (10:30:09 PM): Edwards says -- check this -- Hillary is accepting dontations from the evil energy companies.
Lloyd: (10:30:45 PM): Can't wait for Hillary's comeback.
Glynnis: (10:31:21 PM): She says our energy plan should be our Apollo moon shot
Glynnis: (10:31:29 PM): But she doesn't address John directly.
Lloyd: (10:31:40 PM): Instead of going back at Edwards, she summons the country to an Apollo Program type effort on energy. Smart.
Lloyd: (10:32:33 PM): Obama calls for more efficient lighting. Presumably he's not talking about the terrible lighting in the auditorium
Glynnis: (10:32:34 PM): Light bulbs, according to Barack, are the "low hanging fruit." Do you tie them in a bow?
Glynnis: (10:33:25 PM): On to immigration.
Lloyd: (10:34:13 PM): Black brown green collar greenhouse gassing.
Lloyd: (10:35:18 PM): Good comeback by Barack on question of Clinton pollster claiming history of Hispanic voters not voting for African American candidates.
Lloyd: (10:35:29 PM): "not in Illinois. They all voted for me."
Glynnis: (10:36:07 PM): Barack is very good at taking the focus off his being Black and bring it back to who he is as an individual.
Glynnis: (10:36:47 PM): Question: how will Barack stem the tide of young black men dropping out?
Rachel: (10:37:07 PM): ...and there they are, taking it right back!
Glynnis: (10:37:09 PM): Barack widens the focus to all dropouts, and education improvement in general.
Lloyd: (10:37:36 PM): Education, Barack supports early-childhood education for "children of all races."
Glynnis: (10:38:05 PM): Barack says we have the means to fix the education problem, but not the will in the White House.
Lloyd: (10:38:28 PM): Biographical:"I did not get money and privilege when I was young but I did get a good education." Good humanizing by Barack...Also "grew up without a father."
Glynnis: (10:38:46 PM): But Barack brings it back to the absence of African American fathers.
Lloyd: (10:38:53 PM): Hillary keeps saying "Black-Brown debate." Starting to grate.
Glynnis: (10:40:26 PM): It's interesting after a week of racial tension that she contiues to hit that phrase.
Glynnis: (10:40:45 PM): Hillary is against illegal guns. Very bold.
Glynnis: (10:41:11 PM): But she is a "political realist"...a hit at Barack's idealism?
Lloyd: (10:41:53 PM): I think everybody knows that the Clintons are, say what you will about them, "political realists."
Glynnis: (10:42:40 PM): Barack wants to provide "common sense" enforcement.
Lloyd: (10:43:36 PM): So far no one has even put the gun on the table, in the Chekhovian dramatic sense, let alone pulled the trigger. I apologize for impersonating Dennis Miller.
Lloyd: (10:44:29 PM): Final segment! Sudden death!
Glynnis: (10:45:08 PM): What is standing out so far is how LITTLE differentiates the candidates. And without the strict time constraints we are lacking in any quick, repartee.
Glynnis: (10:47:29 PM): Strangely, no health care yet.
Lloyd: (10:48:10 PM): Brian Williams thinks he"s in Los Angeles.
Lloyd: (10:48:20 PM): I think I'm in Hell
Glynnis: (10:48:25 PM): BriWi has been drinkin' the punch.
Lloyd: (10:49:04 PM): Oh my god--is Al Qaeda watching this debate?
Rachel: (10:49:32 PM): Or reading this liveblog?
Glynnis: (10:49:39 PM): Hillary says it wasn't fear factoring. It was fear fact!
Rachel: (10:49:42 PM): That was a point - that she's a serious candidate keeping a watchful eye on potential threats. It's very GOP friendly - not that there's anything wrong with that.
Lloyd: (10:49:44 PM): Next time let's get an Al Qaeda liveblogger.
Glynnis: (10:50:23 PM): Hillary is coming as close as she ever has to a noun, a verb, and 9/11.
Lloyd: (10:51:05 PM): Hillary prepared and ready to take on Al Qaeda!
Glynnis: (10:52:10 PM): Obama gives kudos to Hillary for her work in post 9/11 New York. But wait! The pre NH spectre of fear...not so good.
Lloyd: (10:52:15 PM): Oooh. Obama takes Hillary on concerning her fearmongering.
Lloyd: (10:52:42 PM): Judgment clouded, too. He's taking off the gloves over his gloves.
Glynnis: (10:53:31 PM): I think sometimes, Obama gets an easy ride on this. He has not ever had to deal with terrosism directly, there has been not putting to practice of his ideas/ideals
Rachel: (10:53:42 PM): Easy ride? Obama? Naaaah! Well, we'll see what happens going forward. But the level of scrutiny on him has just not been that high, particularly of late. Maybe no one wanted to harsh on the post-Iowa high.
Lloyd: (10:53:50 PM): Hillary defends her use of Al Qaeda attacks in the U.K. after Gordon Brown took office as Prime Minister.
Lloyd: (10:54:30 PM): Hillary is Ready to meet our enemies on Day One.
Lloyd: (10:54:43 PM): DAY ONE DAY ONE DAY ONE!
Lloyd: (10:55:43 PM): I can only imagine poor Musharraf's reaction to Edwards' phone call.
Glynnis: (10:56:10 PM): Edwards says Iran requires a single huge grain of salt.
Lloyd: (10:56:18 PM): Wonder if he told him about being with Benazir Bhutto in Abu Dhabi.
Lloyd: (10:56:38 PM): Going off the air in a matter of minutes. Oh no!
Glynnis: (10:56:52 PM): When did you decide to run for president?
Glynnis: (10:57:21 PM): Hillary: The day I was born. Not really, she says it was over New Year's (last year). But still.
Lloyd: (10:57:33 PM): How come Brian asked about Yucca Mountain but not about legalized prostitution?
Glynnis: (10:57:54 PM): Good point. He clearly didn't read Bob Herbert's column this morning.
Glynnis: (10:58:27 PM): Apparently everyone made the decision in December of '06.
Glynnis: (10:58:38 PM): Something in the air?
Lloyd: (10:59:20 PM): Ended not with a bang but with a whimper. Bring back Kucinich!
Glynnis: (10:59:39 PM): That must be a first. A Democratic debate and no health care. Maybe the next GOP debate will leave out immigration.
Lloyd: (11:00:47 PM): Keith Olbermann compares debate to a Mounds Bar. (He called it "indescribably delicious").
Rachel: (11:00:52 PM): Ew. All that imagery is wrong.
Lloyd: (11:00:56 PM): Probably what he was eating
Glynnis: (11:01:31 PM): Phew - well that was certainly substantial. Alas, substantial in this case, is also BORING.
Rachel: (11:02:52 PM): Alas, poor Kucinich, we knew you well.
Glynnis: (11:03:57 PM): Nothing new here. A opening that allowed the candidates to condemn the racial overtones of the last few days.
Rachel: (11:04:22 PM): ...and make nice.
Glynnis: (11:08:08 PM): I'm not sure this debate has furthered anything except the notion that the Dems have a strong lineup, that they differ more on tone and personality than policy. It feels like we shifted back to the tone of the debates last fall...
Glynnis: (11:08:21 PM): ...when everyone just tried to get along.
Rachel: (11:09:52 PM): Except THEN we had Mike Gravel to liven things up. Well, Lloyd, what do you think of your first time liveblogging - did you have fun or are you ashamed to have your name on this?
Lloyd: (11:10:06 PM): Believe me, I've had my name on a lot worse.

Calling all HuffPost superfans!
Sign up for membership to become a founding member and help shape HuffPost's next chapter