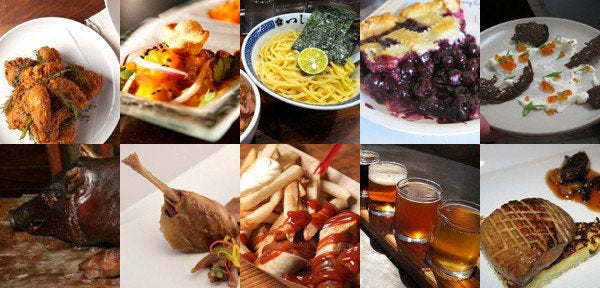 It is the dream of every restaurant reviewer to visit a new eatery and enjoy an extraordinary, entirely unexpected dining experience -- one which transcends the ordinary and ascends into the realm of the ethereal. Doesn't often happen... maybe once or twice every year or two at the most. It happened to me this week, and I am delighted to tell my readers about it.
The Viceroy Hotel Group recently bought the elegant, sophisticated L'Ermitage Hotel on tree-shaded Burton Way (9291 Burton Way, B.H. 310-278-3344, reservations 877-235-7582), a street just a short distance from the heart of the city of Beverly Hills. I have been coming here to dine since it first opened two decades ago and installed a talented chef, David Myers (later of Sona) in the small, swell, domed dining room off the lobby. Here there is a fireplace-heated patio, a waterfall which hypnotizes you, and massive two-story high windows through which you can see the smart garden. The elegant dining room is now full of flowers, with the new addition of a stunning live tree from northern California as its centerpiece.
Livello's new centerpiece living tree.
The room is quiet and, for Beverly Hills, beautifully understated. After the first chef left, the fortunes of the dining room went up and down, sporadic and uneven. A few weeks ago the hotel's general manager called to ask me to come by for a cup of coffee and some chatter. To my surprise, it was not only about food... but about movies! In Sal Abaunza I met a truly unique individual, charming and erudite... but with an unexpected intellectual dimension which astonished me. This man is a walking font of intimate knowledge about a world in which I have lived most of my life... the movie industry. Why would a veteran hotel executive be an erudite authority on movies? God knows, but it's a happy fact of life.
Sal was the experienced GM of the Mandarin Oriental San Francisco Hotel before coming here. When we met, he began to tell me about my movies... details of my productions which I had forgotten or never even knew. We talked about director Billy Wilder and Buddy, Buddy, with Matthau and Lemmon, Rod Steiger and Valerie Perrine in W.C. Fields & Me, obscure cast members of my Lady Sings the Blues, actors I had forgotten, and production details I had obliterated. He knew it all. I figured he had researched me on Google before our meeting, but when we began talking other random films of yesterday and today, he knew it all. (The name of the Thin Man's dog, Asta.) As I said, a font of intimate knowledge about the film industry. When I told him that actress Susie Blakely would be joining me in reviewing his new restaurant, he immediately reeled off her credits, saying "She was fantastic in Rich Man, Poor Man, and I remember her modeling for Cover Girl with Cybill Sheppard and Ali McGraw."
At which point the new executive chef of his restaurant, Joseph Elevado, came by to say hello. Joe is a veteran of Nobu Matsuhisa's empire, as well as Social House in Las Vegas, having a deep and varied background. They told me their plans for the new restaurant, Livello, which translates in Italian as "level." Why level? It seems the new eatery is a passionate dichotomy of two cultures with strong historical ties, Italian and Asian, meeting here in a free-form inspiration. (I mentioned another restaurant which has just opened in Beverly Hills with a Korean chef cooking Italian food, but not at this high level of ambition.)
Sal and Joseph emphasized to me that this was not "fusion" cooking, rather the name refers to the level of balance between their Italian and Asian cooking. The new menu highlights the best of each, offering Zensai, Nigiri Sushi, Gyokairui, Menrui and Niku alongside Antipasti, Crudi, Pasta, Frutti di Mare and Carne. Yes, I was eager, ready and willing to explore the concept, never dreaming it would be a transcendental experience.
Along with Susie and husband Steve Jaffe was my ex, the lovely Annabelle, and her new husband, restaurant maven Steve Shulman. I told the chef I wanted an extensive exploration of his menu... and last evening we sampled more than a dozen dishes from both sides of the equation. An amuse-bouche of tiny duck confit to get the ball rolling. Think of a starter of 62-degree organic egg with five different mushrooms ($17). The egg poached sous-vide in the shell until just the exact temperature when it sets is seated on mushrooms in a sherry veal reduction. You will spoon up every drop of the sublime concoction.
It was quickly followed by garlic oil-seared imperial Wagyu Sashimi ($20) with sun-dried tomato, ginger, garlic chips and sudachi-soy. A selection of sashimi and crudi followed, reflecting chef's training under master Nobu, a range of dishes from delicate sweet shrimp with cured Serrano ($7 for two pieces) and a bright sea urchin and fluke crudo ($18) with EVOO and shiso. (I share Anthony Bourdain's passion for all things uni, oursin, and sea urchin, the caviar-of-the-sea, and get a weekly delivery of the golden eggs from San Diego's Catalina Offshore direct to my front door.) More sashimi includes tuna and salmon (two pieces for $8). The fish is of pristine quality.
Ragu of pork belly atop ramen Noodles.
Hand-made pastas and noodles at Livello are a nod to the authentic tradition of both cultures. Ragu of spicy Kurobuto pork belly ($20) with ramen noodles and green onion, or free-form oxtail ravioli ($20) with edamame and veal reduction. Want to blow your mind? Bolognese of beef short ribs ($22) on home-made pappardelle with shaved locatelli. Steve commented that each pasta was prepared just "to the point," not al dente and not mushy, perfectly, meltingly soft and yet chewy, the touch of a master pasta maker.
Entrees showcase his inspiration from the robust flavors of both Italy and Asia... chicken picatta ($22), which has been elevated by slow sous-vide cooking, or a sweet pork osso bucco which, chef told me, reinterprets the traditional Filipino dish, pata. I didn't have the spaghetti carbonara ($18), saving it for next time, but we all received a half of roasted Cornish game hen ($20) which was succulent, well-done yet juicy, another winner.
I craved a piece of beef and chef obliged with a seared imperial wagyu flat iron steak ($20) served with crispy ponzu broccoli atop onion puree. The beef was flavorful, cooked perfectly, and of a price not to be believed. In fact, if you have been following herein the prices of this extraordinary food, they are so reasonable for any restaurant, let alone a five-star hotel dining room, that I can only surmise that GM Sal and the chef have decided to make it so attractive to diners they will flock here for the food and the value. Other entrees include a veal porterhouse ($38) and an 8 oz. filet mignon ($34). Yes, there are salads for the virtuous, a harissa portobello ($14) is outstanding.
Of late I have been ever-conscious of the unsung efforts made by those highly talented, mostly women, pastry chefs working in many venues 'round town. And Livello is no exception. Chef Joseph told me that he had first worked with Pastry Chef Angela Ng at the Social House in Las Vegas and elsewhere, and asked her to join him here. A very smart move... she is a genius pastry provider... we were astonished at the delicate, delicious offerings provided, from a Sudachi souffle ($10) with home-made vanilla ice cream, to ricotta cheesecake ($10) with apple compote and balsamic ice cream. Chocolate cake came with marshmallow, salted caramel, and pistachio ice cream.
My favorite? The lemon zeppole, little donut-like pastries with white chocolate yogurt and toasted almond sorbet. The subtle, solicitous service was provided by a lovely new addition to our city, E'Leece Miner, newly moved here from the South. Food and Beverage Manager Drew Berry has been working with Sal for several years, and he is a superior piece of hotel manpower. Charming Sommelier Stephanie Brown oversaw our cocktails and wine, offering Suzie Blakely a "bubbly" concoction which draw laughing applause from the famous actress. It was Grey Goose pear vodka, simple syrup, lemon juice, and sparking wine. I may return just to have another one of those. But I had brought a bottle of the new Justin 'Justification' red and -- after tasting it - Stephanie, who serves their Paso Robles cab by the glass, agreed to add it to her wine list. The boutique wine list is remarkable for its depth and its reasonable pricing.
The restaurant is open from 6:30 a.m. for breakfast until late night dinner. For lunch they have a
28-day dry-aged burger "animal style" (yes!), as well as a balsamic-marinated portobello sandwich for you veggies. Speaking of real winners, Livello is certainly one, an astonishing and exciting new concept brought to vivid life by the dedicated team of professionals. I again must note that this high quality of food at these reasonable of prices, in this superb setting is such a wonderful surprise that you will come here and then thank me for tipping you off to it. Just enjoy... that's what life is all about!
To subscribe to Jay Weston's Restaurant Newsletter ($70 for 12 monthly issues), email him at jayweston@sbcglobal.net

Support HuffPost
The Stakes Have Never Been Higher
Related
Popular in the Community