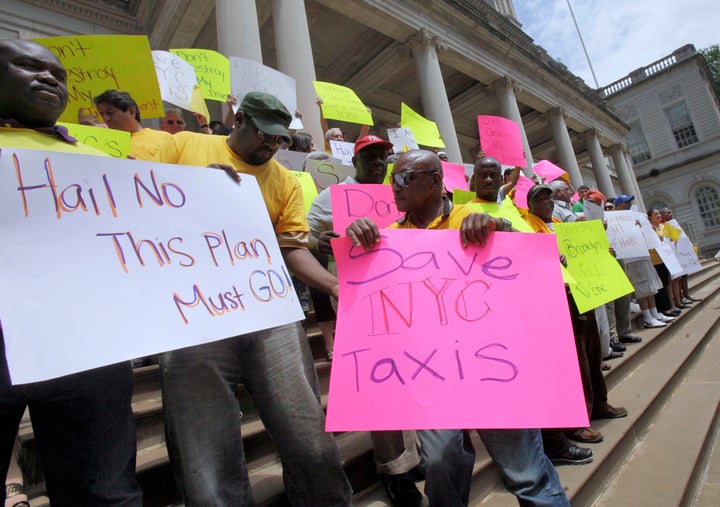 Amidst the busy, busy final weekend of the legislative session in Albany, Mayor Bloomberg circumvented the City Council and slipped Albany a bill that would allow livery cabs--those unmarked cars that are typically arranged for by passengers ahead of time--to accept fares from people hailing them off the street in upper Manhattan and the outer boroughs.
The bill passed swiftly in the Democrat-controlled Assembly yesterday, The New York Post reports, but now heads to the GOP-controlled senate, who is considering killing the bill.
The measure that was added to the dockets on Saturday would create 1,500 additional medallions for a new class of livery cab—569 of which would be required to be handicap-accessible—in addition to issuing up to 30,000 non-transferable "hail privilege vehicle permits." Those new livery cabs would be painted a new color, include a meter and GPS and would have a top light that would differentiate them from yellow cabs and regular livery cars.
Yellow cab drivers, who the Post reports "individually earn about $80 to $100 for a 12-hour shift after paying up to $129 for the lease and $40 for gas", also claim that lax enforcement of illegal street-pickups already allows livery cabs to steal their fares.
And yet, despite their complaints, CBS News reports that Taxi Workers Alliance, who represent the city's yellow cabs, has switched gears on the bill after drawing concessions from the city and reducing the number of "hail privilege vehicle permits to 22,000."
"People who live in the Bronx, Brooklyn, Queens and Staten Island deserve to have the same ability to flag down a taxi as Manhattanites do," TLC Commissioner David Yassky told 1010 WINS. "I think it's absolutely the right move," adding, "We want to make sure that the yellow taxi industry remains strong and healthy and we are absolutely committed to enforcement to make sure that the borough taxis stay in the boroughs and don't poach in Manhattan."
Popular in the Community