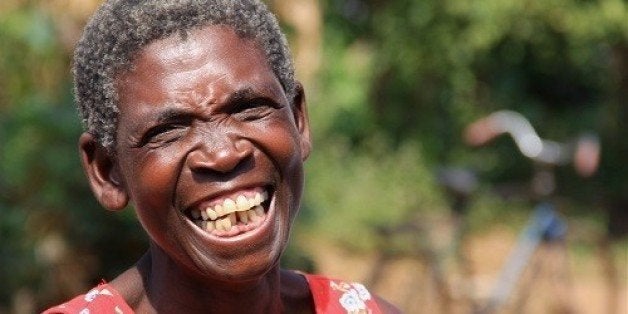 In the Tholyo District of Malawi, in Sub-Saharan Africa, there lives a woman named Rhoda.
In May 2015, Rhoda was making the finishing touches on her livestock pen, in anticipation of receiving a dairy heifer from Heifer Malawi.
Rhoda is the mother of seven children, and the only crops she grows on her small farm are maize and pigeon peas. Like more than half the country's population, Rhoda's family lives below the international poverty line.
At Heifer International, we see how livestock, coupled with training and community building, has the power to unlock potential within people. For Rhoda, owning a high-quality dairy animal would mean milk for her children to drink that provides invaluable protein for adequate nutrition and growth. With a milk collection hub in her area, extra milk could also translate into income to meet the rest of the family's food needs, pay for school fees and access medical care. It's a tremendous beginning to a cycle of change that creates new opportunities and circumstances.
Rhoda was determined to be prepared to receive her cow, because she, too, recognized the value it would add to her livelihood and what it could mean for her children.
In our development model, dignity and self-reliance are critical elements that drive the essence and spirit of our work. Training and preparation are as important as the living assets we place with families and communities around the world.
Animal well-being is a lynchpin in the path out of poverty. Many of the farmers with whom we work lack the land typically needed for grazing livestock. Building sizable pens, attending trainings on animal husbandry and learning to grow and glean fodder are prerequisites in many of our projects. The chances of creating success become far greater, and personal investments mean greater accountability and self-reliance. It's an amazing transformation of pride and resiliency.
Rhoda saved $400 to build her livestock pen, which is a huge investment for her. In addition to trainings, Heifer provided Rhoda with the blueprints for the pen as well as the cement needed. Rhoda hired laborers to help her build the pen, and she prepared land on her farm to grow nutritious fodder to feed her cow.
Self-reliance is what we want for Rhoda, and it's what she wants for herself. Change is personal, but it also creates ripple effects. Her dedication and commitment mean greater opportunity for her family's success, as well as for the success of the project. She becomes a partner with Heifer, and it's a strong partnership because of her personal investment in her efforts and her determination to build the foundation for a better future -- both for her family and her entire community.
In October, I received word from a Heifer Malawi staff member that Rhoda received her pregnant heifer, along with 42 other families in her community. Before long, her heifer will give birth. If the calf is a female, it will be given to another family within the project. If it is a male, it will either be sold, and the proceeds used to purchase a female for another family, or Rhoda will keep it and wait for her cow to have a female to be shared. This entire cycle is part of the transformation from gratitude to generosity. It's a commitment of change that impacts an entire community and economy.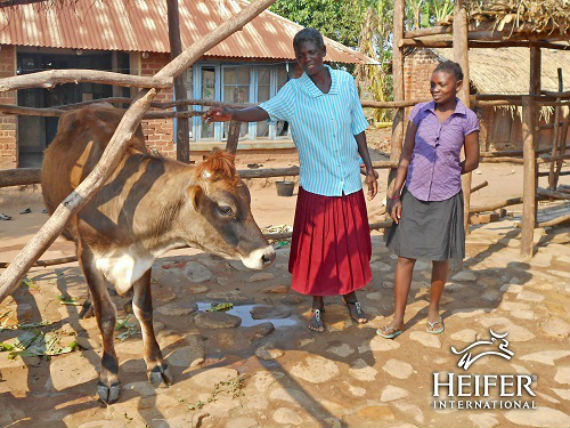 Rhoda stands with the cow she received from Heifer International in October. She named the cow Favor, because she feels it was by God's favor that she received the animal.
Photo Credit: Heifer International
This sharing is at the heart of our work. We call it Passing on the Gift®, and it's one of the most significant transformations our participants undergo. It is through Passing on the Gift that Rhoda will transform from a recipient to a donor. I have been fortunate to have witnessed more than one Passing on the Gift ceremony in communities where we work, and it is powerful beyond words. Imagine if you were asked to give away half of your wealth to your neighbor. This act creates change in the fabric of communities in ways that can be seen both economically, but also deep in the emotional corners of the heart.
Giving Tuesday marks the beginning of the holiday season, as a national day of giving. It's a day to consider all the gifts that have been bestowed upon you and to pay it forward, much like Rhoda will soon do.
This post is part of a series produced by The Huffington Post and the NGO alliance InterAction in celebration of #GivingTuesday, which will take place this year (2015) on December 2. The idea behind #GivingTuesday is to kick off the holiday-giving season, in the same way that Black Friday and CyberMonday kick off the holiday-shopping season. We'll be featuring posts from InterAction partners every day this week. To see all the posts in the series, visit here; follow the conversation via #GivingTuesday and learn more here. For more information about InterAction, visit here.
REAL LIFE. REAL NEWS. REAL VOICES.
Help us tell more of the stories that matter from voices that too often remain unheard.