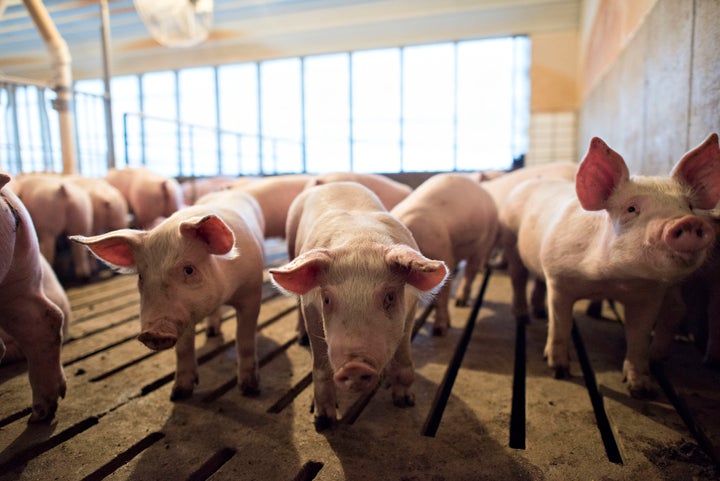 Even as scientists sound the alarm that overusing antibiotics on farms is contributing to the spread of antibiotic-resistant superbugs, sales continue to rise.
According to new data released by the Food and Drug Administration on Thursday, the sale of antimicrobial drugs approved for food-producing animals rose an additional 1 percent between 2014 and 2015.
This is tied for the lowest annual sales increase since 2009, the FDA noted, but drug sales are still up 24 percent overall since that year. Sales of antibiotics considered medically important to humans grew 26 percent over the same period.
The increase comes despite the FDA's recent efforts to urge the agricultural industry to voluntarily phase out its "sub-therapeutic" use of antibiotics for livestock, typically used to plump up animals and prevent disease rather than to treat illnesses. All told, agriculture is responsible for about 70 percent of the nation's total antibiotics sales.
Researchers believe the widespread use of antibiotics on livestock is putting humans at risk of "superbugs" ― like a rare antibiotic-resistant gene that Ohio State University researchers identified at a U.S. pig farm in a study published earlier this month.
Dr. David Wallinga, senior health officer of the Natural Resources Defense Council's health program, said he was "deeply disappointed" by the latest FDA sales figures. They indicate that the FDA's warnings have proven insufficient, he said.
"The signal this sends is that whatever we're doing is not enough and not fast enough to address the urgency of the health threat," Wallinga told The Huffington Post. "Our fear is that the FDA's efforts are so limited that they might do very little to really address this enormous overuse."
To date, the FDA has advocated for the agriculture industry to use medically important antibiotics judiciously — only, for example, when veterinarians can oversee the practice to ensure healthy animals.
In the agency's firmest rule yet, farmers will be required to work with a veterinarian to use a wider subset of antibiotics starting Jan. 1, 2017.
But Thursday's numbers suggest that even the FDA's new regulation may not go far enough, Wallinga argued.
"Every year, we delay really tackling the root of this issue, [and] the threat to all of us becomes greater," said Wallinga, who believes it's important to set firmer targets and timelines for reduced use of the drugs.
While the agricultural industry has been slow to reduce the use of antibiotics, major food companies like McDonald's, Subway, Chipotle and Panera have been moving away from serving meat raised with antibiotics. As of 2017, according to Consumer Reports, all the chicken sold at the four chains will be antibiotic-free.
Joseph Erbentraut covers promising innovations and challenges in the areas of food and water. In addition, Erbentraut explores the evolving ways Americans are identifying and defining themselves. Follow Erbentraut on Twitter at @robojojo. Tips? Email joseph.erbentraut@huffingtonpost.com.
Related
Popular in the Community