Forgive me if I still sound a bit dazed, but the last few days have a surreal quality about them. My husband Colin now has an Oscar. Everybody keeps asking me how it feels. Well, it feels amazing! And the feeling is heightened by the fact that Colin's journey through the awards season, both this year for The King's Speech and last (when he was nominated for Tom Ford's beautiful film A Single Man) has also given me the opportunity to indulge my own passion: for ethical fashion. To explain: last year my friend Lucy Siegle (author of the forthcoming book, To Die For on the state of the fashion industry and its enormous footprint) challenged me to go through all the red carpets unfurled for the awards season dressed exclusively in sustainable style. We launched our diary of this on Vogue.com, entitled The Green Carpet Challenge. We began tentatively and built up steam. By last Sunday I had the (eco) confidence to enter the Kodak Theatre in a dress made by designer Gary Harvey from eleven pre-loved, forgotten and damaged dresses from the era of The King's Speech. The mandatory jewelry (the Oscars being a particularly bling-friendly event) was Fairtrade, fair-mined and ecologically certified -- a world first apparently.
As creative director and co-owner (with my brother Nicola) of Eco Age (www.eco-age.com), a consultancy firm and also a retail shop for those who want to lead a greener life naturally, I had some interest in the environmental impact and social justice implications of the clothes I wear. But just to place myself in the green scene, I am not a classic "eco warrior" and should confess that I'm even a little tired of words such as "eco," "green" and "ethical." It's more that I dream of a world where everything is ecological, green and ethical so that actually we don't have to define them anymore. I do believe that it is our responsibility to ask questions about the implications that our lives have on the environment, whether you want to define this in terms of carbon footprint (climate change), or the people who manufacture the things we use, eat and wear (trade), or both.
When it comes to lifestyles, what we wear should be almost as big a consideration as what we eat. Our wardrobes/closets have huge footprints, but we often choose not to acknowledge the fact. And there's the fact that we are far more clued up about where to shop for responsible, sustainable, ethical produce than where to find fashion fodder with the same attributes. The Green Carpet Challenge has always been about raising the profile of designs and designers who do things different to the mainstream. They prioritise social and environmental justice along with their aesthetic. It has also been responsible for educating me on the trials and triumphs of wearing fashion with ethics. Once you get into this I don't think it's possible to go back.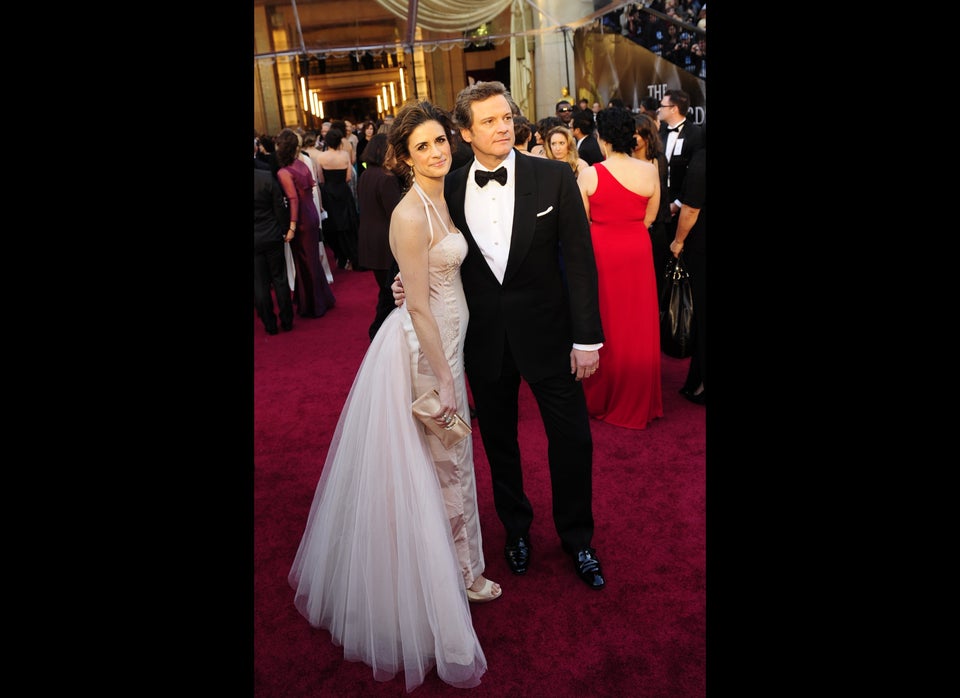 Livia says I am the instigator of the Green Carpet Challenge. I can't remember because I feel like we were both pitched straight into it. Occasionally, I've thought 'why are we making poor Livia do this?!' Because every project has its tricky moments. For the record this is not because I think the selecting, putting on and taking off clothes is in any way arduous. I make this point because fashion-haters write off anything to do with clothing as 'unnecessary' and wonder why a 'green' person might be concern themselves with the triviality of wardrobe fodder when the planet is dying etc. But the point is that the garment industry with its millions of employees -- many of which toil in fetid conditions for such tiny remuneration that they can't afford to consume enough calories -- and its hulking environmental footprint is so important that it is worth agitating for urgent change. The health is being siphoned out of the industry. Fast fashion is very much in the frame along with its ally fast consumption.
Sit-on-a-spike environmentalist types don't get this. But then they don't understand aspiration. A stunted lexicon comprising "no" and you "can't have" and "not necessary" may help you to train a dog but won't win many converts to the environmental cause. A shame, because this is to some extent a numbers game. Besides, fashion isn't a crime. It's a joy and a necessary means of expression. I also find most people are interested in celebrities to a degree and they like the Oscars. I like the Oscars. I liked them even better when I was there!
And so a really, really good moment for this project was when Livia took to the Oscar's red carpet in Gary Harvey's upcycled dress. Not only did she look completely stunning (let's face it, she is not hard to dress), but Harvey's dress represented the complete antithesis of most fashion pieces; for starters, to accommodate the fact that much of the vintage fabric was in poor condition it pieced together remnants of fabric which meant a seam up the front of the dress. It broke many latter day fashion rules. Because at its heart, the Green Carpet Challenge is really about different design, better design. Both product and fashion designers have lately been schooled to design for landfill. Their visions are single-use or churned out at super fast pace. The Green Carpet Challenge favours a design process that is different.
Gary Harvey hails from South East London. A former creative director of Levis Strauss he only began designing when he needed a dramatic piece for a jeans shoot and ended up using 42 pairs of Levi 501s to create a dress. Then he became the king of reuse. Previous pieces have
been made from 18 Burberry macs, 28 army jackets, and 30 copies of the Financial Times. Livia's Oscar dress was all about the construction and the fabric. The eleven dresses he used were garnered from vintage, thrift and charity stores in South East London that dated from the era of The King's Speech. The result was an unashamedly romantic tonal, gown in pink, blush and beige, the shape of which was pulled together by a complex piece of corsetry and engineering (I'll vouch for the complexity as I did it up!). I loved it and so in the main did the fashion commentators. They praised the romantic nature of the gown, the fact that in a safe year for Oscar looks, it pushed a number of alternative fashion buttons. What I hadn't anticipated was quite so much flak from the 'vintage community'. They were worried about cruelty towards vintage gowns, and suggested Harvey had chopped them up with reckless abandon. 'Cutting to pieces small pieces of history to make one dress for some awards ceremony is blasphemy,' said one distressed follower of the Vogue blog. Aside from the diss of the phrase 'some awards ceremony' (friend, the context was a little more
rarified!) I should try to off-set the distress here. Gary Harvey is no frock-butcher. I have never met anybody more meticulous with vintage fabric. The pieces were damaged to such an extent and or so tiny that they had little to no chance of resale in their original state - sorry, there are not enough costume museums to accommodate. Rot on a hanger or make sustainable style history? You decide.
And yes, we made it on to a couple of worst-dressed lists too. This is what I had always dreaded in the past, remembering Bjork's Marjan Pejoski swan dress moment at the 2001 Oscars. But in the event, even that didn't smart too keenly. Perhaps the ethical nature of the
experiment ameliorated the journalists' scorn because they seemed to add us to their lists with regret. And I went back and had a look at Bjork's swan moment. In hindsight I found it quite beautiful.