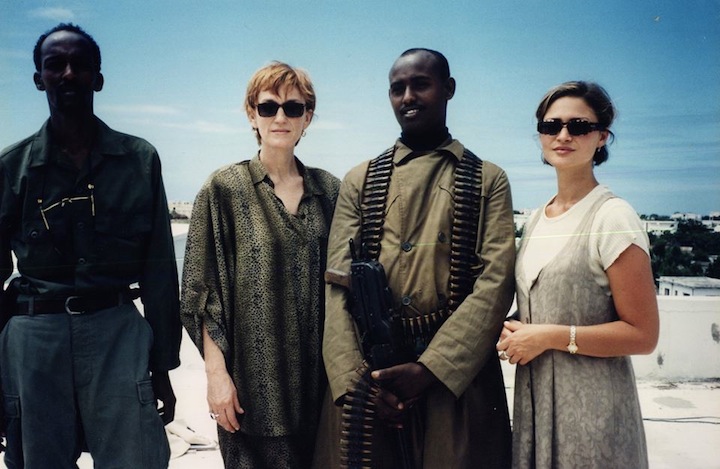 This week at a book signing in Santa Monica, I spoke about how my heart was broken when a Somali mob murdered my son, Dan Eldon, a 22-year-old Reuters photojournalist, together with three of his young colleagues in Mogadishu in 1993. Dan had spent more than a year in the country, covering the famine and spiraling despair, which intensified after a Somali warlord - the self-styled "General" Mohamed Farrah Aidid - diverted relief.
My heart was shattered yet again last month after Somali terrorists gunned down innocent men, women and children at a shopping mall in Nairobi, Kenya, killing at least 67 and injuring more than 170.
Among them was Kofi Awoonor, a 78-year old Ghanaian poet and academic, who was participating in StoryMoja Hay, a conference that I too was supposed to attend. Only a last minute conflict due to the publication of my new memoir, In the Heart of Life, meant that I wasn't able to go.
Dan died trying to tell an important story in Somalia, but that story continues. Twenty years later, an ancient cycle of revenge continues - one that ignites hatred, tribal warfare and the death of countless innocents along the way.
As I describe in my book, Dan and his friends were killed following a US-led raid to capture Aidid, the warlord who had been diverting food from relief missions organized by the United Nations. But the intelligence was faulty; the warlord wasn't there and the UN-led aerial assault left more than 70 Somali civilians dead. In the ensuring confusion, enraged survivors, bent on revenge, beat, shot and stoned four journalists to death.
Soon afterwards, the US retreated from Somalia, leaving the lawless country a fertile breeding ground for Al Qaeda training camps. Some of their graduates took part in the retaliatory bombings of the American embassies in Kenya and Tanzania in 1998, which left more than 200 dead and 4500 people injured. By 2002, there were 17 confirmed Al Qaeda terrorist camps in Somalia. Since then, there have been countless attacks by Al Qaeda trained militia inside and outside the country, including the recent Nairobi assault on the Westgate Mall which was claimed by Al Shabab, a brutal off-shoot of Al Qaeda. According to NY Times East Africa Bureau Chief, Jeffrey Gettleman: "The Shabab, a brutal Somali extremist group that had at least 20 fighters from the United States in 2010, many of them young Somali-Americans from a gritty part of Minneapolis, said the attack was revenge for Kenya's military incursion into Somalia, which began in 2011 when Kenya sent thousands of troops across the border to push back the Shabab."
Last weekend, American SEALS struck the coastal headquarters of Abdikadir Mohamed Abdikadir, described as a liaison between commanders of the Al Shabab Islamist group in Somalia with terrorist cells linked to Al Qaeda in Kenya, Yemen and the Afghanistan-Pakistan area. With such an extensive terrorist network, it's no wonder that in the past few months, hundreds of innocent men, women and children have died in a string of attacks reflecting a vengeful mindset that threatens peace and security in homes and neighborhoods, cities and countries everywhere.
The question is as always, why?
Recently, my friend, nurse Lynn Matthews, who was traveling in Afghanistan, met an Afghan general and asked him why he thought that so many young Afghan men were so violent. Shaking his head sadly, he said, "They have been infected. It's like the HIV virus, but this is a virus of the soul."
Perhaps this infectious agent is the same one that inspired Gandhi to write: "An eye for an eye makes the whole world blind." In a world seemingly blinded by hatred, greed and revenge, we must find a cure for a virus that, if left untreated, threatens to destroy us all.
There is no simple solution, of course. We can make a start by educating and empowering women, unshackling them from medieval laws surrounding property and marriage, stopping FGM - female genital mutilation (nearly every Somali woman has been circumcised, often at the age of five or six, with a razor blade and no anesthetic).
Educated women, equipped with the tools and resources to find or created jobs, will be better mothers for men and boys can help create societies that nurture the human spirit, combatting the sense of helplessness and desperation that fuels hatred and revenge. After all if men and women are brought up in a culture of violence and revenge, how can we be surprised if rage flows through them like burning lava, engulfing all in its path.
There are many individuals who are already laying the groundwork for change. At the Clinton Global Initiative I met Dr. Saken Yacoobi, whose fearless support and education of young Afghan girls will help those future mothers guide their own children, especially their boys, to become instruments of peace, not war. Her work will make it harder for fundamentalist clerics to encourage their brothers and sons to strap on suicide vests and plot attacks that shatter, not only the bodies, hearts and spirits of those who are killed, but also those of us who watch.
There is another cure for the virus. As the mother of a son who was killed, I have learned about the healing power of forgiveness. It doesn't mean that I don't seek justice, or that I have forgotten what that group of Somalis did. But I have released the rage I felt and have focused on transforming the horror into a positive force for good by starting the Creative Visions Foundation - dedicated to supporting "creative activism," the use of arts and media to heal bodies, minds and spirits. In so doing, I hope to become a good ancestor and do my part in stopping the endless cycle of revenge.
Just after Dan was killed his Masai foster brother Peter wrote me a letter:
"My brother saw the suffering of the Somali people and he made his mind up to show the world what was happening there... The world is Somalia and needs redemption."
Through my life I have learned that we are one, connected through a network of relationships that extend around the world and beyond. Therefore every action we take, and every decision we make, affects everyone and everything. Redemption and healing is possible in this troubled world, but it's up to each one of us to make the changes that will contribute to a positive future for all.
Related
Popular in the Community