My wife Nancy and I are enjoying the sun in one of South America's most beautiful town squares. A tiered fountain, surrounded by palm trees, lies at its center.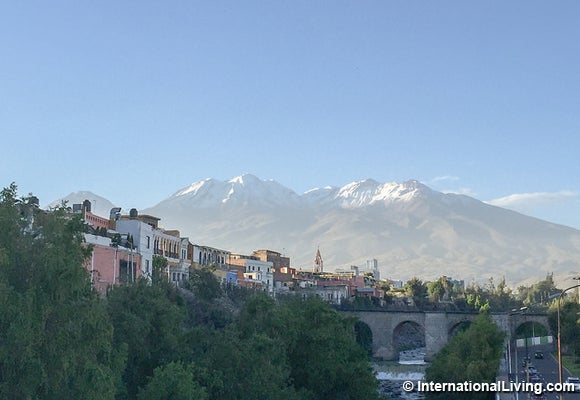 Red, pink, and purple roses are everywhere you look. Stone pathways wind their way through the flower gardens and around the fountain's tranquil pool. All around us, the sun bounces off the glistening white sillar, the volcanic rock from which the colonial buildings are built. From the second-floor balcony of a picantería, one of the local food joints, we can take this all in. All with a glass of chicha, the refreshing local purple corn drink, in hand.
It's hard to believe that here—in Arequipa, Peru's southernmost city—this is now our neighborhood and local playground. I only need to walk across Avenida Ejército, the main road that passes by our large three-bedroom, furnished condo (just $700 a month), to find myself in the middle of the 1800s. Within 10 minutes, I am strolling past the Santa Rosa Hotel, where the year 1846 is carved into the rough stone above the main entrance. Huge wooden doors with large, worn brass doorknockers are scattered along the shining white stone walls. Corinthian columns line the façades of many buildings.
Since moving to Arequipa six months ago, we've found it has a lot more to recommend it than blue skies and sunshine for over 300 days a year. This colonial city lies at the heart of a region rich in history and natural splendor. And with some of the finest food in Latin America to enjoy for as little as $3, it's a great place to indulge your taste buds, too.
Unlike the rest of Peru, this city has few traces of the Incas. Instead, Arequipa is known for its colonial architecture, which fuses European and native styles into the Escuela Arequipeña (Arequipa School). This consists of ornate carvings and bas-relief designs that adorn the city's colonial churches and homes.
The stunning colonial center, with stone buildings dating as far back as the 16th century, is now a UNESCO World Heritage site. Most structures in the central Plaza de Armas are made of sparkling-white sillar, which is quarried nearby. During the day, the bright alpine sunshine reflects off the white stone, making it glisten. At night, the soft glow of old-style streetlights on the walls makes you feel you've gone back a couple of hundred years. In all my travels across Asia and the Americas, I've never seen anything like it. This has given the city its nickname, La Ciudad Blanca ("The White City").
The ornate Basilica Cathedral extends the full length of Plaza de Armas' north side. It dates back to the middle of the 17th century. Two bell-towers stretch skyward and dozens of massive Corinthian columns line the façade. Large stone arches surrounded by more columns provide two of the four magnificent gateways into the Plaza.
The Plaza is a hub of activity. You never know if you'll run into an impromptu band concert or other celebration. During the day and evenings, both locals and tourists hang out on the front steps that stretch the length of the cathedral. People gather here to chat, read, or feed the dozens of pigeons.
Leave the Plaza and stroll along Santa Catalina Street, past the many alpaca and vicuña textile goods stores. Arequipa is the number one-spot in Peru to shop for these items, at some of the best prices. Mundo Alpaca, at Santa Catalina, 120A, is well known for its great baby alpaca sweaters and jackets. Prices start at about $150. If you want a quality alpaca item without breaking the bank, though, look a little farther down the street. Alpaca del Sur and Los Koros both offer colorful alpaca clothing starting at less than $100.
While on this street, you can also browse through the antique shops. Here you can find items dating from colonial times. Drop into Alvaro Antiques, at Santa Catalina 204, where you can buy authentic 18th-century coins for about $80. Or choose a 300-year-old earthenware bowl for about the same price. This shop also deals in a few modern alpaca textile items, mostly blankets. We recently bought a new, king-size, 100% alpaca blanket here for less than $100.
The young girl working in the shop speaks very good English. She told us that the oldest items in the shop were the coins and the pottery. If you're visiting Arequipa, she is a wellspring of knowledge on local antiques. The only items that you can't take out of the country are Inca and pre-Inca artifacts.
Continue along the spacious sidewalk to the Santa Catalina Monastery. With its thick stone walls reaching skyward, massive wooden doors, and main arched entrance, it's impossible to miss. The large convent is open to the public, with an entrance fee of about $12.
We recently attended a free performance by the Arequipa Symphony Orchestra here. It was held in the monastery's large, cross-shaped art gallery. Listening to Mendelssohn in a 16th-century building full of 17th-century paintings…how cool is that?
In its prime, it was a walled community complete with streets, shops, and homes for its religious residents. It is a fascinating trip back in time as you stroll through the sculptured maze of buildings and grounds. Here you get a look at the life of the women who lived here so many centuries ago.
Peru is the foodie center of South America. And Arequipa has some of the best dishes in the country. It is best known for its picanterías. These traditional Arequipan restaurants offer a low-cost, healthy, and filling lunch. A different menu is offered each day of the week (known as the menú del día). It generally consists of a soup or salad, main course, and dessert, with a large jug of chicha.
Although many picanterías have become normal restaurants, you can still find older-style ones. They come complete with long wooden benches, chatty customers, and a great selection of local dishes. One of the best is La Capitana, at Los Arces Street, 209. Our first time here was one to remember. We had no idea what to do! We plopped down at one of the large, long tables with about eight other people. Before long, a large jug of juice was brought to the table. We ordered a plateful of three dishes to try out: thick soup, beef stew, vegetables, a stuffed red pepper, and rice. Some sort of simple dessert is always included in the $3 or $4 price. Be warned that you can often share one meal—the portions are very large.
Another great local restaurant is La Nueva Palomino, in the nearby Yanahuara District. Here you can enjoy regional favorites like world-class rocoto relleno (spicy red pepper stuffed with beef, garlic, and onion) or chupe de camarones (a thick soup made with tomato, shrimps, hot pepper, cheese, potatoes, milk, and eggs). Braver souls can order cuy chactado. This is a whole guinea pig covered with spicy hot pepper gravy and fried in a pan. Most dishes are less than $10.
You will find a more modern take on Peruvian food at the Zig Zag Restaurant. Savor local meats and fish cooked on volcanic stone. Most meals are served with exotic salads of fresh cheeses, palm hearts, olives, figs, and mangos. Entrees start in the $12 to $15 range.
To reach Arequipa, you can take one of many daily 90-minute flights from the capital, Lima. You can also take a 15-hour bus ride across the dry landscape of southern Peru. Both max out at about $75.
This article comes to us courtesy of InternationalLiving.com, the world's leading authority on how to live, work, invest, travel, and retire better overseas.
Calling all HuffPost superfans!
Sign up for membership to become a founding member and help shape HuffPost's next chapter