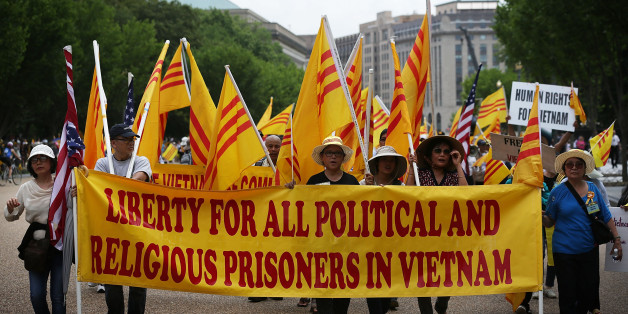 "Life in prison is hard. I fell into despair. I was in this situation because I was trying to be a good citizen, to help people out according to the law [...] But I was arrested and put in prison. I felt like I was in a dark tunnel with no way out."
These are the words of Phạm Thị Lộc, a human rights defender from Bắc Giang province in the north of Viet Nam, working on land rights.
Lộc's story reflects those of many of Viet Nam's peaceful activists. Compelled by injustice in her own life, and the lives of others in her community, she started to speak out and to advocate for change and justice. But in Viet Nam, such peaceful activism -- asking the authorities to ensure the rights contained in Viet Nam's constitution and the international treaties it is a party to -- is viewed as subversive.
In 2011, like so many other human rights activists before and after her, Lộc was arrested. She unjustly spent four years in jail, where she endured months of solitary confinement and incommunicado detention, cut off from the outside world, including her family and her legal representatives. She was dragged into a secretive world; a world of silence and darkness, of pain and isolation, where prisoners of conscience are frequently subjected to torture and other ill-treatment.
Lộc was eventually released from Prison No 5 at Yên Định in Thanh Hóa province at the end of her sentence in May 2015.
By Amnesty International's count, there are currently 84 prisoners of conscience in Viet Nam. This is 84 men and women who, just like Lộc, have been imprisoned solely for the peaceful exercise of their rights. They should be immediately and unconditionally released.
On 12 July, Amnesty International will publish a new report which offers a rare glimpse into this world. The report is based on a series of interviews with 18 former prisoners of conscience. It outlines unlawful practices including prolonged periods of incommunicado detention and solitary confinement; the infliction of severe physical pain and suffering; the denial of medical treatment; and punitive transfers that take prisoners of conscience from prison to prison throughout the country, cutting them off from their families and support networks.
Our report is based on testimony of events that took place before February 2015, when Viet Nam ratified the UN Convention against Torture. However, the report highlights entrenched practices within the prison system, and outlines instances amongst the current 84 prisoners of conscience where these practices are known or believed to be happening today. Viet Nam's ratification of the Convention was a landmark development but ending torture and other ill-treatment will require real political will and systematic legal, policy and administrative reform. Viet Nam must initiate these reforms wholeheartedly and without delay and ensure victims have access to justice and reparations. An important step in these reforms would be the immediate and unconditional release of all prisoners of conscience.
"Prisons Within Prisons" -- the title of the report -- is a term repeated by different prisoners of conscience interviewed by Amnesty International. It conveys the sense of isolation that pervades the prison experience for detained activists. By isolating prisoners of conscience, the authorities seek to punish them for their beliefs and/or activism, and coerce them into "confessing" to the charges levelled against them.
But in cases like Lộc's, the only thing they had to confess was that they had tried to advocate for change and justice and help people in accordance to the law.
Calling all HuffPost superfans!
Sign up for membership to become a founding member and help shape HuffPost's next chapter