With a few key and to-die-for styling tricks, Whitney Leigh Morris has transformed her tiny (362 square feet, to be exact) canal cottage into a cozy jewel box.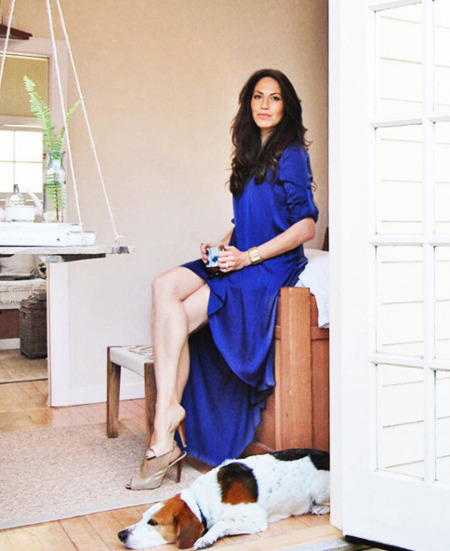 Morris captures our hearts with her creative spirit and smart tips for going bold and beautiful.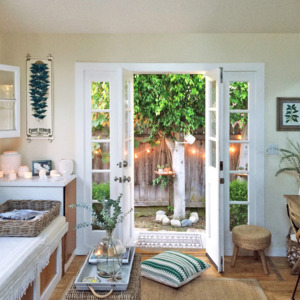 LOCATION: Canals, Venice Beach, California
ABOUT THE COTTAGE: Built in 1924
SIZE: 362-square-feet
HOME TO: Whitney Leigh Morris, Adam Winkleman, and Stanlee (beagle-mix, #stanleestubs)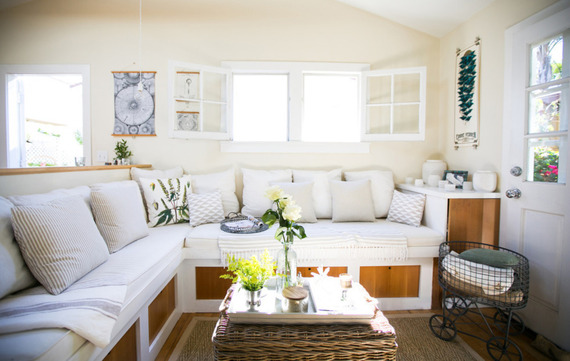 my home makes me feel
Like I am outdoors, even when I am inside, thanks to the skylights, windows, doors, and mirrors. The cottage is always open, airy and flooded with sunlight.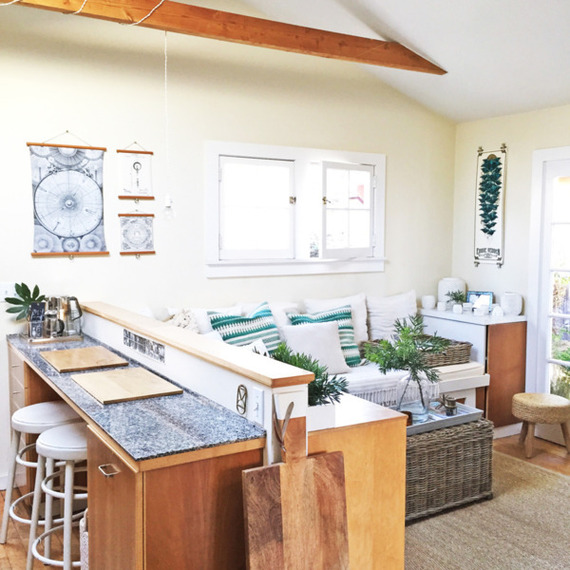 Masterfully overworking a space: the living room is the largest area of the cottage, and acts as the guest room, dining room, and Whitney's studio space.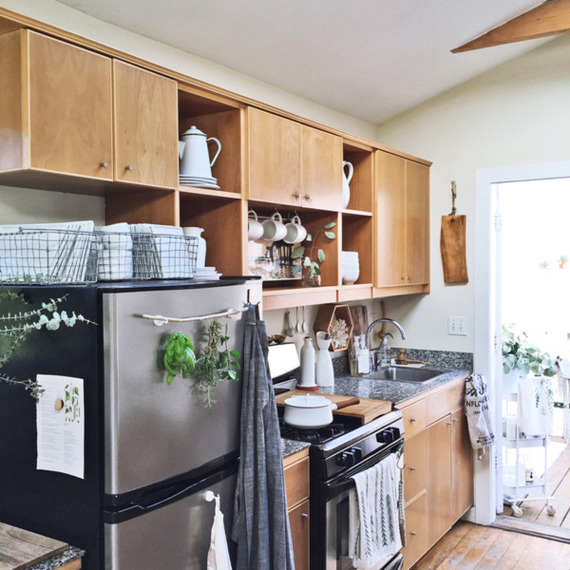 In the kitchen, a mix of exposed and enclosed shelving makes it easy to display dishes, while hiding stacks of glasses and packaged groceries.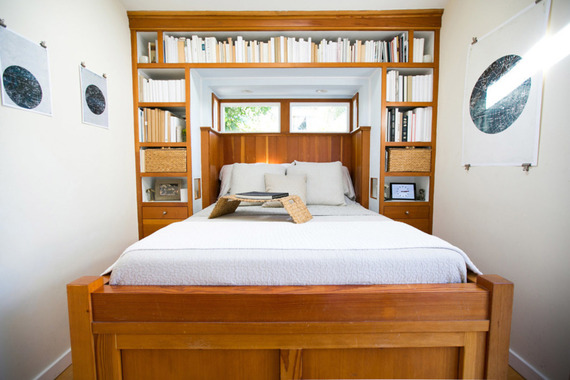 favorite spot in home
Definitely the bed, which is surrounded by built-in windows, bookshelves, and nightstands. It's the coziest place to relax.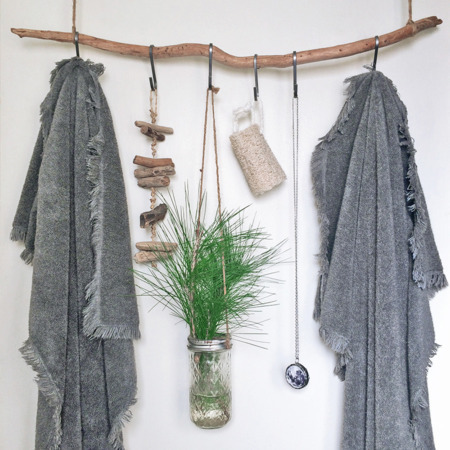 what makes you happy?
I love that our home enables us to stay close to one another as we go about living our lives. Guests frequently ask if living in such a small space as a couple (and with a dog) causes us to grow easily annoyed with one another. We feel as though the opposite is true. We function as a stronger and happier team because of our tiny house.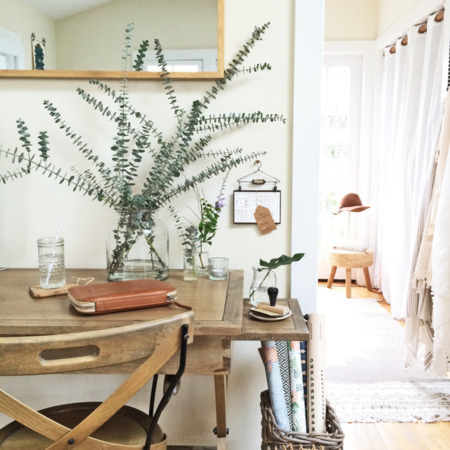 At the end of each work day, Whitney clears off the desk so that the cottage feels like home, not like an office.
what are some things every small space should have?
Pocket doors. These are the greatest space-savers.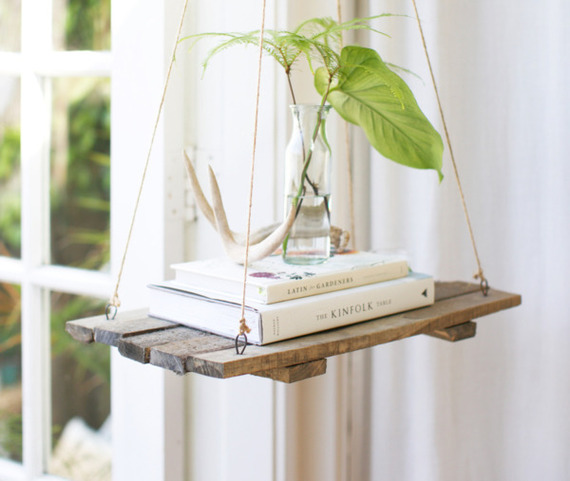 A hanging shelf in the bedroom allows us to add decor (plants, books, candles) without taking up precious square footage.
how do you decorate in a small space without compromising on style?
I love going vertical with decor. It allows me to add original, useful, and interesting touches without taking up precious square footage.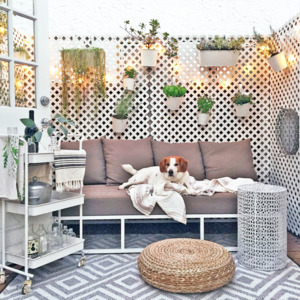 The garden pathway is decorated with hanging planters, a charming bench, and large grape leaves. It's also where Adam proposed to Whitney! The little patio is set up with two oversized chairs and is perfect for entertaining.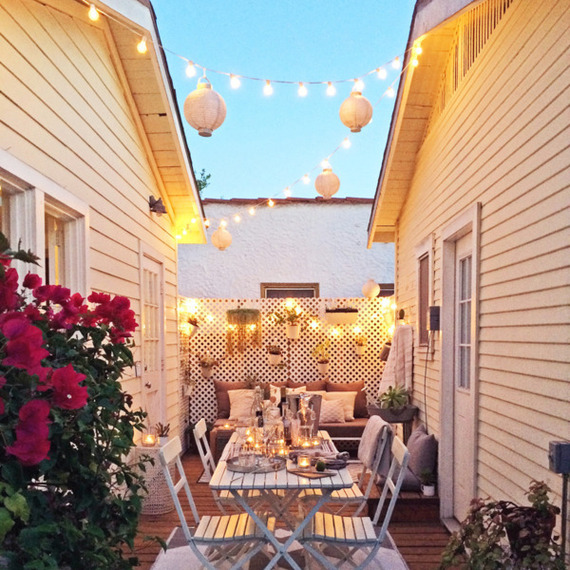 The porch is outfitted with two collapsible bistro tables and matching chairs (suits up to 6 comfortably). The outdoor sofa is surrounded by a container garden, where we grow bright herbs, berries, and succulents in movable hanging pots.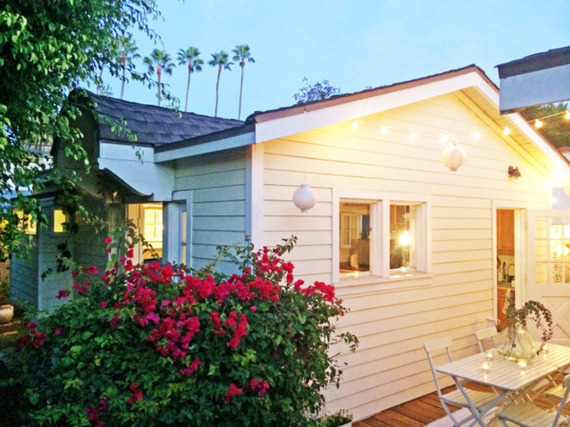 you can't get enough of
Strands of globe lights. They make everything look magical and calming. I just love them.
photographs by Whitney Leigh Morris and Monica Wang