"The last time I went exploring by motorbike through the jungle, I saw an elephant just walking down the road. An elephant! Now that doesn't happen in Canada," says Michael Brown, who now makes his home in the Thai resort city of Hua Hin.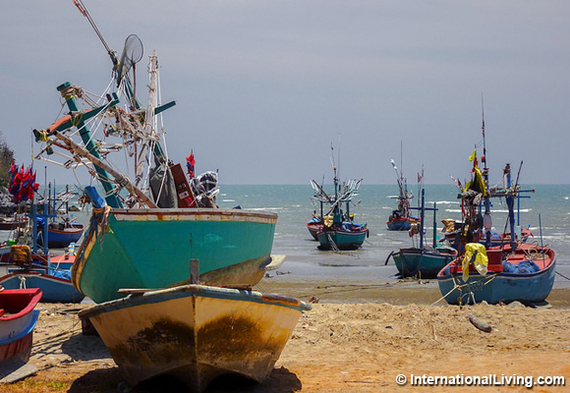 Beached Fishing Boats in Hua Hin, Thailand
"I have the time to enjoy my life, and there is truly so much to enjoy here."
In his spare time, he plays tennis, is starting pickleball (think badminton, tennis, and table tennis rolled into one), and runs on the white-sand beach 10 minutes from his condo...all things he never found time to do back home.
In Hua Hin, his monthly budget of $610 includes a weekly massage for $8, health insurance, and a round of golf. It also covers eating out at least twice a day. He has plenty of restaurants to choose from: Greek, Spanish tapas, Indian. But the cheapest and most delicious places are Thai. A Pad Thai with shrimp can be found all over town for under $2.50.
When Michael decided to move from Toronto, his idea was to "go big or go home." His basic requirements included lovely beaches and good weather (in Hua Hin, temperatures average 79 F to 86 F year-round).
He'd traveled through Thailand before and enjoyed it. And since he couldn't travel the world seeking the perfect place -- at least not in 2013, when he first retired -- he did his research and opted for Hua Hin...sight unseen.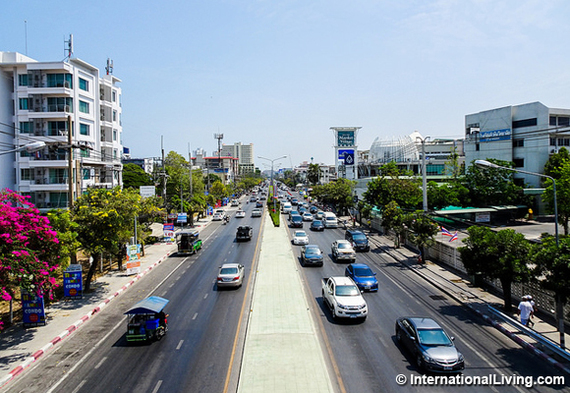 Downtown Hua Hin, Thailand
He took the train there from Bangkok, got off at one of the oldest and most historic train stations in Thailand, and fell in love. He had no Plan B. Luckily, Hua Hin had everything he wanted. "Hua Hin is a big enough town that you can find anything you want, but still small enough to feel laidback," he says.
He first rented a condo in the heart of town, within 10-minutes' walk of the beach, bars, restaurants, and grocery stores. After renting for a year, he bought his modern studio apartment, for about $46,000, in the same building. The yearly condo fees are only $500. These include access to a pool, parking, security, a convenience store, and a gym. "Its location is perfect," he says. "It's in the center of Hua Hin and close to everything. I can amble home from the bars and restaurants after meeting the guys for a night out on the town."
Last year Michael got a bad case of bronchitis and went to the Bangkok Hospital. It is accredited by the Joint Commission International and is probably the most expensive hospital in Hua Hin. His visit took about 45 minutes from start to finish, and the total cost was $40, including three different prescriptions and all the doctor's fees. "I felt totally comfortable from the minute I walked in," he says. "They all spoke English perfectly and explained everything step by step."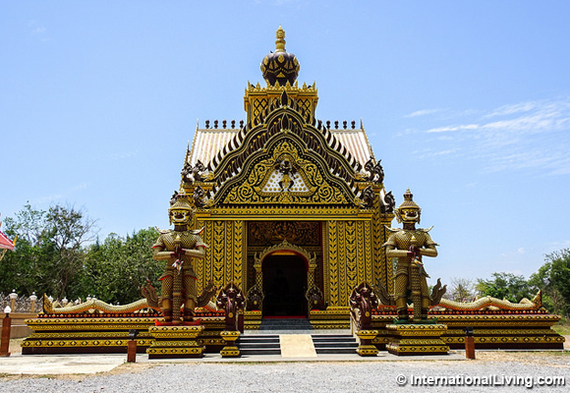 Summanawas Temple in Hua Hin, Thailand
When asked what he loves most about living in Hua Hin, Michael replies without skipping a beat, "The laidback lifestyle. I can live out my dream retirement here, and it's easy."
This article comes to us courtesy of InternationalLiving.com, the world's leading authority on how to live, work, invest, travel, and retire better overseas.
PHOTO GALLERY
6 Warm-Weather Getaways
Calling all HuffPost superfans!
Sign up for membership to become a founding member and help shape HuffPost's next chapter