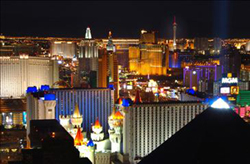 I am a journalist based in Las Vegas. Until four years ago I lived in New York and moving here was quite a culture shock. Although without quite realizing it, I've begun to refer to the world outside of Las Vegas as the "real world," that does not mean that I don't like my city of residence. Far from it.
Las Vegas is endlessly fascinating.
Take politics: Nevada took on national importance as one of the earliest caucus states and caucus voting was a real civics lesson. But no one is sure it will happen again. There were some glitches and Dina Titus, the state's newest Congress member said, "This notion of neighbors getting together with neighbors to talk about politics, that's just not Nevada," And, is there anyplace else where an election that is tied is decided not by a run-off, but by a cut of the cards?
In the news about legislation -- and the state legislature meets for six months every other year -- we find among the laws being considered in Nevada a ban on sending text messages while driving. Maybe, at the same time, they'll begin to require hands-free use of cell phones while driving.
Las Vegas is a city where the entrepreneurial spirit that is seemingly in the air is contagious. The belief that anything is possible is almost palpable but, on the other hand, I've lately been wanting to write a book called Schemers, Scammers and Schnorrers: People You Meet In Las Vegas. Living here has taught me I am not the cynical journalist I thought I was. I was an optimist and, while I continue to be so, I've learned not to believe anything until I see concrete evidence of its existence.
Then there's Oscar Goodman, the self-titled "Happiest Mayor In the Universe." He's the guy who picked a fight with the President, who shills for Bombay Sapphire Gin, who literally has a throne in his office and who acted his real-life role as mob lawyer in Casino. He is an only-in-Las-Vegas kind of figure.
Our governor is another story. Scandals -- and there are plenty -- are one thing. But a governor who has become a national laughingstock is quite another.
He'd been in office barely five months when the New York Times wrote he "announced a plan to turn coal into jet fuel to raise money (problematic, as Nevada has no coal to speak of) and proposed paying for a $3.8 billion shortfall in highway construction money by selling water rights under state highways (it turns out the state did not actually own the rights). He told a local editorial board he could not pronounce the name of his energy adviser because she was 'Indian' -- she is Turkish..."
And it hasn't gotten any better.
The economy has caused the only public hospital in Las Vegas to cease providing dialysis, chemotherapy and neonatal intensive care, thus withdrawing the safety net for uninsured residents.
Now, this is not to say public officials elsewhere don't make errors or are not characters or that the economy in your community, too, is not seriously imperiled.
But, nowhere else does the health of the economy depend upon something -- gambling -- that many look upon as morally wrong if not downright sinful and I cannot think of anywhere else where a schoolchild, asked what mom or dad do for a living, may repy, "Daddy is Elvis" or "Mommy looks like Charo, so she's a dealer-tainer at a local casino."
There are two distinct cultures here and two kinds of casinos-- Strip and non-Strip. There used to be a huge chasm in between the two but, in today's economy, the Strip is absolutely pandering to the locals with all sorts of offers to get them into casinos where gaming revenues have taken a double-digit fall.
On the plus side, there's plenty to love about Las Vegas. Lots of people tout the weather. Others love the level of entertainment that sees the biggest acts in the world playing regularly. I'd challenge anyone to name a city where dining and shopping are better than in Las Vegas. The spas, attractions and amenities crammed into a relatively small sized area are jaw dropping.
The city's history is intriguing. Today, if not a melting pot where disparate elements jell to form a cohesive whole, Las Vegas boasts a variety of cultures and when you look you can find a real sense of community. In short, Las Vegas is an absorbing, frustrating, happy and sad place -- all at once. I like living here. People from all over the world live here so no matter where you come from you can always find a "back-home" accent. (And, if you're wondering what happened to Robin Leach, his distinctive accent is among those you can hear in Las Vegas.)
Whenever I ever miss New York, all I have to do is drive to the corner of Tropicana Avenue and Las Vegas Boulevard and a good chunk of the Manhattan skyline is there for me to drink in.
What place be better than this?

(Photo: Las Vegas News Bureau)

Calling all HuffPost superfans!
Sign up for membership to become a founding member and help shape HuffPost's next chapter