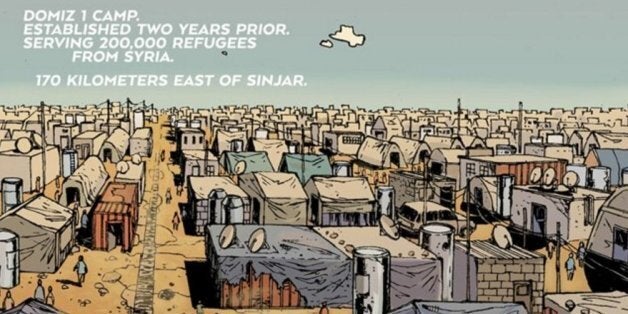 I was awake in my Erbil hotel room when the Muslim call to prayer, the Adhan, began. I was unable to sleep. It was my first morning in Iraq. I had arrived at 4 a.m. local time and was trying to get some rest before my initial briefing with the communications team of the World Food Programme (WFP) with whom I'd be traveling. I was anxious, nervous, happy, sad, and feeling very aware of my surroundings. This was mid-December, 2014, and that morning I felt like I'd taken on a task that was possibly beyond me. WFP, the world's largest humanitarian organization, had brought me here to witness and research. We would make a comic book together about the massive undertaking of bringing food security to the Syrian refugees fleeing the war and to the Iraqi's displaced by the rise of Da'esh, the militant group calling itself the Islamic State. You can't tell that story without discussing horror and struggle, nor can you tell it without exploring the logistic difficulties, safety concerns and organizational hardships WFP workers themselves face daily. On that first morning I couldn't help but feel a little like a fraud. Like I was wasting resources and space that other, more valuable agents, could be using.
Then the Adhan began to unfold across the dawn lit city outside. Multiple mosques rang out. The outer edges of each call layered over the fringes of the others. Collectively they formed an auditory mist. I've heard the Adhan in the Middle East before, and in East and North Africa as well, and I've always loved the sound of it. It speaks to mindfulness and the poetry of being present. Its ring reminds the listener to turn towards larger, more sustainable things. Through it I felt I was being adjusted, like the call was some kind of tuning fork. I remember taking inspiration from it, choosing in the moment to be ready to do what I was brought there by greater, more worthy, people to do. Somewhere outside, beneath the call, I could hear a dog join in with her own plaintive howl, a daily ritual for the animal maybe, and somehow, like everything in that moment, even she seemed to be in perfect harmony. We all have a part in the larger song.

Over the next five days I immersed myself as much as I could in the world of my WFP guides and the people they serve. I traveled from Erbil to Dahouk to the Turkish border, then on to the edge of the Syrian border and back again, skirting Mosul for reasons both obvious and tragic. I would see thousands of Syrians and Iraqis who had lost everything. They were Muslims and Christians and Yazidis, Arabs and Kurds, mothers and sons and daughters and fathers. I would be welcomed without fail into their shipping containers, half-constructed malls and hastily built camp shelters they now called home. I would be told a hundred stories of loss.
The comic that came from that trip will be published on The WorldPost over the next four days, a chapter a day, thirty-five pages in all, and while it's technically fiction, it's all also true. Comics have no motion or sound, that's one of their great distinctions as a medium, but if I could have just a single sound effect lift from these images, it would be the soulful call of the Adhan in the distance, a song of peace in a time of discord.
Popular in the Community