By Gabrielle Gomez, Communications Department Intern, NCLR
Last summer Joel Sati landed the opportunity of a lifetime. The 22-year-old student, originally from Nairobi, Kenya, had been accepted into a summer research program hosted by Stanford University and would spend the next eight weeks furthering his interests in political philosophy and immigration theory under the mentorship of some of the brightest scholars in his field.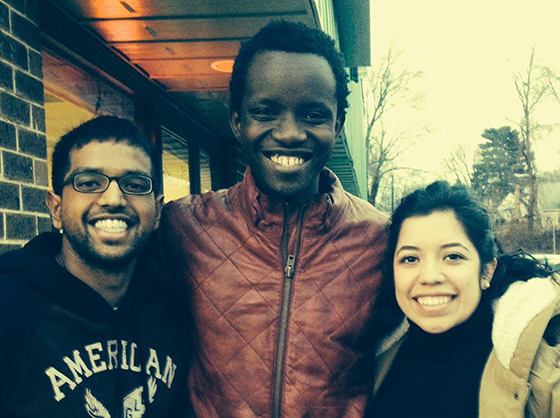 Joel Sati (center) has dreams of pursuing a Ph.D. Sati discovered his passion for research after receiving DACA.
The City College of New York (Stanford) summer exchange program invites CCNY's most talented students to spend a summer on the sunny Palo Alto campus conducting graduate-level research. Joel was one of 10 students invited to participate in this highly selective experience. He was also one of two recipients of Deferred Action for Childhood Arrivals (DACA) who were selected.
"[It was] an awesome experience," Joel said. "The ability to sit with preeminent individuals in the field and have their feedback gave me a tremendous opportunity to grow in the field and develop high-quality work."
But if there is something more impressive than Joel's academic résumé, it's his story. Rewind the clocks a few years and we'd be meeting a different Joel.
He'd be a high-school student reeling from the discovery of his undocumented status just a few weeks shy of graduation. Facing a new set of financial roadblocks, he would no longer be a college-bound senior but one facing a life of uncertainty, his college and career aspirations shelved because of his immigration status.
After taking some time off from school, he tried again and enrolled at Montgomery College, but only for one class. "I wasn't planning on graduating," said Sati. "I wanted to see if school was the right fit and just wanted to take a philosophy class."
That class proved worthwhile. By his second semester at Montgomery, Joel was enrolled full-time and was a member of the Renaissance Scholars Program. Outside the classroom he was actively involved in the push for the Maryland DREAM Act and advocating for comprehensive immigration reform with the organization United We Dream. His activism was spurred by the "undocu-friendly" community he had discovered at Montgomery College.
In June 2012 his activism was met with a huge triumph. From the steps of the White House Rose Garden, President Obama announced the creation of DACA, ushering in new hope and a new beginning for so many caught in a broken immigration system and denied an opportunity to thrive in this great nation.
For Joel the impact of receiving DACA was life-changing. After graduating from Montgomery College as a Phi Theta Kappa honor student, he was accepted into the Skadden Arps Honors Program in Legal Studies at CCNY. Today the philosophy major juggles a full course load and an internship at an immigration law firm in Harlem.
"[DACA] had a far-reaching effect," said Joel. "Since moving to New York, I've been able to get really amazing research opportunities. Next fall I'll be applying to Ph.D. programs in philosophy and hope to one day teach at the college level."
Though DACA has opened a number of doors for Joel, he is mindful of the work that still needs to be done to fix our broken immigration system and ensure that everyone has a success story to share. He'd like to remind lawmakers in Congress who are working to undo administrative relief the following:
"The immigration system, as it is, is poorly constructed and leads to horrible conditions for many families. I know of a lot of undocumented people -- both kids and parents -- who do a lot for the better of their communities [but] get such a raw end of that deal."
REAL LIFE. REAL NEWS. REAL VOICES.
Help us tell more of the stories that matter from voices that too often remain unheard.