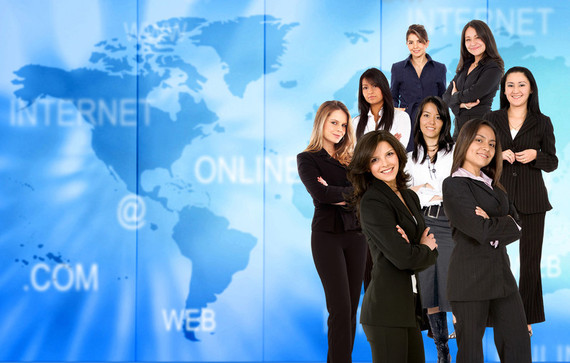 Imagine relocating to a new country, not knowing anyone, not understanding the language, or having few resources. Now imagine starting a business under those circumstances.
More and more women are launching their entrepreneurial dreams in the United States--some with the added hurdle of being an immigrant.
Negar Jahanbin was only four years old when her family came to the United States from Iran. She didn't know it as a young child, but she was learning some life lessons that would guide her into exciting directions as an adult.
As a child watching her father start his own business, she learned some vital skills. "Coming to this country, you have no foundation to build on, so you have to have determination, commitment and a drive to succeed. I watched my family work hard to make it here, and it had a lasting effect on me," says Jahanbin.
Coming from a family of doctors, she volunteered in high school at the local hospital. She enjoyed cheering patients up and soon realized that was where she could use her desire to help people. After graduating from Villanova University, she honed her business skills while working for Johnson and Johnson, Inc.
Now 33 years old, Jahanbin is a successful franchise partner with SYNERGY HomeCare. For her, it's a marriage of all the things that are important to her. "I had always felt that I was called to be an entrepreneur. And I knew I cared deeply about helping people. So I just needed to find a way to combine the two and make a living. And now as a business owner, I love how I'm making a difference in my community whether it's providing care to a client or a job for someone who needs work," says Jahanbin.
Dzana Homan came to the U.S. well educated, but with only $1,200 in her pocket and absolutely no understanding of the English language. She took odd jobs to make money--including babysitting, playing music in a bar, and cleaning houses.
Homan grew up in former communist Yugoslavia. At the time, she lived in an eclectic, multi-cultural city. It was a very competitive environment, and her parents encouraged her to get the best education possible. She studied both physics and piano in college and got a master's degree in physics at a university in Slovenia. After college, she took a detour back home to visit her parents and ended up stuck in a war zone for four and a half years during the Bosnian War.
With the city under siege, she spent time as a volunteer helping children in a nearby hospital. This fueled her passion for children's education. In 1995, she finally left Yugoslavia as a refugee and came as far west as she could--Los Angeles, California. Homan says, "I didn't speak English, had very little money, but eventually talked my way into graduate school in New Mexico to get my second master's degree in electrical engineering."
Homan became discouraged after graduate school and didn't know where to turn. Her mother suggested she start volunteering, so she walked into a small business called Futurekids in Manhattan Beach, California, and became a part-time robotics teacher. Within two months, she was the director of the learning center, and within a year, she was a partner and eventually became CEO.
After Futurekids, she spent time as CEO of Huntington Learning Center and COO of The Goddard School. During this period, she had gone to a rock show to see her friend's son perform. She thought it was going to be another typical children's recital but was amazed when the kids started playing. Her friend's son had only been in the program for eight weeks and was already rocking out on-stage. "It was unlike anything I have ever seen! I thought to myself, 'I have to run this program.' With music in my blood, this was the perfect opportunity for me to combine my love for teaching with my love for music," says Homan. At the time, there were no openings with School of Rock, but eventually, fate played out exactly as she desired. Homan is now the CEO of School of Rock.
Monica Nainsztein first came to the United States as a kid. The second time was after meeting a great guy online before Match.com and all the other online dating sites existed. "We connected, wanted to get married and move to the United States," says Nainsztein.
Upon moving to the United States, she started her business now known as SpanishOne Plus. For Nainsztein, there was never a language barrier. She grew up in Argentina, Brazil, Israel and the United States. By age 10, she already had mastered five languages and began teaching her fifth language, English, in Argentina when she was 16.
"The language barrier luckily was never an obstacle for me; it was an asset because I started English as a second language in Argentina and it became my profession. I became an interpreter and then a translator--translating movies for Hollywood. I got to translate 007 The World Is Not Enough and The Motorcycle Diaries," says Nainsztein. Since then, SpanishOne Plus has gone on to become the preferred vendor of the California Chamber of Commerce along with working with Oxford University Press and the National Institute of Health.
Pum Lefebure grew up in Thailand and came to the United States as a foreign exchange student. She didn't speak the language, didn't understand the culture and was completely on her own. Learning took her twice as long as her classmates. Everything was a struggle for her to grasp. But Lefebure made it a point to work harder than everyone else. She learned to speak English by visually explaining concepts and directions without words. She also didn't rely on perfect translation across languages.
Lefebure carried that strong work ethic into her career--starting as an intern and working her way up to senior art director, managing a 50-plus creative team, and eventually starting her own business, Design Army.
"We started Design Army at our kitchen table, and it's grown to a top-tier branding firm, which gives me great pride," says Lefebure.
Whether she's dreaming up hauntingly beautiful short films for the Washington Ballet, designing wildly witty Political Chocolate, or creating eye-popping visuals for the likes of The Academy Awards, Adobe, GE, Disney, Bloomingdale's, Ritz-Carlton, Smithsonian and Lucasfilm, Lefebure has become one of design's most influential craftswomen.
Entrepreneurs still experience the same growing pains whether they are immigrants or lifelong citizens. In 2014, Nainsztein considered shutting down her business. "I was having an identity crisis of what to do with my business and myself. It was a client that told me during an extraordinary mastermind session that the fall of my business was my own fault," she says.
It took that kick in the pants for her to realize that she had branded herself so well as Spanish One Translations that it actually hindered her growth. Everyone who knew her thought of her as the translator, which she thought was a brilliant strategy for her business. But she knew she had so much more to offer as a business owner.
"I'm so much more than just a beautiful face. I'm so much more than just translation. I'm an ideator. I'm a creator. I'm a brain. I'm a strategist," says Nainsztein.
Having those words come from somebody that she trusted meant so much to her, and it made her do a deep analysis. She says, "I changed my title on my business card to 'ideator.' I was no longer CEO. I was no longer president. I was no longer whatever cool title I had found for myself. I was an ideator. I was finally embracing what I was meant to be doing." Nainsztein also changed her business name to SpanishOne Plus to reflect the new direction of her business.
That was 2014. Approximately eight months later, she landed a six-figure contract. It was her biggest contract with one client and involved translating all the common core math books from sixth to twelfth grade for a non-profit that distributes its books to 46 states and internationally.
While the challenges of immigration and settling into a new society can be daunting on their own, many women like Nainsztein, Jahanbin, Homan and Lefebure are opting to add entrepreneurship to the mix. And today, more and more women immigrants are finding entrepreneurial success in the United States, overcoming those barriers while making an impact in their new communities by providing services, leadership, and jobs.
Julie is passionate about telling the stories of entrepreneurs. She's the Founder of Keko Kreative, an alternative health copywriting firm. Julie's also head boss lady and blogger at Too Bizy Lady, a blog for multi-passionate entrepreneurs. A huge proponent of giving back to her community, Julie follows the motto... Be The Voice, Not The Echo. Follow Julie on Twitter @IAmJulieBarnes.
Popular in the Community