Imagine a place that is so naturally beautiful and full of history you will feel awestruck from sunup to sundown. Add to that some hot air balloons and the ability to live inside the cave formations that make this place so special and you have Cappadocia.
Locals say that Cappadocia got its name from a Persian word meaning "land of beautiful horses." The name has persisted throughout the centuries and massively understates the beauty here. This land was occupied by Hittites, Persians, Greeks, and believers fleeing persecution in the earliest days of Christianity.
This rich past is reflected in the many churches found in Cappadocia. Churches with frescoed walls and ceilings from the 9th century can be found throughout the region. Underground cities supporting populations in the thousands, protecting early Christian women and children from the wars being fought overhead, can easily be visited alone or as part of a tour group.
Cappadocia's fairy chimneys give the region its unforgettable appearance. Jutting out from the ground, tall rock spires dot the landscape in a colorful way. Volcanic eruptions millions of years ago left deposits of ash that turned to soft stone. A combination of rain and wind then swept away this softer rock over time leaving behind the fairy chimneys and incredible landscape we know today.
Taking a cue from nature, the inhabitants of Cappadocia worked with this soft rock to carve homes and churches out of the remaining structures. They even made homes for pigeons, putting colorful artwork in the mini-entrances to attract pigeons to come and stay so their excrement could be collected for fertilizer.
You can meander through the valleys on your own, but signage is largely in Turkish and often misleading. I booked the Golden Tour from New Gerome Tour. At 80 Lira ($40) per person including lunch, you get a full day of hiking through breathtaking valleys including the infamous Love Valley. Moreover, your guide will point out geological features and 1000-year-old churches you wouldn't have otherwise found on your own. When pressed for time there is no better option to explore the area.
Cappadocia is special in that you can appreciate its beauty from afar and up close. Although the concept of a cave hotel is not unique to Cappadocia, I'm not sure you can stay in one in as beautiful a location as Cappadocia. The hotel I stayed in, Taskonaklar, gives you first-hand experience of what life may have felt like for the inhabitants 100, 1000, even 2000 years ago but with modern conveniences.
Every stone, arch, and chimney was preserved in the construction of the hotel, just minutes by foot from Uçhisar Castle. Rooms for every budget are available, including the rooms actually built into the rock structure that give Cappadocia its beauty. In those rooms you enjoy a near-constant temperature all year round. The fireplace in every room keeps you warm in the colder months and the stone structure keeps you cool in the warmer months.
From the hotel you get unparalleled views of Mount Erciyes, the volcano believed to have caused the fairy chimney formation in the first place. There is nothing quite like having breakfast while looking out into Pigeon Valley while seeing dozens of hot air balloons take flight.
You can hot air balloon over many places, but Cappadocia must be seen from the air to fully appreciate its serenity. A company formed by pilots instead of businessmen, Turkiye Balloons, offers standard and custom flights to take in the surroundings. Their professionalism is unmatched in this touristy town, offering patrons a complimentary buffet breakfast before the flight and champagne upon landing. Flights start at 140 Euros ($193) per person for this once in a lifetime experience. Departing at sunrise, the calmness of floating over one of the planet's most interesting geological formations will leave you breathless.
Cappadocia is about 4.5 hours drive from Ankara and caters to every budget. Do yourself a favor and explore this incredible place.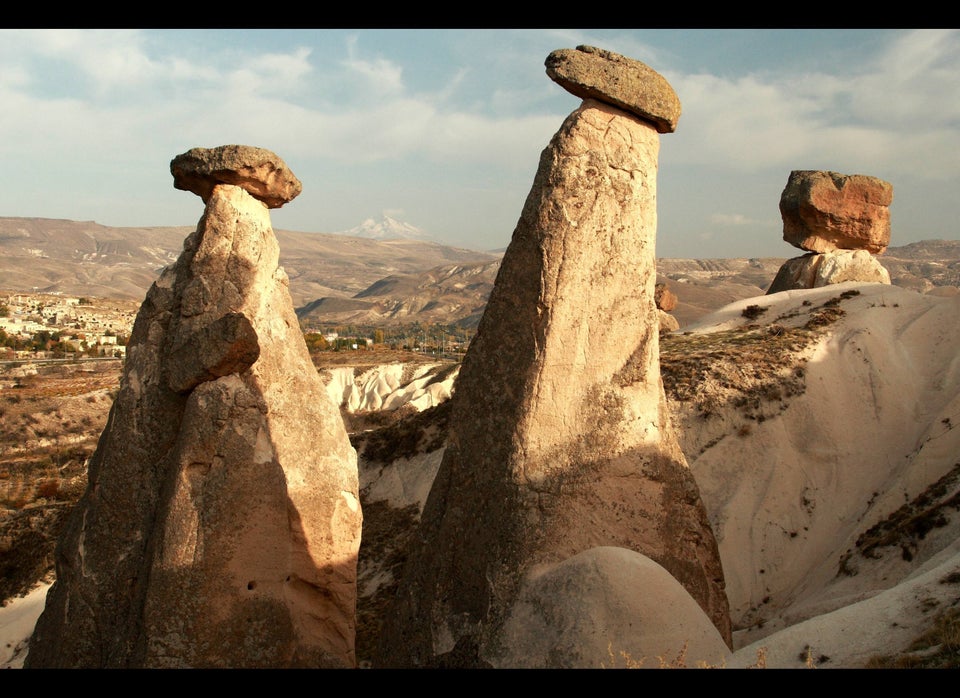 Living the Cappadocia Experience