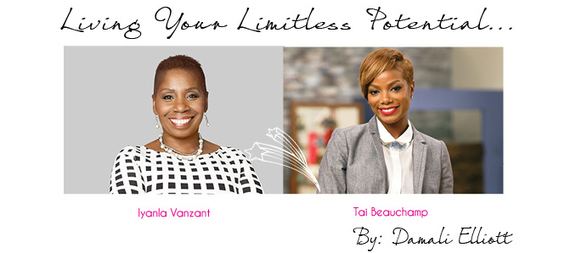 Although NOLA welcomed me with its magical embrace, I found myself asking, "How did I get here?" a question that seems most easy to ask when our lives are brimming with good fortune. Serendipitously, I had the pleasure of interviewing two powerful women: speaker, author, TV personality Iyanla Vanzant and style expert and entrepreneur Tai Beauchamp. The ladies shared nourishing bites of knowledge on how to transform self-doubt into self-worth and live beyond unfathomable heights. Below is your exclusive guide to living your life with limitless potential.

On Trusting the Journey:

Iyanla Vanzant: "Reflect on the story of the three little pigs... One built their house of straw, one built their house of twigs and one built their house with bricks. Of course the one who built the house with bricks had to do the most work and it took him the longest and he probably had less help; but his house was the one that stood. So I would say wherever you are in your life, wherever you come from, do the hard work. Don't try to be comfortable. Be willing to do it alone and build what you desire or choose for yourself in a way that will last and leave a legacy."



Tai Beauchamp: "Read The Alchemist by Paulo Coelho. It shares the story of a shepherd boy who came from absolutely nothing but saw so much promise and hope in what his dreams were."

On Taking a Plunge:

Iyanla Vanzant: "Skydive! Enjoy the free fall. When you have nothing to grab on to, nothing to hold on to, you have to trust the law of gravity--as well your parashoot."



Tai Beauchamp: "We have to do something that scares us. So the thing that you're frightened of most: do it! I really try to encourage myself to do that at least once a year because I think the more you push yourself and step outside of your boundaries, the more you're empowered."

On Remembering You are Enough:

Iyanla Vanzant: "Hey you, trust yourself. Everything you need to know you already know."
Tai Beauchamp: "Hey You, the world needs you."

To all the dreamers: Take a dive into the extraordinary. Befriend the unexpected, whether it is your imagination or a tangible landscape; travel to a place where you never thought you had the ability to be. Living up to your limitless potential is not guess work. It is hard work that requires listening to your inner voice, pushing the boundaries of what you know and saving a place in your heart to relish your dreams. This time, relish with assurance. Manifest your desires with certainty and embody it fully. You'd be surprised at what confidence will do as you grasp the knob to open the next door.
Related
Popular in the Community