For the past four years my husband, Drew, and I have been traveling the world by van. It all started in 2011, after we both graduated from the University of Florida, where we met, and drove straight across the country to the Land of Dreams ― Los Angeles ― only to find ourselves, three years later, yearning for something that extended well beyond the reach of our desks.
Drew had been working to start an online business selling refurbished luxury watches when he realized that the future he was creating did not align with his truest values. Similarly, I was fed up with feeling overworked, undervalued and lost in the stressful mix of night shifts and desk-sitting monotony that clouded my daily existence as the head of intake, aftercare and admissions at an eating disorder recovery center.
We both knew there had to be more to this life than what society had taught us to pursue. We felt stuck in an endless cycle of living for our weekends and it just didn't feel like enough ― not enough freedom, not enough purpose, not enough creativity or joy. We wondered why we couldn't just be grateful for the lives we were living, but we felt numbed out ― dead to the aliveness that we knew existed somewhere deep within us ― and so we set out to find it.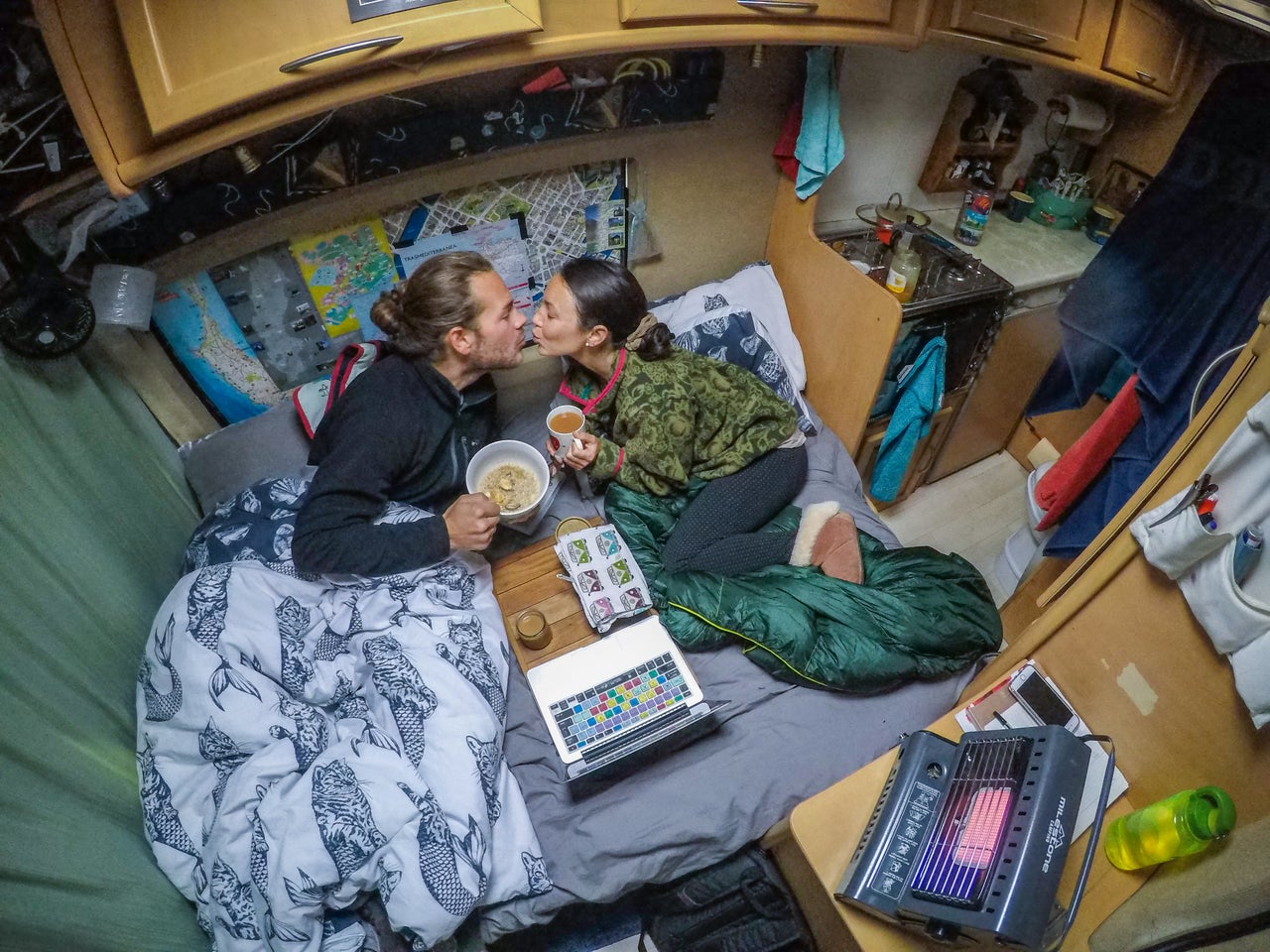 After escaping the city for a weekend camping trip in Utah's Zion National Park in 2013, we wrote out our "freedom contract," something inspired by Tony Robbins or one of the inspirational books we were reading at the time. This contract was exactly what we needed to help us stay focused and committed to the unpredictable shift in reality that we were inviting into our lives.
We had originally decided that by April 2016 we would quit our jobs to travel and teach English in Southeast Asia. Until then, we would downsize, hustle and save every penny we could. As we signed our names next to the hand-drawn "X" on our contract, we couldn't help but feel that something big was stirring deep within our souls.
There were two parts of our contract that didn't roll out as we originally planned. The first was that when we told our families about our plans to go to Asia, a relative suggested we borrow a Sprinter Van that wasn't being used, so we could see all that our own country had to offer first. After half a moment's thought, we decided this was an offer we couldn't refuse.
The second part that we didn't anticipate was that we found we just couldn't wait to embark on our adventure. The business Drew had started was beginning to fall apart due to partner issues, and after leaving my position at the recovery center, I was struggling to make any sort of job stick. So, in December of 2014, we put what few possessions we had left in a 5′ x 5′ foot storage unit in San Diego and set off for Florida to pick up the campervan to roam the U.S. and Canada for a year.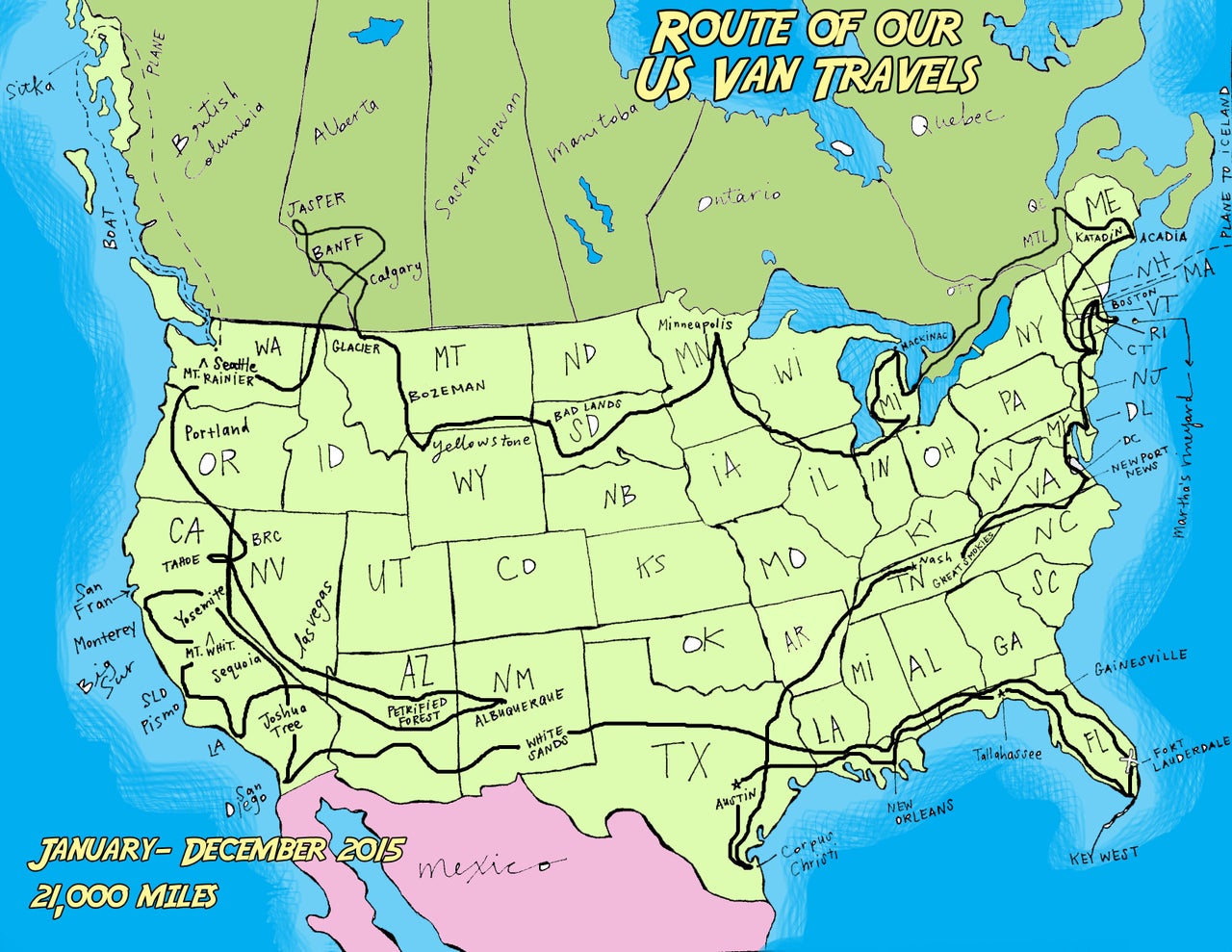 Because it was winter, we decided our first stop would be the Florida Keys. It was there, parked next to the beach, that we mapped out the rest of our route based on the seasons and the dates of various events around the country that we wanted to attend ― SXSW, Burning Man and the Albuquerque Hot Air Balloon Festival to name a few. We also planned a mini-trip to Iceland amid our North American cross-country trip, where we intended to spend two weeks seeing that country in a much smaller "Kuku camper" van we had rented.
Our route took us 21,000 miles up, around, down and across the continent in a roughly counterclockwise loop. We visited as many national parks as we could, including Acadia, Glacier, Great Smoky, Yellowstone, Yosemite, Sequoia, Joshua
Tree and Banff in Canada. We hiked to the top of the highest peak along the Appalachian Trail, summited California's 14,505-foot Mount Whitney (the highest peak in the continental U.S.), completed a three-day biking trip in Canada, went river rafting in Quebec, climbed Half Dome while in Yosemite and agreed to an impromptu 10-day boating trip with complete strangers down Alaska's Inside Passage from Sitka to Seattle.
Back then we didn't think "Vanlife" would become a way of life for us. At the time, our van was simply a vessel to help us squeeze as much adventure as possible into what we thought would be our only year of living life on the road.
The first three months in the van were hard for me. I was used to my "creature comforts," as well as the routine of my old life and the stability that had come with it.
I was also used to having my own space, and suddenly sharing just 21-feet 24/7 with my soon-to-be husband took quite a bit of adjusting. I missed my yoga studio back in L.A. and the simple joy of taking a shower whenever I wanted to.
But as I began to move further and further into our journey, I was able to shed the needs I once had, and soon the rules I set for my former self faded away. I began to experience an incredible shift in perspective and realized that happiness didn't require any of that "stuff;" in fact, it really just got in the way of me being able to find it within myself. I could feel that living in a van was giving me everything that I needed to grow into the person I never knew I was always destined to be ― and to finally find the happiness and freedom I'd been desperately searching for.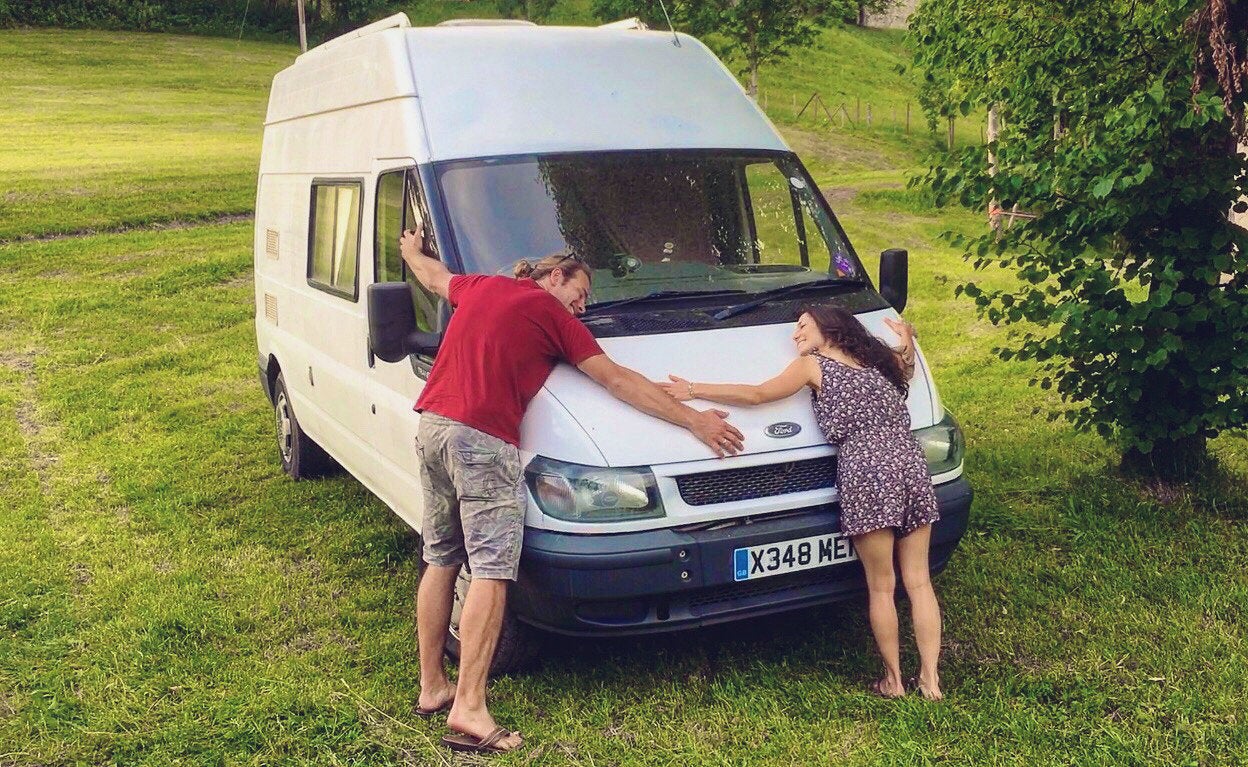 Halfway through that road trip, Drew was offered the opportunity of a lifetime. A company previously owned by his family was restructured, sold and in need of a new office manager, a position that could be fulfilled anywhere with an internet connection. Drew was the perfect fit for the role and, along with the small sum we make from some fun social media collaborations and our Amazon shop, we were ― and still are ― able to pursue roads that stretch far beyond our home country.
As our first year on the road came to an end, we figured if we could live together in a van for 12 months, there was nothing we couldn't do. So, in January 2016, our U.S. road trip ended with an unforgettable gathering of friends and family on the beach in Islamorada, Florida, for a celebration of our marriage. Then, instead of opting for a traditional honeymoon, we flew to England and used the money we were gifted to purchase our very first home together: A pre-owned, much-loved, 18-foot converted Ford Transit Van we dubbed The Howeller that ended up navigating us on a life-altering two-and-a-half-year honeymoon-on-wheels across Europe and Africa.
With no walls or routine to hide behind, we disconnected from society as we once knew it. Living on the road in foreign countries across foreign continents meant that everything, from languages to customs to food to values to the scenery we were taking in, was constantly changing ― and ultimately, we changed too. Our van made all of it possible and quickly became our own little sanctuary, providing us with the stability we needed to grow and the comfort we needed to trust where our adventure was guiding us.
We spent nearly every day immersed in nature. We bathed in whatever body of water we came across ― or, sometimes, in a bucket ― and often days would go by without us even looking in a mirror. We hiked and biked. We explored and made friends with strangers of all shapes and sizes and backgrounds. We had less than we had ever had before, yet life felt so full.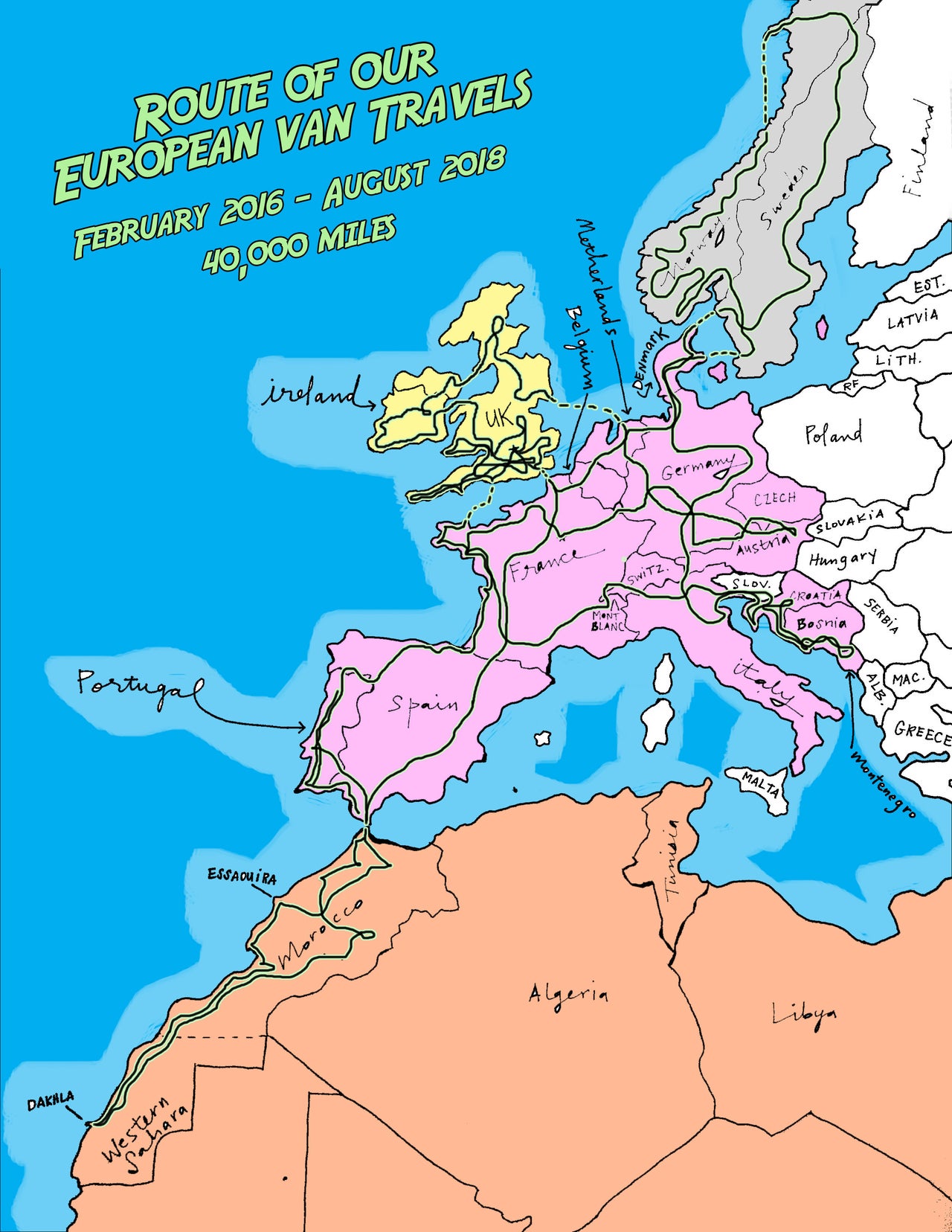 After over 40,000 miles filled with unparalleled experiences, we gave The Howeller away to a sweet newlywed couple before we left England. They had never lived or even traveled in a van before, and The Howeller was the perfect starter mobile. We also knew our beloved van had already had a good life ― and was seriously rusty, so we didn't feel right charging them anything for it. The couple just needed a taste of freedom and The Howeller needed one last loving owner, so we felt it was the perfect way to say goodbye.
We returned to the U.S. this August, and since then we have wondered how and where to move forward with our lives. While it's easy to romanticize life on the road, it can still be deeply exhausting. Without a stable, non-moving home, the basic essentials of life require a lot more work, entrepreneurial endeavors and thoughts about raising a family become more complicated, hygiene and hot showers are limited, loved ones are usually far away and a lack of routine can make it hard to focus time and energy on executing life's greater goals. Yet, as the wise saying goes, sometimes the hardest things in life are the things most worth doing, and still, I believe "Vanlife" is totally worth it.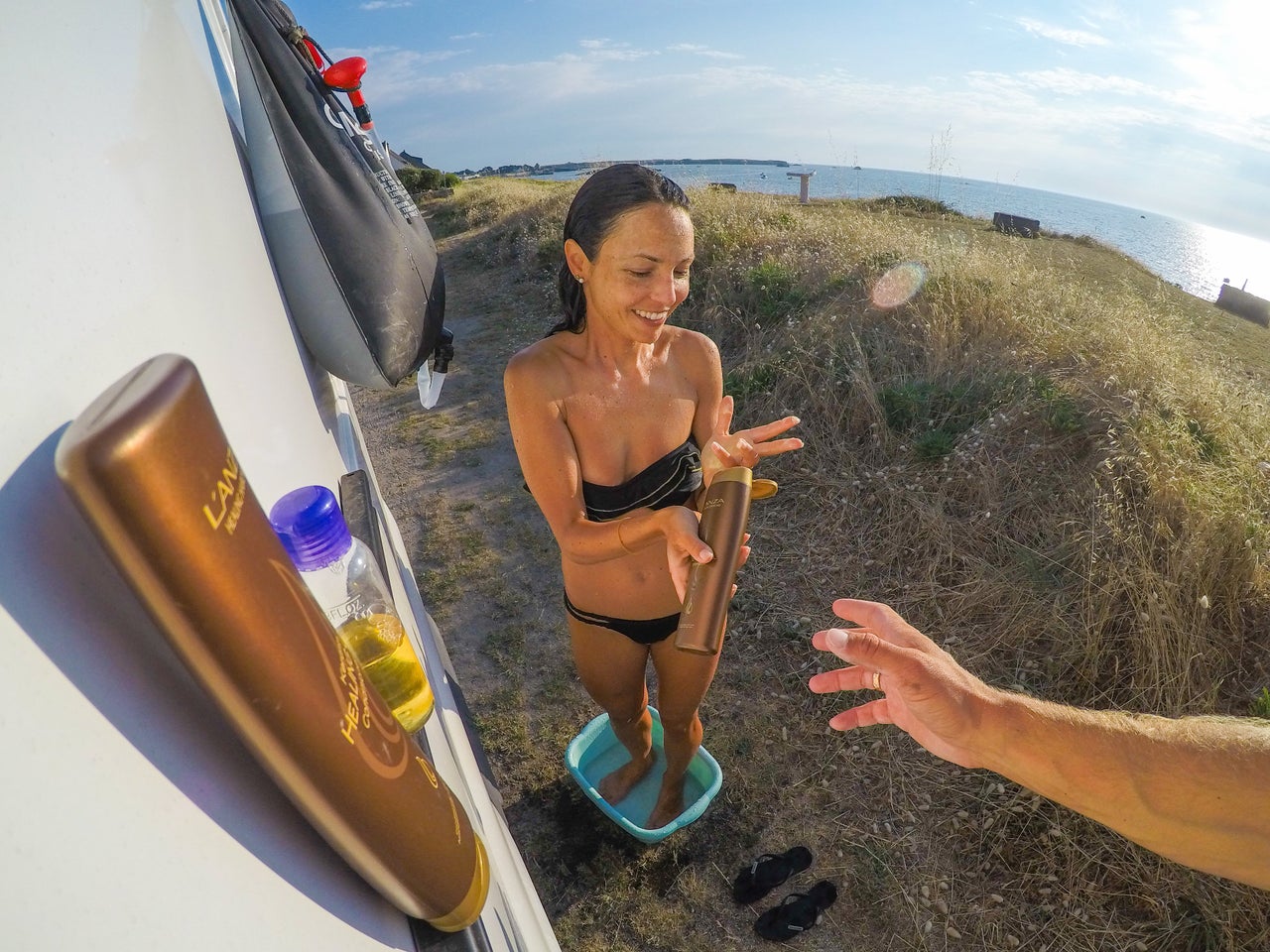 We want to continue living our best lives and we've learned, for us at least, that there is no roadmap for that. So, we're headed back out to roam and discover what the open road has in store for us this time. We recently purchased a new campervan and will be building out the interior ourselves using wood that's "reTREEved" from the creation of urban sprawl in San Diego.
Having gone without any substantial source of stability ― beyond each other ―for so long, we are building out this van to be more of an apartment/office on wheels. We don't necessarily want to live in a van forever, but we do know that we will always want to have a van. And with hopes of growing our family in the future, we're building out this rolling home with enough room to accommodate a few extra guests.
As soon as it's done, we plan to stay in the West and take things slow. After being in Europe for so long, we look forward to spending time in some of our favorite places along the coast, like Big Sur, and reconnecting every chance we get with our family and friends, many who also live in homes on wheels.
We also have plans to make our way up to Canada and Alaska for the summer and maybe even down Baja for the winter. After that, who knows? For now, the road is our destination, at least until we find that place we call "Dreamland," and we're willing to drive as far and wide as we need to find it.
Brittany Rouille is an inspirational speaker, writer, videographer and social media influencer. She and Drew are known as Mr. and Mrs. Adventure, and the couple's story has been documented across an ever-increasing number of channels. Brittany's own writing has been featured in Forbes and Hello Giggles, as well as in international publications, including The UK's Rolling Home Journal and The Irish Examiner. Brittany is also the author of Heartfully Healed and uses her personal story of recovery from addiction to inspire and guide others along their own path to freedom. You can learn more about her extraordinary adventures via the couple's blog, MrandMrsAdventure.com, YouTube Channel and daily posts on Instagram at @mrandmrsadventure.
Do you have a compelling personal story you'd like to see published on HuffPost? Find out what we're looking for here and send us a pitch!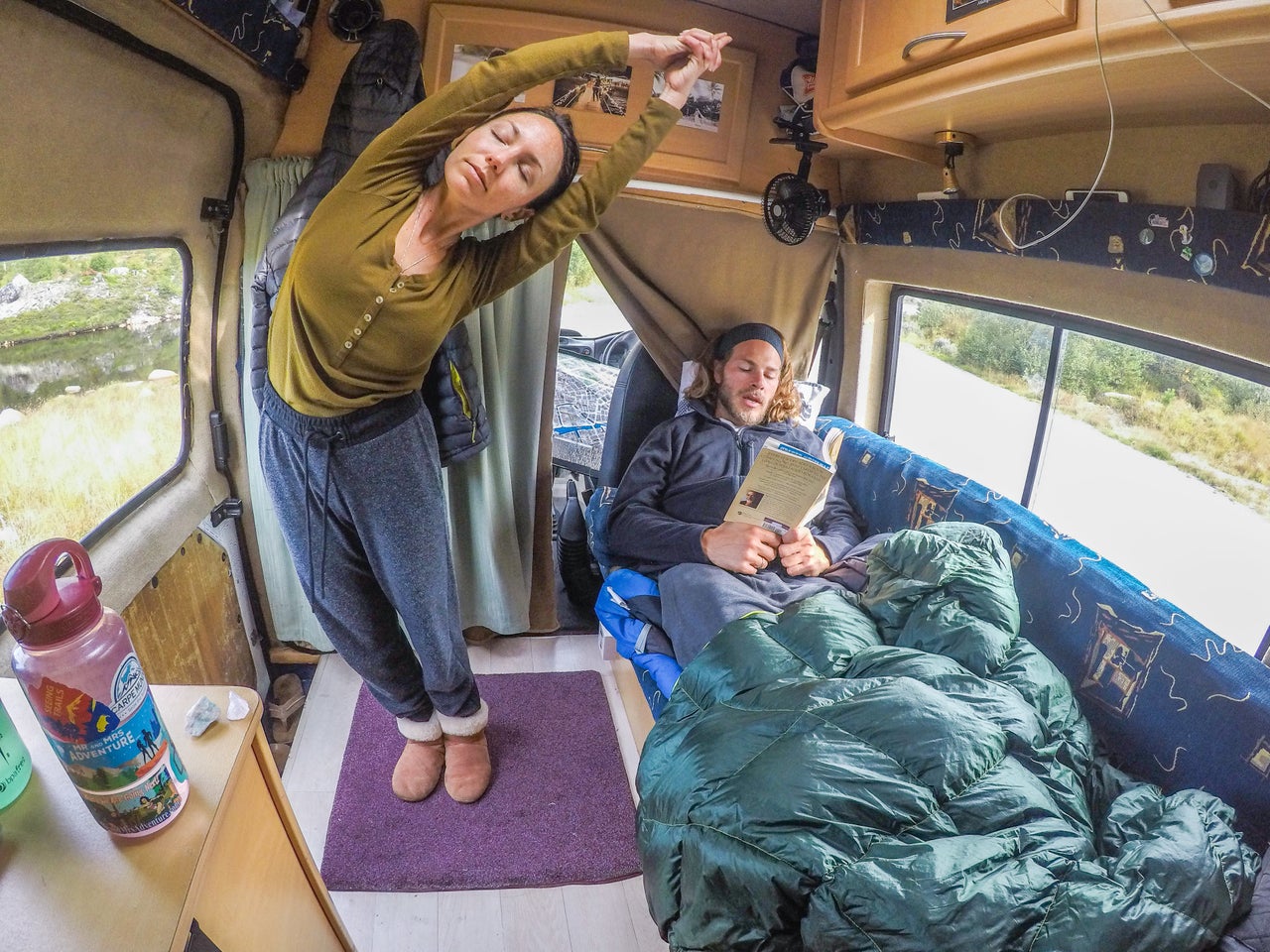 Popular in the Community