Twenty-six artists make up the world's first all female Street Art conference that opens today in Atlanta. "Living Walls, The City Speaks" begins its third year as a showcase of Street Art with a dramatic curatorial decision to limit participation to only women. While we have covered (and supported) the festival from its inception, it's especially gratifying to witness this remarkable achievement in a scene that has been heavily dominated by men, almost by definition, since the graffiti scene began in the US about a half century ago. In the D.I.Y. spirit that characterizes so much of the Street Art movement today, the conference has grown organically over three years to now include film screenings, lectures, block parties, gallery exhibits and bike tours, with all events free and open to the public.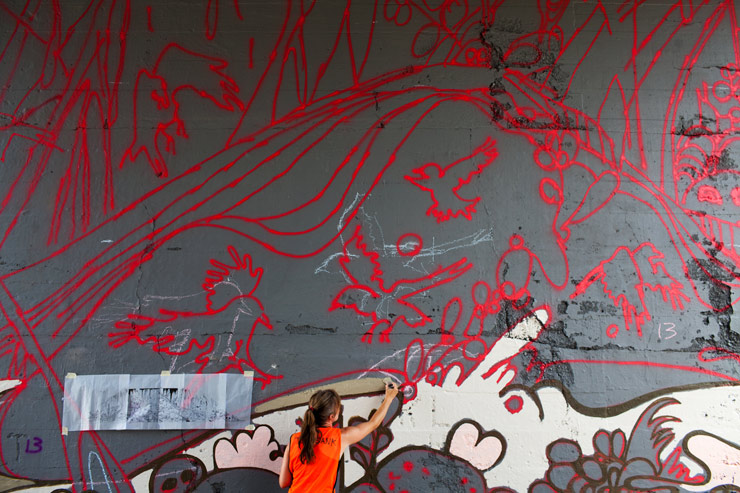 Sarah Emerson at work (photo © Dustin Chambers)
As Monica Campana, co-founder of the conference perused the list of Street Artists who participated in 2010 and 2011, she could clearly see that once again the scales had tilted toward the gents. Entirely. "Over the past two years, 50 artists have participated -- only two were female, and neither of them had a chance to paint a wall," remarks Alexandra Parrish, organizer and communications director, as she recounts some of the discussions that took place when creating this year's roster.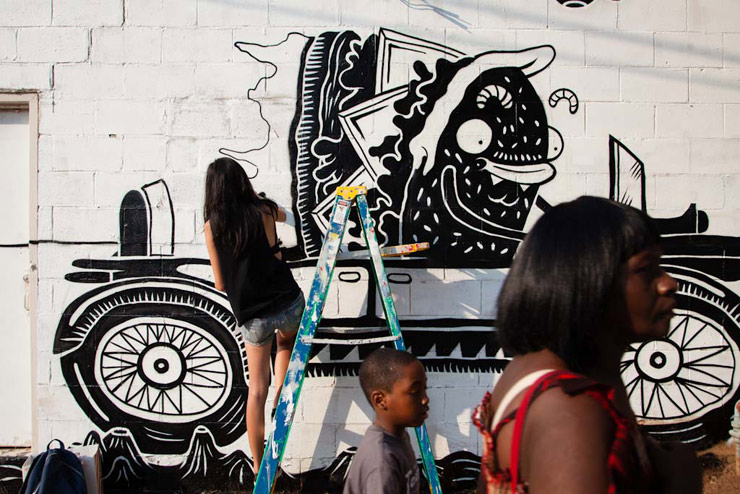 From Singapore via Brooklyn, here is Sheryo at work for Living Walls, The City Speaks 2012 opening today in Atlanta (photo © Dustin Chambers)
With 26 women in 2012, this should bring the total share to a third. Included in the conference are well-known and newer names including Swoon from New York, Fefe from Brazil, Eme from Spain, TIKA from Switzerland and Atlanta's Paper Twins. Also included are photographers like Teen Witch from San Francisco and the famed Martha Cooper, who has bemoaned the paucity of women painting on the streets a number of times during her four decades of shooting photos.
The lineup of Living Walls, The City Speaks 2012 running from August 15-19 will include Indigo (Canada), Fefe (Brazil), TIKA (Switzerland), EME (Spain), Hyuro (Argentina), Martina Merlini (Italy), Miso (Australia), Cake (New York), Swoon (New York), Martha Cooper (New York), Sheryo (New York), White Cocoa (New York), Jessie Unterhalter and Katie Truhn (Baltimore), Molly Rose Freeman (Memphis), Teen Witch (San Francisco), olive47 (Atlanta), Paper Twins (Atlanta), Sarah Emerson (Atlanta), Sheila Pree Bright (Atlanta), Marcy Starz (Atlanta), Sten and Lex (Italy), Karen Tauches (Atlanta), Knitterati (Atlanta), Plastic Aztecs (Atlanta), Nikita Gale (Atlanta), Patricia Lacrete (Atlanta), Mon Ellis (Atlanta), and Andrzej Blazej Urbanski (Poland).
An Introduction by the Guys Since the women have just begun their walls, and as a little warm up to the conference, here are a series of walls done in advance that were completed this spring and summer by a handful of guys as sort of a welcome team for the event. These installations were for what was called Living Walls Concepts and included.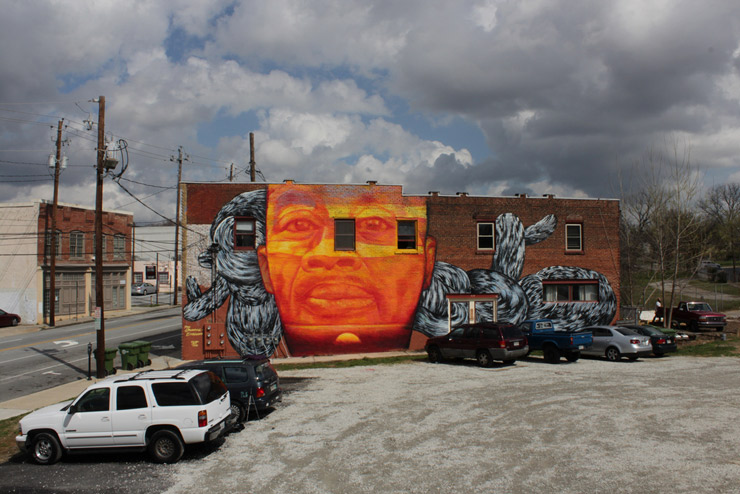 Gaia and Nanook (photo © Charles Flemming)
"In terms of mural making, Gaia and Nanook believe public art has the ability to designate place. They are hardly strangers to the rich history layered in the gridded streets of Atlanta. Last weekend, Gaia and Nanook returned to the heart of the south to participate in Living Walls Concepts, a year-round conduit to the conference, which aims to create a more intimate relationship between the artist and the community." ~ Alexandra Parrish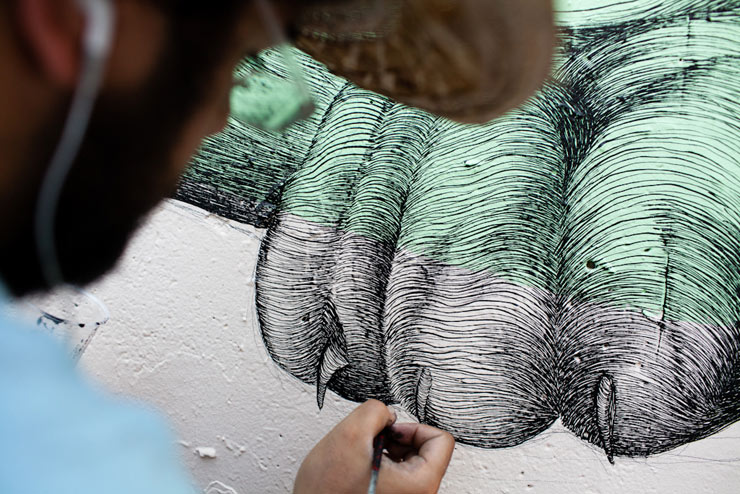 La Pandilla (photo © Dustin Chambers)
La Pandilla (photo © Dustin Chambers)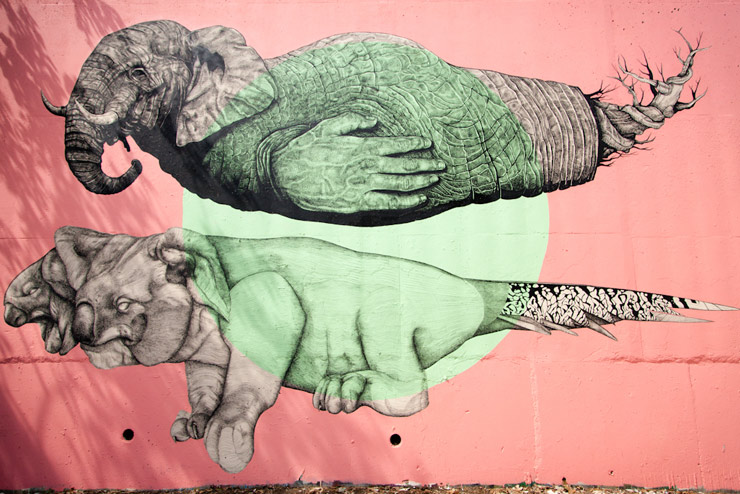 La Pandilla (photo © Dustin Chambers)
"As soon as La Pandilla and Trek Matthews began on their wall, joggers, walkers and rubberneckers routinely stopped to chat and observe. Throughout production, community support yielded endless tokens of gratitude - fresh baked bread, beer runs, grilled cheese sandwiches, salvaged fresh-till packaged meals, oral histories and loud music."~ Alexandra Parrish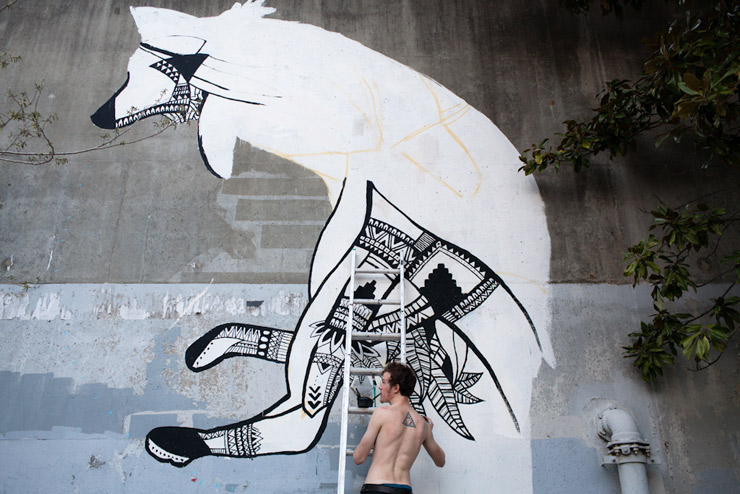 Trek Matthews (photo © Dustin Chambers)
"Three blocks down, Trek Matthews, an emerging artist from Atlanta, began on his first public wall. His work incorporates a mash of Aztec patterns and Native American designs, which turns out nicely on the grey concrete. Despite the daunting height of his wall, Trek toughed it out on a scrappy extension ladder."~ Alexandra Parrish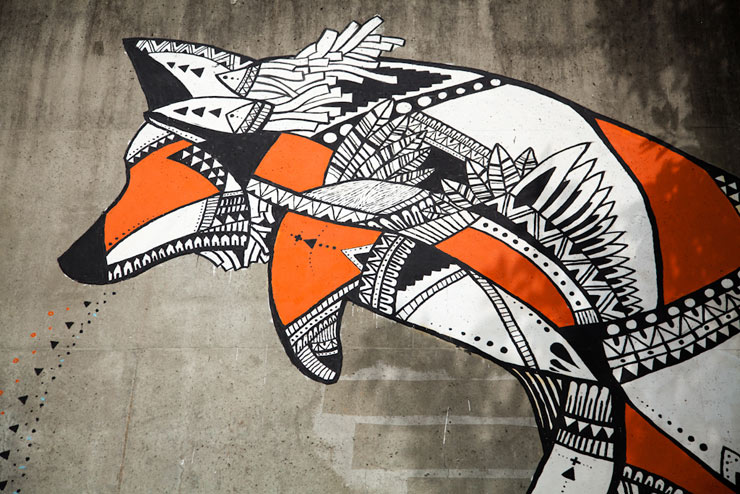 Trek Matthews (photo © Dustin Chambers)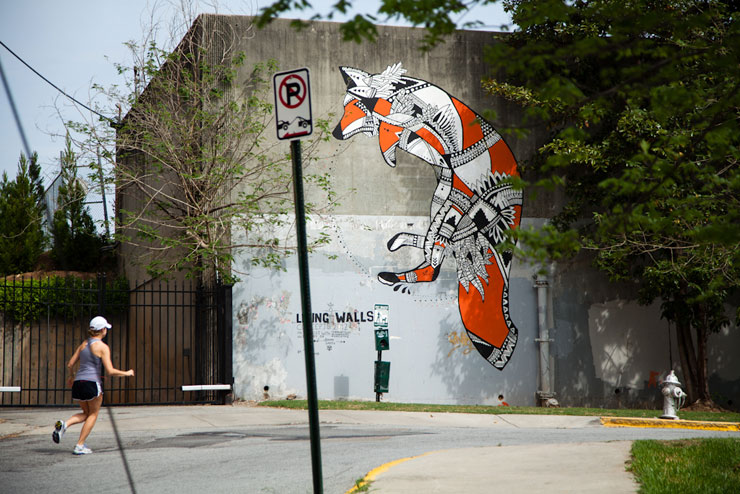 Trek Matthews (photo © Dustin Chambers)
"AEC and WAONE of Interesni Kazki finished their large mural situated in the bar-heavy neighborhood of East Atlanta Village in only five days. They woke up early, ate a modest meal and set off to their wall. From dawn to dusk they meticulously incorporated every finishing touch to their work. The completed mural epitomizes their signature style, integrating science fiction and religion with obvious Escher influences. The meaning, however, is left for interpretation."~ Alexandra Parrish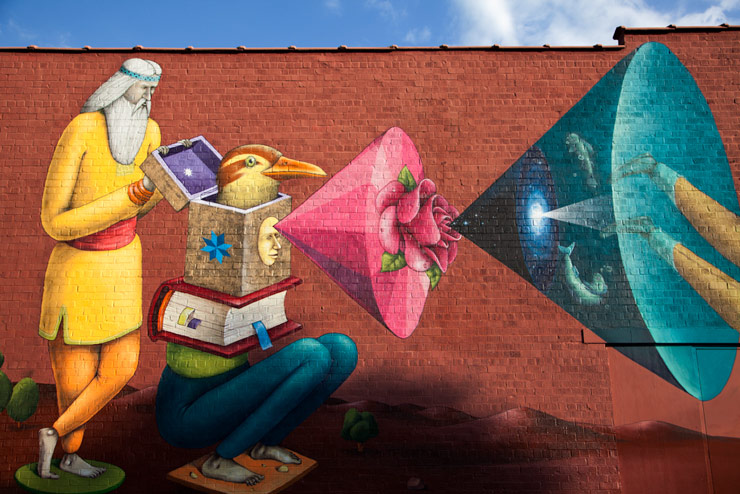 Interesni Kazki (photo © Dustin Chambers)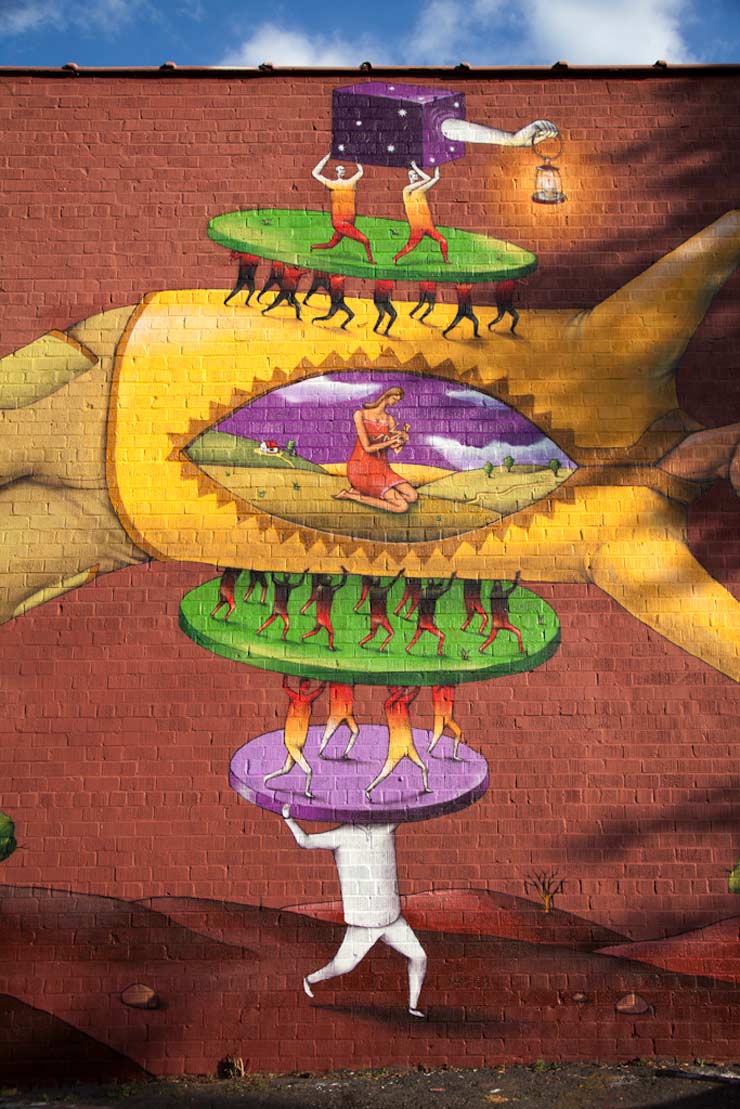 Interesni Kazki (photo © Dustin Chambers)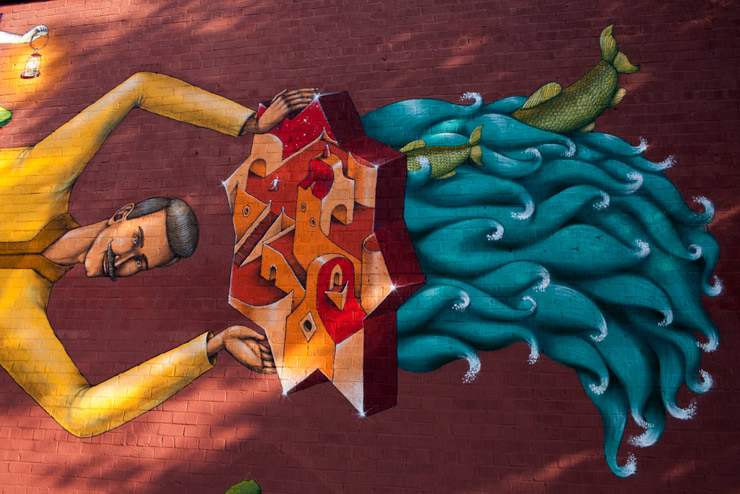 Interesni Kazki (photo © Dustin Chambers)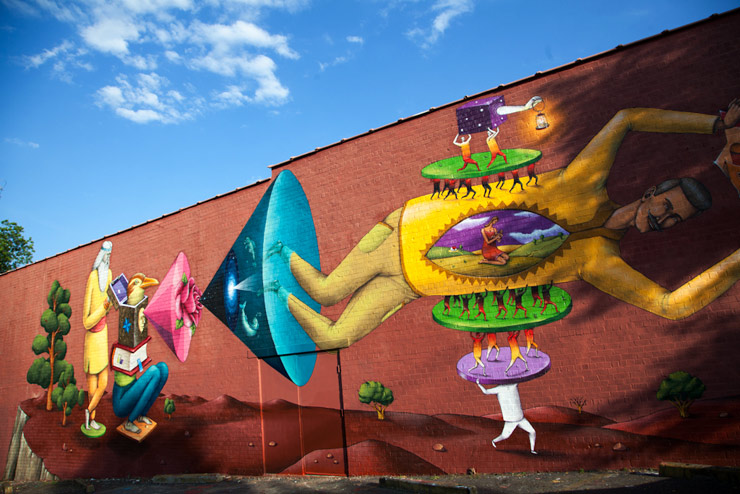 Interesni Kazki (photo © Dustin Chambers)
"Neuzz, aka Miguel Mejía, came to Atlanta to experience the city of grit that reminds him much of his own, Mexico City. The historical determination of Dr. Martin Luther King Jr. initially attracted Neuzz to Atlanta, where he would complete a wall located in King's district. His four week stint allowed him to develop a richer understanding of the area; the social and economic congruence to his home city in Mexico inspired him to transform the 'sad wall' into art through his rich, vibrant colors." ~ Alexandra Parrish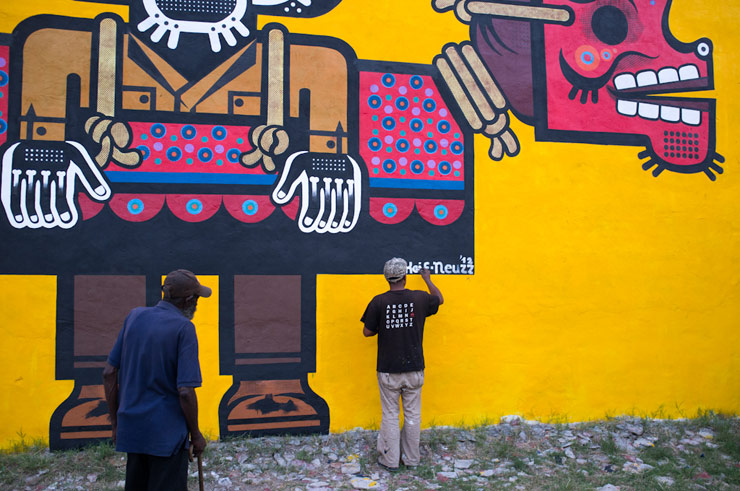 Neuzz (photo © Dustin Chambers)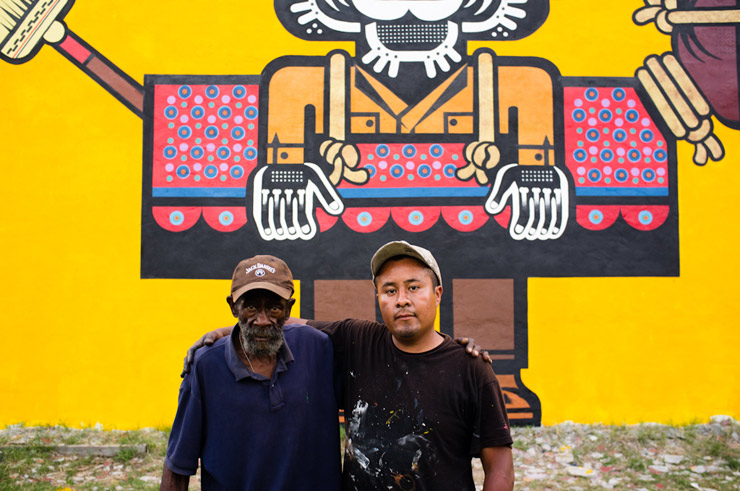 Neuzz (photo © Dustin Chambers)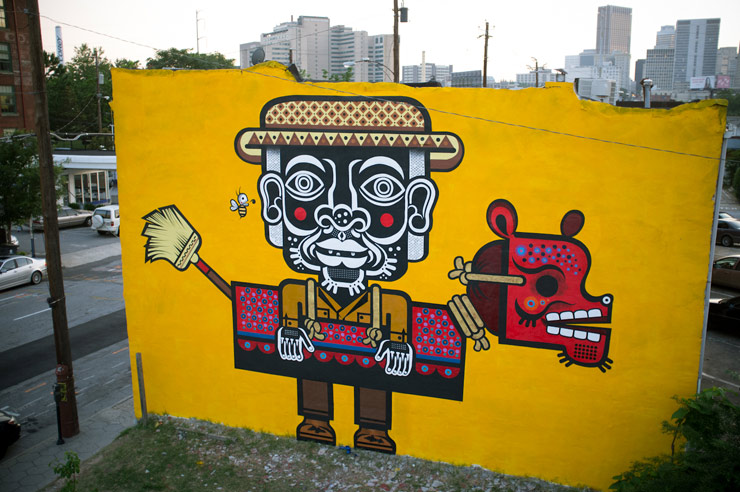 Neuzz (photo © Wil Hughes)
For full details and schedule of events, maps etc for this year Living Walls Conference: The City Speaks Atlanta 2012 click here.
Read the complete postings that accompany the images above on BrooklynStreetArt.com by clicking the links below:
Read all posts by Steven P. Harrington and Jaime Rojo on The Huffington Post HERE.
Follow Jaime Rojo & Steven Harrington on Twitter and http://brooklynstreetart.tumblr.com/.
Popular in the Community