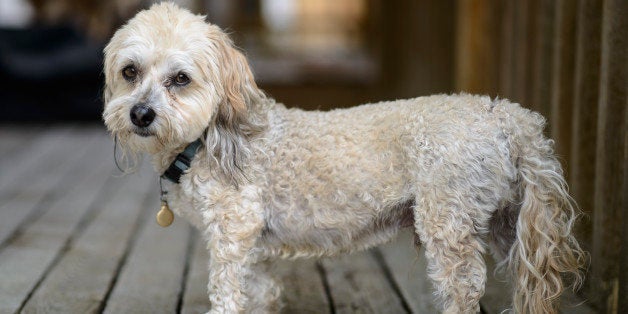 My first Havanese I bought on a whim. I saw him in a pet store on Lexington Avenue and thought he was the most adorable, irresistible thing. I took him into the play area and watched him run around in circles at a million miles an hour. My father looked at me and said, "He's gonna be a handful." I named him Jackson and carried him home four blocks in my arms.
"So what do you know about the breed?" my friend Lisa asked later that afternoon at my apartment, while she typed something on my computer.
"Nothing," I said, feeling like an idiot that I bought a fifteen-year commitment with no prior knowledge of its demeanor. I mean why would I do a silly thing like research a dog breed before buying it? I picked him for the same reason I picked men - he was cute. It's not like I could interview him and ask if insanity ran in his family.
"It says here that they're very hyperactive," she said.
"Well I'm not returning him," I said. "So get out."
Jackson, meanwhile, who weighed all of four pounds, was attached to the back of my pant leg by his teeth. He wouldn't let go, so I was walking around that way, dragging him behind me. I limped over to my computer and started to read over Lisa's shoulder . . .
"Havanese are quirky, amusing little clowns and loving companions, with a reputation of being a circus dog. They are alert, curious, busy, and mischievous. With a mind of their own, they can be mildly stubborn and manipulative. This breed is a sharp con artist, and you may find that your Havanese is training you, instead of the other way around."
I bought a four-pound, champagne colored hyperactive con artist? Is it too late to break up with him?
They say that owning a dog relieves stress. With that in mind I just want to say that I love Jackson to death, but . . . For starters, he never slept. He was up all day until night, and at 2 a.m. I would hear him dragging my jeans across the bedroom floor, into the living room, while wearing my underwear around his neck. He stole shoes, food, gum (did you know wrappers are edible?) and estate jewelry. He once found a bag of weed in a friend's jacket pocket. He snatched, ate, and shit the earplugs that I was using to not hear HIM. He had boundless energy, no shame and zero fear. Plus he jumped high as a cat. His dexterity and balance were off the charts, and my apt was his 24-hour obstacle course. He jumped from the back of the couch to the top of my desk. He once jumped onto my radiator, pulled down my friends bag, unzipped it, and stole a chocolate croissant. Another time I caught him trying to step onto a bookshelf, from the couch. Then there was the time my boyfriend and I were having sex, and I watched him jump two feet in the air and catch a moth in his mouth. I shrieked and he opened his mouth and the moth flew out. I didn't understand why he was wasting all his marketable talents at home when he could have had a productive, fulfilling, and lucrative job. He would have been a stealth drug sniffer, or a curious land surveyor. But he wouldn't leave my side, ever. He stuck to me like Velcro. His existence was like a fly buzzing in my ear. And he licked and bit himself incessantly. He dug endlessly on bathroom floor. He marked and barked. He was a hyperactive, mute thief who needed a treadmill and a job. He was cause for eviction.
So I did what any normal person would do, I got another one. I thought Jackson needed a friend and someone to play with, so I bought a grey Havanese and named him Blackie. It's six years later, and not only do they not play with each other, Blackie has tried to kill Jackson at least three times. One time I got caught in the cross fire and got bit. But besides his killer instinct, and that unbearable, high-anxiety, migraine-inducing bark that got us evicted from my NYC apartment in 2013, Blackie is insanely handsome, primarily sweet, and pretty normal for a Havanese. He was double the size of Jackson, and slept on my head.
Two dogs were twice as annoying, in every way. It was like a tag team of personal love terrorists, who peed a lot. Not to brag, but I've been trampled on, bitten, and evicted. Have you? I mean would you allow a friend to treat you this way? Plus they are both terrible with children and other dogs, (despite the fact that every website says the contrary,) and when I walk them I have to be on high alert, as well as have the ability to pull a chicken bone out of their mouth at a moments notice. And when the first dog drops the chicken bone, the other one picks it up. It's the same thing with vomiting. It's pure madness. Having a dog is like living with a four year old for fifteen years. It's a very strange relationship. You live with them 24 hours a day, and they stare at you ad nauseam but say nothing, ever. You talk to them and they don't talk back. However, the good news is I make all temperature decisions, and I don't have to cook for them. And if they're near a swimming pool they don't even need water. I also have no need for a doorbell, a Dust Buster, a house alarm, or a paper shredder. And they're easy to travel with, as long as you drug them, and yourself. Basically all relationships make me want to do drugs eventually, and this one's no different. So if you're considering a dog, why not a Havanese? They're charming little devils, adorable nightmares, precious curses. Get one. I dare you.
Related
Popular in the Community