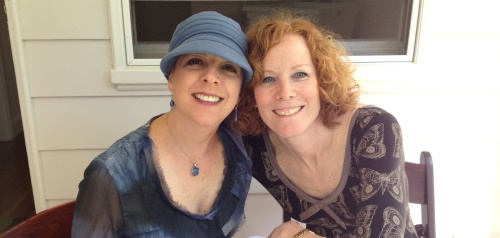 Jennifer and Helen, Spring 2013
"Darkness cannot drive out darkness: Only light can do that." -- Martin Luther King
Winter came to an end, and my chemo and radiation treatments finished at last. On the first day of spring, Harlan and I finally took the little white holiday lights down from the bushes in front of our house. They looked magical when we put them up at Christmas, and we were full of hope and plans for our new life in our new home.
After we got the cancer diagnosis in January, I couldn't bear to take them down. As we met with doctors and began to understand what we were in for, the lights became sort of a talisman for me. I did not want to see those lights go out. They seemed a beautiful way to keep the darkness at bay, literally and metaphorically, at least for a little while. But now there was more light each day, and the spring air smelled like new life and possibility.
April was a month of recuperation. Harlan and I had a blissful time at the Rancho la Puerta spa in Mexico. After a week of exercise and clean, vegetarian eating, we came home feeling rested and rejuvenated. Also hungry. For meat. Vegetarians forgive me, but there is just something satiating about eating food that had parents.
Throughout April we had a stream of visits from good friends, including several intrepid chums from Boston, who, in true bull-headed Boston form, somehow managed to make their flights out of Logan airport on the very day that Boston was in lockdown during the hunt for the marathon bomber. Harlan and I attended and hosted parties, tried new restaurants and melted into a sun-drenched, wine-infused weekend in Napa. I celebrated my first-ever birthday as a married person, my first-ever birthday with cancer.
At the end of April I had an "eyes to thighs" PET scan that showed that the tumor in my neck was all but gone, and the primary tumor in my lung had stopped growing. The task now is to prevent the cancer from spreading again.
The best weapon I have is a powerful oral drug called Tarceva. Targeted to my kind of cancer, Tarceva is proven to be effective in containing the disease but often causes severe and sometimes debilitating side effects.
In May I went back to work feeling healthy and strong, but braced myself for the imminent assault on my body. I knew I would need all of my resources for the next phase of my fight. I was about to start taking Tarceva.
This column originally appeared on parade.com. For more by Jennifer Glass, click here. "Like" Jennifer's Facebook page here. See her Fear.Less. video here.
For more by Jennifer Glass, click here.
For more on personal health, click here.