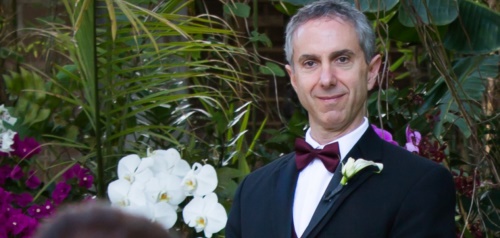 "If I get married, I want to be very married." -- Audrey Hepburn
Harlan and I recently celebrated our one-year anniversary. We met on Match.com. I was an early and enthusiastic adopter of online dating, starting with a site called Matchmaker back in the 1990s. In those days, if you wanted to post a picture you had to put an actual hard copy photo in the mail and they would post it for you.
A friend used to say of online dating, "The odds are good, but the goods are odd." I enjoyed dating though, and generally met nice, interesting men with whom I would never have otherwise crossed paths. Of course there were a few absolute nutters who left me with funny stories to tell my friends and a feeling of relief that I was single and independent.
Over the years, I observed that both men and women lie about their age and weight, but only men lie about their height. Lying about height always seemed so silly to me. Maybe you can fudge a few years or a few pounds, but not a few inches. I know that I am 5-foot, 4-inches. If you are not as tall as I am then no amount of personality will convince me that you are 5-foot, 7-inches. So many men engaged in this subterfuge that finally I wrote on my profile, "You must be THIS tall to ride this ride."
I have a vivid memory of the exact moment when I found Harlan. I was working for Sony at the time, spending a week each month in Japan. I stayed at the Tokyo Westin, and one morning had been awake with jet lag since 3:00 a.m., whiling away the hours drinking green tea and scanning the sea of Match.com profiles. As the sun rose over the city, Tokyo was beautiful in muted pink and pearly gray.
I saw Harlan's picture and liked the look of him right off the bat. He impressed me with the way he turned a phrase and that he was not too busy to use full sentences, capitalization and punctuation. I am a sucker for a well-crafted sentence. We had a number of uncommon things in common, not least of which was that Harlan has also spent a lot of time in Japan and speaks Japanese.
So I reached out and he reached back, and the following week we moved from cyberspace to face to face. I was delighted to find that Harlan presented as advertised. After that meeting I thought it was just possible that I had been on my last first date. This was just before Thanksgiving 2010. We moved in together seven months later, and married just over a year after that. Four months later I was diagnosed with lung cancer.
I am so grateful to have had this year of marriage. All weekend I couldn't stop touching Harlan, kissing him, smelling him. I want to remember every contour of his body with my hands, with all of my senses, the way every part of him feels against every part of me.

My heart is full when I look at my beautiful, strong husband. My lifeline, my ballast, my all-purpose flotation device, helping me keep my head above water.

For Harlan
"I take you, my love, to have and to hold
In sickness and health," we both said
On that magical day, who could have foretold
The course that lay ahead?
Darling, what a honeymoon
A time for us both to take stock
Our young union tested, too much, too soon
But this marriage is built on bedrock
There's no better man I could have at my side
We are well-matched in every respect
I cherish your kindness, the strength you provide
Your extraordinary intellect
I've had escapades and adventures
I've taken big bites out of life
But I've found no caress so tender
As the sweet sound when you say, "my wife"
Your love is a gift that fills my heart
You bring joy and peace to my world
I'm yours, mi vida, 'til death do us part
Your quirky film school girl
Jennifer's brother Lawrence sings "I Believe in You," a song he wrote for her wedding to Harlan.
This column originally appeared on parade.com. For more by Jennifer Glass, click here. "Like" Jennifer's Facebook page here. See her Fear.Less. video here.
Related