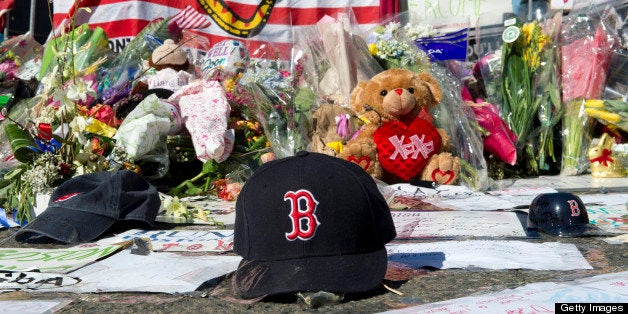 Along with the rest of the nation, I watched in horror as the tragedy and travesty in Boston unfolded before our very eyes this past Monday. Together, we are heartbroken at the loss of precious lives and limbs. And we can only pray that those who are in the hospital recover and are able to join their loved ones at home soon. We, as a nation and as human beings, have witnessed an evil that leaves us psychologically scarred if not completely traumatized.
Many of us are itching to know who did this and what their motivations were. I wish I had an answer to those questions. But I suspect at least this much: Whoever it was and whatever their motivation, they were ultimately driven by a raw human emotion -- the same terrible feeling they wanted to inflict on others -- which is none other than fear.
Fear is an inescapable part of the human experience. Without fear we would lack the basic instincts to defend loved ones or ourselves from real or perceived harm. Fear even restrains us from unethical or immoral lapses in judgment when we realize the undesirable consequences of our actions. Fear can, indeed, be a positive force in the world when it moves us toward acting rightly with reverence toward all that truly deserves reverence. But there are flip sides to fear that can make it a very dangerous emotion to live with. Fearing what others might do or say or think is what often holds us back from standing up for what is true and just. Fear is also that powerful force of nature that breeds suspicion, anger, intolerance, hatred and ultimately terrible acts of evil.
This type of fear is born out of ignorance or even worse false knowledge. It has often been said that we fear what we do not know. This is true. But what we fear even more is what we think we know but do not truly know. The violent religious zealot kills innocents thinking he is saving himself or his fellow believers or his religion based on false constructions of the "other." The racist and bigot harm innocent members of a religious or racial community because he is convinced that all members of that religion or race are out to destroy him and his way of life. And the sad illustrations could go on and on.
One of the signs of fear gone wrong is when we as individuals and as communities begin holding irrational and broad suspicions of another group or entity based on false knowledge. Perhaps, for this reason the Quran warns believers to verify information and news before acting upon it lest "you wrong others unwittingly and later regret what you have done" (49:7). And furthermore, in the same chapter (sura), the Quran goes on to warn of the evils of mocking or holding suspicions against other groups of people (49:11-12). These are all preventive measures to hold our fears in check -- whether it is against an individual or entire community of people.
The worst and most tragic side affect of fear is that we begin to see others as objects of our suspicion and enmity rather than as fellow human beings. When we fail to see the humanity in each other's eyes, we know that fear has taken root within us in the ugliest possible way. The Prophet Muhammad faced many enemies and periods of conflict in his lifetime, but through it all he did not lose sense of his adversary's humanity. Once, when tensions between Jews and Muslims were at its peak, the Prophet stood up in respect upon the passing of a Jewish funeral procession. One of the Prophet's companions turned to him in astonishment informing the Prophet that the man who had passed away was a Jew. The Prophet simply replied, "Was he not a human being?"
During these times in which extremists from many different sides seek to divide us as a nation and as a people with fear tactics, we must resist. And we must not allow fear to take over the best within us and what we have to offer. We must turn toward each other to embrace our collective humanity.
Returning to the tragic scene in Boston: Yes, someone driven by fear, anger and hatred may have forced us to question our innocent faith in humanity. But let us not forget about those brave first responders who rushed toward danger to help others despite the fear they must have felt. And let us take them as a model for how to be in the world. Whether we are faced with real or perceived danger, let us rush toward the better instincts within ourselves to do what is truly good and right, despite the very powerful force within us that we know as fear.
Related
Popular in the Community