As a 26-year-old woman with a type-A personality, being diagnosed with heart disease just before moving into my college campus and trying to attain financial stability and independence like every other fairly recent college grad, hasn't exactly been easy. In today's world I think men and women put so much pressure on themselves to be the breadwinner. Men want to support their families and while women wish to do the same, we are also faced with the pressure of caring for children and our family as well. Most women like myself, not only wish to financially and emotionally support our families but we include the task of doing this in such a strict time frame.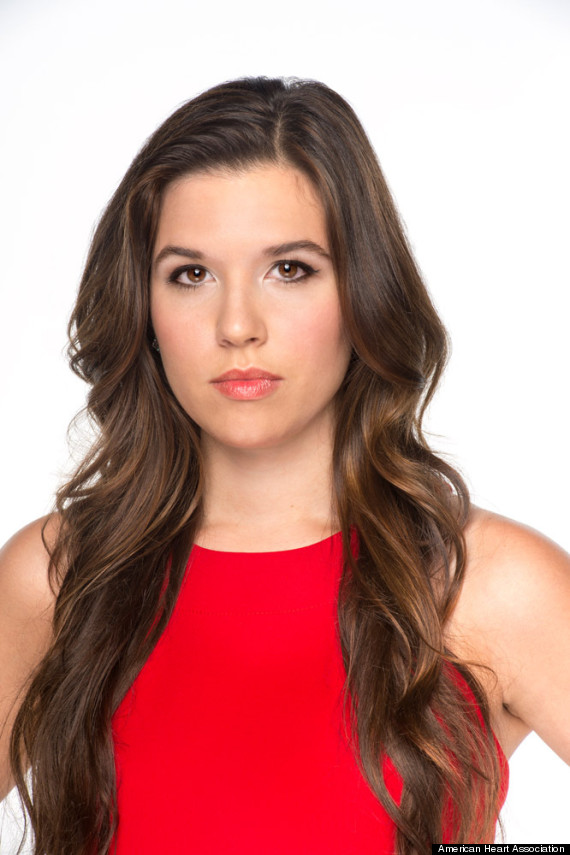 In 2006 I was diagnosed with an idiopathic arrhythmia at age 18 after surviving a cardiac arrest in my claw foot tub. After my cardiac episode, it was decided that implanting an ICD was medically necessary in surviving the fatal risks of my condition. Just over a month had passed when I experienced my second cardiac arrest followed by my immediate first shock from my defibrillator. As I laid in bed in my college dorm, my heart completely stopped this time, requiring two shocks from my ICD to kick start my rhythm. With every visit to the electro physiologist came grief, anger and depression. Every month that had passed I experienced another cardiac arrest. Five episodes in four months felt like I would never get around to being a normal college student. Every episode required shock therapy from my device which felt like a bomb exploding in my chest, accompanied by a ringing in my ears. While my eyes were closed, I can still remember seeing a red beam of light, similar to the color you see when your eyes are closed and your face is being hit by intense sunlight. My life was at a stand-still and winter break was in effect. I had already dropped 2 out of 4 courses that fall due to multiple episodes. This is where my type A personality kicked in. Being someone who likes to get ahead and be proactive, falling behind was not an option. Little did I realize at the time, I didn't have a choice. My heart condition took me by storm, changed my world and went against everything a young teen wished to be doing at that age. I wanted to be a college student, studying, meeting new people, finding new interests and enjoying a new found glory. After two straight weeks in the hospital experiencing massive amounts of palpitations which kept me from being able to breathe, I found no purpose in living. Something as simple as eating breakfast was now an impossibility since I couldn't breathe with every continuous skipped beat in my chest.
I became so angry at the monster in my chest for changing everything for the worst. When my heart would finally regulate, I was awakened with a new appreciation for the ability to breathe. To feel a full beat with pure oxygen was amazing. When people say to "cherish each breath," I literally know what that means and feels like, and it's refreshingly beautiful. My family and the dean of my class encouraged me to take a medical leave and so I gave in.
My doctor suggested I complete cardiac rehab since I was extremely afraid to exercise and raise my heart rate in fear that I would cause an arrhythmia -- which was highly unlikely. I also began to work with a behavioral therapist to retrain my brain to not be in fear each time I would experience palpitations. Palpitations were and still are part of my daily symptoms. I didn't leave my house for months at a time, I stopped driving by myself. I would notify my family each time I would take a shower. Yes, shower... I could not bring myself to sit in my claw foot tub for quite a while. It took me roughly 8-9 months to gain my confidence back. After a lot of exposure therapy and many discussions on learning how to overcome extreme anxiety and fear of my heart stopping, I was finally able to return back to college as a second semester freshman. I put so much work into overcoming fear of my heart stopping. Anxiety can be so powerful that it can paralyze you with paranoia. Anxiety teamed up with the monster in my chest and it was awful. When I think back to this time in my life, I feel like my type A personality drove me to achieve power over the monster. We forget how powerful knowledge is. Knowledge is power. When you learn how anxiety works and how to apply the right mental tools, you find the power to control it. I forgot to mention my dad got me two puppies since I was home so much and it was the perfect solution to my anxiety and boredom.
As I am now four years out of college and into the working world and the start of a photography business, I face the challenge everyday to keep up with long hours and heart disease. With full time hours and a part time business, I must never forget to take my morning and evening meds, keep all doctor appointments and check-ups, take time for myself to rest and recuperate from stress, and make sure that I surround myself with people who accept the limitations of my disease. While every opportunity of time may feel like a reason to get things done or do what's best for my health, I must also make room for doing things that I enjoy, like what most normal ladies in their twenties like to do, shop, get your nails done, go to the movies, each chocolate (dark chocolate of course-heart healthy in moderation). Most importantly, maintaining a healthy diet in the mist of such a busy schedule is a challenge that many of us face. I've learned to microwave sweet potatoes, get creative with salads and fruits, limit junk food and salt and be quick at sautéing my veggies. I forced myself to take more time with food and find ways to cut corners in a healthy way. I am human and indulge at times I shouldn't but it's a constant struggle we all go through and we need to keep bouncing back with our best effort.
I also struggle at times in feeling shame that I cannot physically take on as much responsibility as my mind and strong work ethic wish to. I don't want to be seen as less productive or careless when in reality I have to pace myself and make my health a priority. I must admit that I sometimes sacrifice my health whether it be a few hours of sleep or a quick less healthy meal in order to "get things done" because I was "too busy." There is always a balance to maintain and I struggle with finding it without shame to my personal self and my disease. Overall, I think like many others that the pressures of life can be so stressful and intense especially with the added "burden" of a disease. We need to give ourselves a break and find our own ways to cope and adapt with acceptance and support from ourselves and those around us. There are far too many reasons not to take care of ourselves and we need to remember how powerful our minds can be. So why not use that power for good and train ourselves to be the best we can at accommodating this awful disease.
This post is part of a series produced by The Huffington Post and the American Heart Association's Go Red For Women in recognition of National Wear Red Day (Feb. 6, 2015), the aim of which is to raise awareness that today women are more likely than men have heart disease or a stroke, and 1 in 3 will die. But 80 percent of cardiac events can be prevented with education and lifestyle changes. To read all the stories in the series, visit here. And to follow the conversation on Twitter -- and share a picture of yourself wearing red -- find the hashtag #GoRedSelfie.
Related