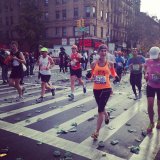 Sunday, November 3, 2013, was a fall day much like any other in New York City -- windy, cool with colorful fall foliage erupting in Central Park. But it was also very different. There was a brewed excitement in the air as throngs of tourists and spectators from all over the world came out to cheer participants in the 26.2 mile run around the five boroughs of the City in the annual New York City Marathon.
It's what New York is all about -- hype, sold-out hotels and restaurant venues, corporate sponsorships, being part of the scene. Social media played a pivotal role this year in helping to create that special buzz. With TrackMyRunners, Facebook along with Twitter and texting enabled fans to follow their favorite runner and participate in his/her compelling journey around the Big Apple.
As spectators cheered Kenyan Priscah Jeptoo who won the women's race and the World Marathon series title and Kenyan Geoffrey Mutai who won the first back-to-back Marathon title in 15 years, and over $600,000 and $100,000 respectively, I was tracking the results for BIB #24545. That bib number belonged to my cousin, Kristin Spacavento, whose pumpkin orange jersey said it all: "RACING TOWARD A WORLD FREE OF MULTIPLE SCLEROSIS -- LOVE YOU MOM." Kristin ran the 2013 ING New York City Marathon on the Race to Stop MS team in honor of her mother, who has MS.

Multiple Sclerosis is a neurodegenerative disease of the immune system that is triggered by an environmental combination of factors in a genetically susceptible person. Myelin, a fatty substance, normally protects nerve fibers, but in MS, an immune attack on the central nervous system (brain, spinal cord, and optic nerves) is experienced when myelin is damaged as well as nerve fibers themselves. Sclerosis (scar tissue) is formed, and nerve impulses are distorted/interrupted as they travel to and from the brain and spinal cord.
MS is chronic and unpredictable. Common symptoms include: fatigue, numbness, balance/coordination, walking gait, continence dysfunction, vision problems, dizziness and vertigo, pain, cognitive dysfunction, emotional changes, depression and spasticity. Less frequent symptoms are speech disorders, swallowing problems, hearing loss, seizures, tremor and respiration/breathing problems.
There are estimates of 2.3 million people worldwide with MS. Experience of symptom manifestation and severity are unique to the individual, but 85 percent of the cases are classified as relapsing/remitting MS with symptoms experienced following an "episode" (attack/flare-up). Although both men and women are affected, there are two to three times more women than men with the disease. Most individuals are diagnosed between 20 and 50 years of age. All races experience it, but MS is more common among Caucasians of Northern European ancestry and for individuals who live geographically in the northern latitudes and less for those that live near the equator. Although not hereditary, genetics appears to play a role. (For more comprehensive information, click here.)
MS crosses all economic, educational, and social demographics. Famous people in the celebrity world are not excluded. The late Annette Funicello, famous Disney Mouseketeer and later beach party co-star with Frankie Avalon who captured the hearts of American teens, experienced her symptoms in the late 1980s. Montel Williams, American celebrity talk-show host, the late comedian Richard Pryor, Jack Osbourne, English media personality and son of Ozzy and Sharon Osbourne, actress Teri Garr, Ann Romney, wife of presidential nominee Mitt Romney, Country music stars Donna Fargo and Clay Walker, singer-songwriter Tamia Hill who is married to Grant Hill, NBA basketball star, and Fox TV News Anchor Neil Cavuto are just a few names on the multiple sclerosis' celebrity roster. Many of the renowned like Montel Williams have become avid spokespersons of MS to build awareness of its scope.
Having a family member stricken with the disease can be a catalyst for activism on political, human rights, medical, and educational levels. My friend, "Diplomat Artist" Ersin Faikzade, designated as International Human Rights Council (IHRC) Ambassador of Goodwill for Humanity, is an advocate for MS. He performs many free concerts and participates in humanitarian projects for MS as well as Down's syndrome, cancer and leprosy.
No one knows the cause of MS, but scientists are focusing on the areas of immunology, epidemiology (population disease patterns) and genetics. They believe that a combination of factors may be present. The National MS Society is committed to research, education, and advocacy, and collaborates with worldwide MS organizations. Understanding the cause of MS is essential for treatment, cure and prevention.
Every hour in the United States someone is newly diagnosed with MS. Like 400,000 other people in the U.S., Kristin's mother was diagnosed with multiple sclerosis 13 years ago. This was Kristin's third marathon to run against MS. She raised $6,000 and 2013 was her best all-time record, clocked in at 3:44.
As a circle of friends and family celebrated at her post-Marathon Party at the Mandarin Oriental Hotel overlooking Central Park, we realized that for Kristin the ING New York City Marathon was much more than stats and a compelling journey around New York City. It was her personal quest to "race toward a world free of MS." Said Kristin, "It is beyond amazing and emotional to run in honor of someone who can't even walk anymore, especially when it's your Mom."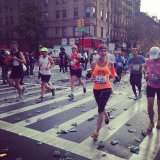 PHOTOS: Courtesy of Kristin E. Spacavento
Calling all HuffPost superfans!
Sign up for membership to become a founding member and help shape HuffPost's next chapter